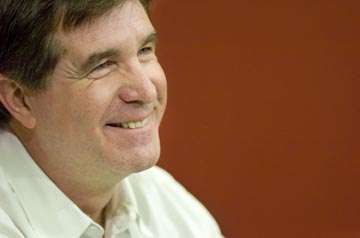 Here we go again. Getting sucked into college football recruiting hyperbole. Pouring our trust into recruiting Web sites that sell hope and dreams containing about as much substance as a small bag of cotton candy.
Some unsolicited counsel: Relax and enjoy it. Go with it. Take it all in, so long as you take it for what it's worth. It has to be worth something, because monitoring the whims of teen gridiron prodigies occupies large segments of the lives of millions of otherwise productive men and women across the country.
It has to be worth something that Blaine Gabbert, a 6-foot-5, 230-pound prep quarterback from suburban St. Louis, verbally committed to Nebraska on Tuesday night, choosing the Big Red over Alabama, Missouri and Iowa, among several other prominent schools.
Yes, even the most hard-core recruiting cynic must acknowledge the relevance of Gabbert's selection, if only because it just might be worth millions of dollars to Nebraska coach Bill Callahan.
Last we checked, Callahan was awaiting a contract extension. Last we checked, Nebraska's 2007 schedule was a bear with razor-sharp fangs and claws. Alas, maybe Callahan doesn't need a breakthrough season to get an extension. Maybe he just needs an OK season — say, 9-4 — so long as he continues to reel in the highest of high-profile recruits like Gabbert and three other national top 100-caliber prospects already in the Huskers' class of 2008.
Far-fetched? Well, consider the importance Callahan's boss places on recruiting.
Far-fetched? Consider the fact that Nebraska's 2008 class, all cynicism aside, looks absolutely gorgeous at this early stage of the process. And anyway, if this class eventually fizzles and fades, well, Callahan will have long since signed on the dotted line.
The beauty of recruiting from a coach's perspective is nobody can prove beyond a shadow of a doubt that the current class is a dud or just average. A coach if he so chooses can rightly proclaim his current class as being the greatest in the free world, and who could possibly prove him wrong?
Hail the geniuses that created recruiting Web sites. They're among countless entrepreneurs over the course of history that have made it big selling hope and dreams, counting on people's imaginations to run wild and free. There's nothing wrong with that, nothing at all, so long as the customer understands the lay of the land. And recruiting is generally good, clean fun.
All cynicism aside, Gabbert's choosing of the Big Red is indeed noteworthy.
"Blaine Gabbert is a huge, huge piece of the puzzle for Nebraska because he's not going to be shy about going after some top kids," said Rivals.com recruiting analyst Jeremy Crabtree. "He's already asking Nebraska coaches for phone numbers of some of the top recruits. He's going to be very aggressive."
In particular, Nebraska should hope Gabbert dials up a tight end or two capable of making plays down the field.
Heaven knows Gabbert will be well protected in the pocket, assuming he beats out the other two touted young quarterbacks on the current roster — true freshman Patrick Witt and sophomore Zac Lee.
In addition to Gabbert, Nebraska has attracted verbal commitments from three offensive linemen projected to join Gabbert among Rivals.com's soon-to-be-released national top 100 — Dan Hoch of Harlan, Iowa, Trevor Robinson of Omaha and Baker Steinkuhler of Lincoln. What's more, NU has a commitment from offensive lineman Bryce Givens of Denver, one of the best players in Colorado.
"It's definitely one of the nation's top classes early on," Crabtree said. "You're going to be hard-pressed to find a better offensive line class, other than Ohio State."
Gabbert drew a four-star rating from Scout.com and will be a four- or five-star prospect by Rivals.com. Gabbert is "John Elway-esque," Crabtree said, in that the quarterback is big and strong and quick-footed. He reportedly has run the 40-yard dash in 4.65 seconds.
"He'll run the ball on bootlegs, he'll run designed runs off counters and things like that," said Brian Robbins, head coach at rival Poplar Bluff (Mo.) High. "In high school, he's bigger than the majority of people he's playing against, even some defensive linemen. He has all the tools, man. There's no doubt he can make every throw he's going to be asked to make."
At this point perhaps we should note that Harrison Beck, the big-time quarterback recruit in Nebraska's class of 2005, recently was 7-for-26 passing for 116 yards with an interception returned 100 yards for a touchdown in North Carolina State's spring game. Also, of Big Red's vaunted 29-player class of 2005, 10 players left the team before exhausting eligibility and five others have made little to no contribution in a game.
Sometimes in recruiting, facts get in the way of fun, but not often enough to deter my enthusiasm.