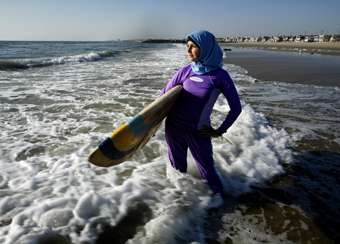 LOS ANGELES — Amana Siddiqi loved swimming as a child but gave it up as a teenager because her Muslim faith required her to fully cover her body in public.
"At age 15, I started to cover, so I stopped going to public pools," said Siddiqi, now 27, whose parents come from India and Pakistan. "Most of my friends stopped, too. They felt self-conscious."
Then last summer Siddiqi bought a specially made swimsuit that covers her body while allowing full motion — and went snorkeling and rode watercraft and slides while on vacation in Hawaii.
Muslim girls and women are increasingly participating in athletic activities, especially as second- and third-generation children of immigrants grow up surrounded by American influences. But doing so requires them to overcome a seemingly large obstacle: Islam's traditional emphasis on modest dress.
When it comes to water sports, the challenge can be even more difficult than in Muslim countries, where the sexes are often separated in pools and on beaches. America is predominantly coed, and increasingly the norm is skimpy swimsuits.
Enter the new-and-improved all-body suit.
While full-body swimwear has been around for decades, in the last couple years it has undergone a renaissance as the niche market has grown. Today about a dozen stores, based in the United States and abroad, sell swimwear to Muslim-American women, mostly through online catalogues.
A full suit can cost more than $100, with pants around $60, shirts at $25 and water scarves and hoods about $15.
The material is high-tech. Synthetic combinations that include polyester, nylon and Lycra allow flexible movement in the water while not sticking to a woman's body when she exits the pool — which could produce the opposite effect of modesty.
The suits are also increasingly stylish, with aqua to purple to hot pink colors, intricate sequin designs and miniskirts that go over long pants.
"We want to be modest, but we also want to be fashionable," said Shereen Sabet, who last year founded Splashgear, an online swimwear store for Muslim women based in Huntington Beach.
Sabet, 36, a microbiologist at California State University, Long Beach, said she decided to get into the business while trying to reconcile the conflict between her Muslim faith and a love of scuba diving. She realized that many female Muslim friends completely avoided the water because of modesty concerns.
"Nothing in the Quran says women and men can't swim or scuba dive together," said Sabet, whose parents are from Egypt. "It's just a question of finding a solution."
For Hayat Diab, 65, finding a solution has helped her deal with severe arthritis. Diab, originally from Syria, lives in an Irvine apartment complex that has several pools. She had never swam in her life until two years ago, when she got a special suit that includes long pants, long-sleeved top and a cap to cover her hair.
"When I go to the Jacuzzi, I feel all my joints relax," Diab said.
Her husband, Ibrahim Al-Tawil, 75, is a longtime swimmer who is now teaching his wife.
"We are happy to be together in the swimming pool," he said.
Finding ways to navigate American culture and Islamic norms is a constant theme in Muslim focus groups, said David Morse, president of New American Dimensions, a multicultural marketing research company.
"There is a desire to assimilate and be seen as everyday Americans," Morse said. "But because of Muslim customs like clothing, it can be hard to fit in."
Hussam Ayloush, executive director of the Southern California chapter of the Council on American-Islamic Relations, said Muslim women often hold swimming parties in private pools but added that the special suits and public swimming are becoming more popular.
"The suits basically protect women from the unwanted looks of men," he said.
For Sama Wareh, 23, a stylish suit helps her fit in while surfing. Before buying a Splashgear suit last year, she would go into the ocean wearing jogging pants, skirt and long-sleeved shirt.
A lifeguard once asked her what others on the beach might have been wondering: "'Dude, are you like a Muslim surfer girl or something?"' she recalled.
Now people are asking her where to buy one of the suits.
"A big reason why Muslim women don't do things in the water is it's embarrassing," said Wareh, whose parents are from Syria. "Once Muslim women see others doing it, they will too."