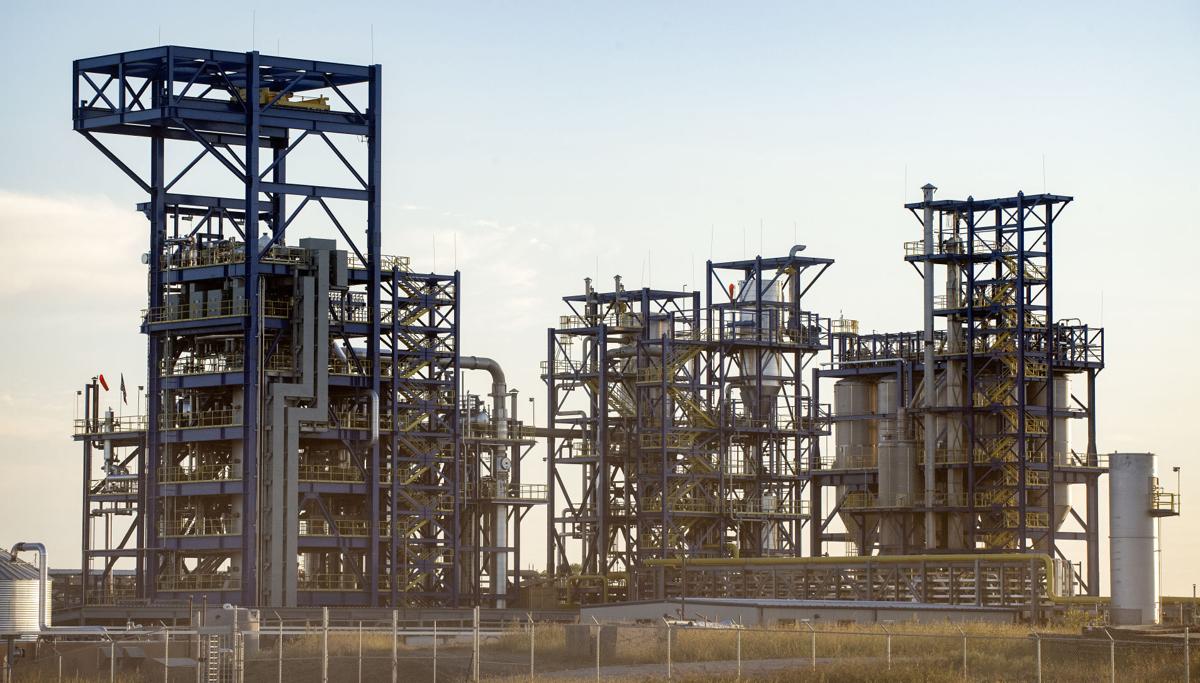 Monolith Materials has cleared one of the last hurdles to the expansion of its carbon black plant near Hallam.
At a special meeting Tuesday night, the Lower Platte South Natural Resources District voted unanimously to approve three wells that are expected to pump up to 420 million gallons of water a year combined.
The wells are needed for what Monolith calls its Olive Creek 2 plant, which is a huge expansion of its existing operation.
The company, which moved to the Lincoln area from California several years ago, opened a $100 million plant last year south of Sheldon Station with the capacity to produce about 14,000 tons annually of carbon black, a powdery substance that's used in tires, inks, plastics and other products.
The second carbon black plant, which will be built to the north of the existing plant, will have about 12 times the production capacity and is expected to cost $1 billion or more.
As part of the expansion, Monolith also plans to build an anhydrous ammonia plant that will take the hydrogen produced in the carbon black manufacturing process and combine it with nitrogen to produce the liquid fertilizer that farmers use. That plant will have a capacity of about 275,000 metric tons annually.
Also this week, the Lancaster County Engineer's Office announced it received a $500,000 grant from the Nebraska Department of Transportation to help pay for paving a 1-mile gravel section of Southwest 42nd street between West Hallam and West Pella roads.
Monolith is expected to start construction sometime in the next three months and hopes to have the new plants operating sometime in 2024.
The company's presence has generally been welcomed in southwest Lancaster County, but the well permits have caused some controversy. Some residents of the area have raised concerns about the amount of water Monolith will use.
Darin Schwaninger, who lives within a couple of miles of the plant, has five irrigation wells and two for residential use. He's concerned that the amount of water Monolith will use could lower water levels in the area, which could require him and other irrigators to have to spend more money to deepen wells and/or buy bigger motors to run them.
In the worst-case scenario of a prolonged drought, he's also worried that water restrictions could be placed on area residents.
Monolith would be subject to the same or even stricter limits than other users, but Schwaninger worries that they would be hard to enforce.
"There's too much money involved for them to stop producing what they're producing," he said. "They're not going to idle the plant if my water level drops 10 feet."
A representative from Monolith gave Schwaninger assurances that the company would adjust its water usage if well levels in the area drop, but he believes the company should have been required to submit a backup plan before getting approval for the well permits.
Over the past year, Monolith hired Olsson to do a hydrogeologic analysis and model the potential impacts of its water usage, which it submitted to the NRD. The NRD then hired its own consulting firm to review that analysis.
"The NRD's review agreed that the model showed the pumping would not be detrimental to the aquifer or adversely affect nearby wells," Lower Platte South General Manager Paul Zillig said in an email.
He pointed out that the three approved well permits come with "several conditions related to monitoring requirements, control of the land, and reporting pumping and water quality information."
Among them are that Monolith will have to take daily water measurements and report results quarterly to the NRD for at least two years after the new plant starts operation.
In a statement, Amy Ostermeyer, executive vice president of development, for Monolith, said NRD staff and board members "invested significant time to ensure that our application for water well permits fully complied with the district's rules and regulations."
"Their diligence, as well as the unanimous approval of our application, is a reflection of their desire to serve the best interests of their constituents across the district."
PhotoFiles: Sheldon Station
There's a lot of buzz surrounding the Sheldon Station generating plant near Hallam and the announcement of a new partnership with Monolith Materials Inc. that will make Sheldon the nation's first hydrogen-burning power plant. But Sheldon's made history before, as Nebraska's first nuclear power plant, before it was decommissioned almost immediately and converted to burn coal.