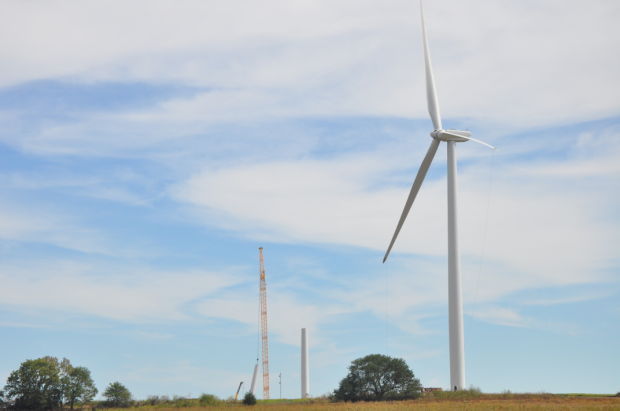 Plans for a wind farm in northern Gage and southern Lancaster counties that failed to materialize may be resurrected by a different company.
The Blue Prairie Wind Project, an affiliate of NextEra Energy Resources, is proposing to build a wind energy generation facility in the two counties.
According to information from NextEra, the project consists of as many as 50 turbines, each up to 90 meters, or nearly 300 feet tall (nearly 155 meters, or about 500 feet tall when measuring to the top of the blades). The company hopes to be operational by 2020.
NextEra anticipates the $141 million project would create around 200 jobs during construction and generate more than $25 million in property taxes in the two counties over a 30-year period.
The company is planning two informational events next week to discuss the project with the public. The events will both be at the Hallam Auditorium at 15 Main St. in Hallam on Tuesday from 5-7 p.m. and Wednesday from 7:30-9:30 a.m.
Gage County Planning and Zoning administrator Lisa Wiegand said the project is in the early stages and the company hasn't applied for permits yet.
NextEra, which operates the Steele Flats Wind Energy Center roughly three miles south of Diller, bought the project from Volkswind, a company that announced plans to build the wind farm four years ago.
Volkswind failed to follow through on the project after it prompted both Gage and Lancaster county officials to re-evaluate their zoning regulations for wind turbines.
"They were really toying with a portion of theirs being between Gage and Lancaster counties," Wiegand said. "Around 45-50 turbines is about what that project was. They just dropped it once Lancaster County showed some concerns with their regulations and then decided to move on elsewhere."
In November 2015, Lancaster County commissioners approved regulations establishing noise limits of 40 decibels in the day and 37 at night for wind turbines.
Gage County updated its own regulations related to wind farms the following March, setting decibel limits of 60 for participating property owners and 45 during the day and 40 at night for nonparticipating residences.
A nonparticipating property is one that does not have an agreement with the wind system operator.
Last week, NextEra submitted applications to the Lincoln-Lancaster County Planning Commission seeking to amend the zoning rules for wind farms in Lancaster County.
Among the changes the company is seeking are to raise the noise limits for participating properties, or those that host the wind turbines, to 50 decibels during both day and night hours.
NextEra also is seeking to reduce setback requirements for wind turbine towers.
The proposed changes are tentatively scheduled for a public hearing before the Planning Commission on Nov. 28.
This article contains information from the Lincoln Journal Star and Beatrice Daily Sun.
The business news you need
With a weekly newsletter looking back at local history.