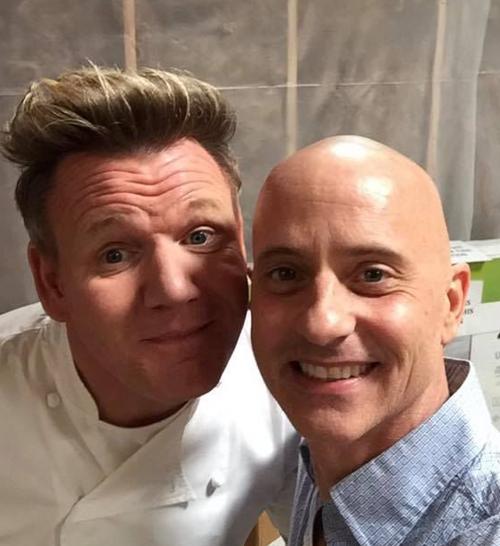 Nick Castaneda said he was watching an episode of "Hell's Kitchen" over the weekend, and former Olympic gold medalist Brian Boitano was serving as a guest judge.
Boitano, who won the 1988 Olympic gold medal for the U.S. in figure skating, has made a name for himself the past few years in the home and food spaces, with shows such as "What Would Brian Boitano Make?" and "The Brian Boitano Experience."
Castaneda, who is developing the Kindler Hotel at 11th and P streets along with his wife, Brooke, said he had been thinking about who he would want to develop the food pairing menu at the boutique hotel, with an eye on making it the premier wine and cocktail bar in Lincoln.
After watching the TV show, "I decided Brian would be an excellent fit," Castaneda said.
"I contacted Brian the next day and worked out a deal with him that he accepted," Castaneda said in an email. "Brian will be in charge of developing our cocktail menu, as well as wine and food pairings."
You have free articles remaining.
Castaneda said details aren't finalized yet, but it's likely Boitano will work in a consulting role to select menu choices for the cold plates and wine and cocktail choices.
Though he won't have a day-to-day role in the hotel's food operation, Boitano will be visiting Lincoln in the next few weeks to "get a feel for the city, tour our site and start developing our menu," Castaneda said.
"This is not just huge for the Kindler Hotel, this is massive for Lincoln," he said.
Attempts by the Journal Star to reach Boitano through his Twitter account and through an agency that represents him were unsuccessful.
Castaneda, whose wife is a Lincoln native, hopes to have the Kindler open early next year. He and his wife are also involved in the redevelopment of the Commercial Club building next door.
The $19 million project will create approximately 45 rooms — 34 in the Kindler building and 11 on the second floor of the Commercial Club — along with a business center and fitness center.