The Lincoln Police Department on Saturday morning enforced the city health department's order to close Madsen's Bowling & Billiards, blocking all entrances to the business with police cruisers and posting officers at the doors for several hours.
At about 7:55 a.m., officers arrived at Madsen's near 48th and Holdrege streets, marking the first time police have been involved in the weeklong squabbling between the local business and city over alleged violations of directed health measures.
Officers spoke with a few Madsen's employees when they arrived, then blocked off multiple driveways that lead to the building's parking lot. Owner Benjamin Madsen arrived at about 9 a.m. and spoke to police for several minutes, and the business did not open at 11 a.m. as it normally does on Saturdays. The officers left Madsen's shortly after noon, but the business remained closed.
Later in the afternoon, Pat Lopez, interim director of the Lincoln-Lancaster County Health Department, said in a statement that LPD will continue to enforce the closure of the establishment "until they submit a plan for operations that meets the requirements of the Directed Health Measure, which is then approved by the Health Department."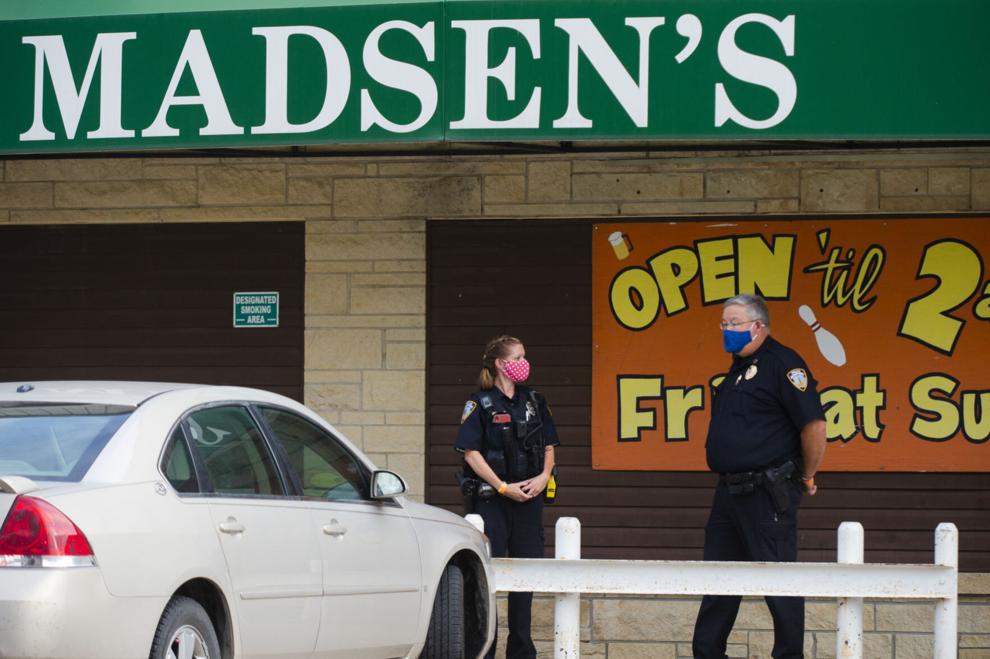 The city of Lincoln on Friday night charged the business with violating a closure order, a crime punishable by a $500 fine and six months in jail.
The charge was filed in Lancaster County Court and a court date is set for Aug. 28.
Madsen's was still open for business Friday night, seven days after the health department first ordered it closed for what the department said were flagrant violations, which included staff and customers not wearing face masks.
On Friday afternoon, Lincoln Mayor Leirion Gaylor Baird appeared to be trying to minimize the ongoing showdown over Madsen's refusal to close for continued violations of local coronavirus restrictions.
The mayor said she remained unconcerned over the appearance of involving police to force a business's shutdown as the fallout from the first challenge over Lancaster County's pandemic restrictions continued to unfold.
"I'm concerned about the health and safety of our community," Gaylor Baird told reporters at an afternoon news conference. "I'm concerned about keeping schools open, and I'm concerned about our economic recovery. And this conflict is small compared to what's at stake."
Madsen's attorney, J.L. Spray, reached out to the city Friday to ask what the business could do to remain open, Gaylor Baird said.
The health department then provided the business with an example of what that plan would look like, but city spokeswoman Diane Gonzolas confirmed Friday night that Madsen's had "not submitted a plan."
Video of LPD officer Martin Fehringer. He says Madsen's and the health department will have a meeting to ensure compliance— until then the police will be here ensuring the closure. pic.twitter.com/L0QgRSnptg

— Nick McConnell (@NickMc1717) August 8, 2020
On Saturday, Officer Martin Fehringer said a meeting was being set up between Madsen's management and the health department to ensure compliance with the city's health measures. It was unclear as of Saturday evening whether that meeting actually happened.
"Compliance is the goal," Fehringer said.
When reached by the Journal Star on Saturday, Spray declined to comment on the situation.
Throughout the day, supporters and opponents of Madsen's cause gathered on Dudley Street to voice their opinions. A group of about a dozen supporters brought out chairs from the bar and sat in the parking lot, asking police to answer their questions about the mandate. Some conversations were heated, but no physical altercations had occurred as of early Saturday afternoon.
Robert Borer, a former Lincoln Fire and Rescue captain, was there Saturday morning to support Madsen. He said the mayor's mask mandate unnecessarily regulates the public and hurts local businesses.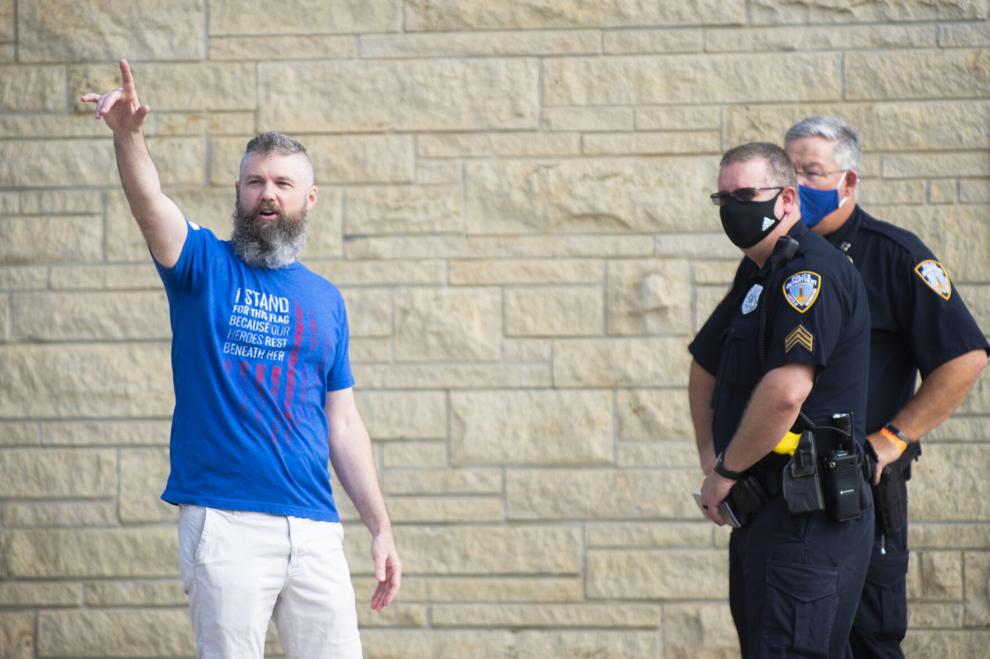 "I've been on this cause from Day One," he said. "Because (the mask mandate) is a scam." 
Much of Borer's frustration was directed at Gaylor Baird, as he believes she is overreaching her authority and pitting Lincoln's citizens against one another.
"She's a not a dictator," he said. "She's a mayor."
Patrick Schauer, a community activist, said he came to Madsen's to support the mask mandate. If Madsen's was allowed to disobey the DHM, he said, it would set a precedent for other businesses to do the same.
"Is it fair for one business to call the shots and be defiant?" he asked.
Scott McCormick, who arrived when the police were there and remained after they left, said the situation became less tense as the afternoon went on.
"I was shocked when the police were here," said McCormick, who had planned to get lunch at Madsen's, which he does regularly. He said he's known the Madsens and their staff for a long time, and he supports their cause. 
"The restrictions are outrageous and I want my freedom back," he said.
McCormick, who has both asthma and diabetes, said wearing a mask makes it even more difficult than normal for him to breathe.
Those gathered placed signs with messages including "Billiards Lives Matter" and "Ben's Livelihood Matters," and musician Kenneth Hall played a concert from the bed of his pickup, singing patriotic songs.
Hall, who writes original songs and parodies about his position on the issues, said the mandate was an overly aggressive measure against the virus.
"The songs are basically trying to talk about the values and principles that keep us free," he said.
Hall said he disagrees that masks slow the spread of COVID-19, and that the overreaction to the virus is causing harm.