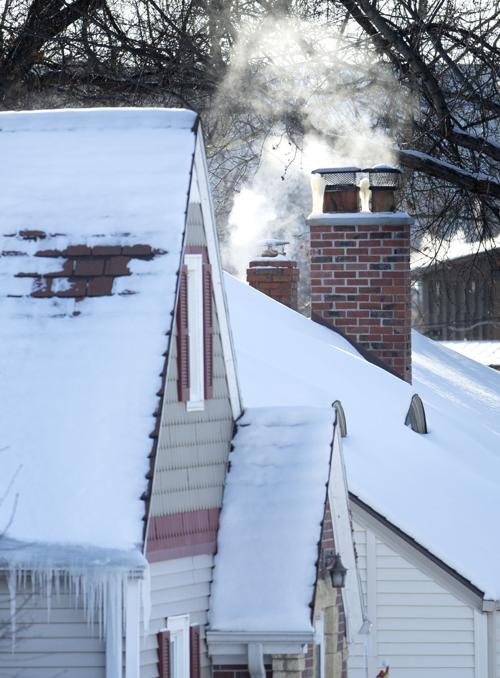 Wahoo officials thought they were prepared for last week's historic cold snap.
The city, which owns its own electric and gas utilities, had short- and long-term natural gas futures contracts in place, and it had a comfortable amount of natural gas in storage in Oklahoma, said Ryan Hurst, Wahoo Utilities general manager.
But then temperatures dipped to record levels, with wind chills dropping as low as the minus 40s in Wahoo.
Natural gas usage soared Feb. 14-16, and Wahoo quickly found out that what it normally has on hand wasn't going to be nearly enough to meet demand.
Hurst said the gas company pulled the maximum daily amount from storage it was allowed, but even that didn't meet the need. So the city was forced to buy natural gas on the spot market, at a time when prices were soaring to record levels.
Over five days last week, Wahoo spent about $500,000 on natural gas, which is half its budget for the entire year. And its purchases on the spot market accounted for only 27% of the total gas it used during that period, Hurst said.
That huge hit is not something the local utility or the city of 4,600 people can just absorb.
"For us, it was very impactful," Hurst said, adding Wahoo Utilities will have no choice but to pass at least some of that cost on to customers.
Though he did not offer specifics, Hurst hinted that customers could face bills that are multiple times more expensive than what they would normally pay during the winter months.
The average gas bill for Wahoo residential customers was about $93 in January.
Hurst said the city has a considerable cash reserve set aside for capital projects and will likely pull from those funds to help soften the blow to customers. It's also looking at spreading the costs over several months' worth of bills.
"We're going to do everything we can for our customers," Hurst said.
The situation in Wahoo is similar to what utilities in other states encountered as one of the worst cold snaps in decades descended on the middle of the U.S., even reaching the Gulf Coast.
In Texas, where the electric market is generally unregulated, numerous people have reported getting bills for thousands of dollars, even though they normally pay only a couple hundred dollars a month.
A spike in electricity demand caused wholesale prices to soar, which led to much of the increase for customers. But some of it was also caused by the spike in the price of natural gas, which is used as fuel in many power plants.
That price, recently less than $3 for 1 million British thermal units, spiked to hundreds of dollars last week.
Similar to Wahoo, several cities in Kansas with their own municipal utility systems blew through their annual budget in a couple of days.
Kechi, a small Wichita suburb, spent its entire annual natural gas budget of $150,000 in one day.
Winfield, a city of 12,000 people about 50 miles southwest of Wichita, spent $10 million on natural gas over a six-day period, the Wichita Eagle reported. Its annual budget for natural gas is $1.5 million.
Winfield City Manager Taggart Wall told the newspaper that a normal residential customer bill is about $100 a month, but if the city passed on the entire cost increase, that would spike to $2,500.
Most Nebraska households that rely on natural gas for heating are customers of either Black Hills Energy or Omaha's Metropolitan Utilities District, large utilities that are less likely to be hit by huge cost increases for one-time events and which have customer bases over which they can spread the costs.
But there are many small cities and towns that, like Wahoo, own their own gas companies.
Effect on smaller towns varies
Most of those utilities seem to have been able to "weather" last week's cold, but some may have taken hits.
Chris Anderson, the city administrator in Central City, said its locally owned utilities "came through pretty unscathed."
But Anderson, who is also chairman of the Lincoln-based National Public Gas Agency, said he's heard that several of its members, which include a number of cities in Nebraska, have been hard-hit. Some have had to take drastic measures, such as taking out lines of credit or issuing bonds to deal with their energy costs.
He said the agency is holding an emergency meeting next week to talk about how it can help its members that were hardest hit.
Sarah Jones, director of enterprise business support for NMPP Energy, an umbrella organization of which the NPGA is part, said it will likely be March or April before the full financial impact on its members is known.
Jones said the impact on each individual utility is going to depend on a number of factors, including what kind of heating demand it saw and the volume of natural gas it had to purchase at higher prices.
Andrew Brittenham, municipal utility manager for the town of Superior, which is an NPGA member, said his department pulled out all the stops to avoid buying natural gas on the spot market when the price was soaring.
In early February, when it became clear that a prolonged cold snap was on the way, the department bought more gas futures while prices were still low, he said. Then last week, when temperatures were at their worst Monday-Wednesday, the utility tapped natural gas it has in storage in Oklahoma.
"We played all of our cards in three days," Brittenham said, avoiding having to buy gas on the spot market.
It's making those purchases to replenish reserves this week, at prices that have dropped back down below $3.
"We did a pretty good job, circumstances considering," Brittenham said.
Officials from Hastings and Nebraska City both said that while they don't know the extent of costs associated with last week's cold, they don't expect customers to see big spikes in bills.
Jeff Kohrs, general manager of Nebraska City Utilities, said the organization uses a variety of short- and long-term natural gas contracts to hedge costs.
During the winter, it buys gas on a monthly basis based on expected usage but also buys gas during other months that it puts into storage for use when needed, Kohrs said.
On a couple of days last week, he said the utility did buy gas on the spot market at prices that were "fairly moderate."
"But on those days that were really, really cold, we just drew from storage," Kohrs said.
He said customers may see higher bills because of increased usage, but it's unlikely they would see significantly higher bills because of the price of natural gas.
Amanda Scott, public-information manager for the city of Hastings, said it, too, pulled gas from storage to help deal with demand and cut down on its need to buy "swing gas," or gas that it buys a few days in advance of an expected spike in demand.
Scott said it's not clear how much more customers will pay.
"We aren't quite ready to speculate on what customers will see on their bills yet, because we are still working out what we can to help with that burden before they ever see their bill," Scott said in an email. "But without any intervention from the Utilities Department, those higher swing prices during that cold snap would definitely have an effect on their bills."
Black Hills says usage will affect bill
Black Hills Energy, in a news release issued Tuesday, seemed to suggest its several hundred thousand Nebraska customers, including those in Lincoln, will not see huge spikes on their bills, despite what it said were the largest natural gas price increases in the past 20 years.
The energy company said customers will almost certainly see higher bills because of increased usage, but any increases will not be because of the higher price of natural gas.
"As the cold set in and widespread customer demand for energy increased, our teams continued to deliver the most cost-effectively priced energy available," Kevin Jarosz, Black Hills' vice president of Nebraska operations, said in the release. "Our team of gas supply experts and our reliable infrastructure across Black Hills Energy's eight-state footprint performed well during this historic event."
Lincoln customers who received bills this week that covered the super-cold period last week reported only modest increases.
But Black Hills, which recently got approval for its first rate hike in a decade, hinted that further action on rates might be in the cards because of the costs associated with last week's cold snap.
The company said in its news release that it would work with the Nebraska Public Service Commission "to determine the best path forward to manage the long-term impact of increased natural gas pricing for our customers, which will take more time."
Metropolitan Utilities District customers used about 50% more natural gas last week during the extreme cold, and the utility pulled about 40% of the gas used last week out of storage, spokeswoman Tracey Christensen told the Omaha World-Herald.
Because MUD was able to avoid buying gas on the spot market, customer bill increases should be modest, with the average residential customer likely to pay about $17 more for February, she said.
Electric companies also hit hard
Electric companies also were hit hard by last week's cold temperatures, with soaring demand leading Lincoln Electric System and many of the state's other electric service providers to institute rolling blackouts.
Kelley Porter, an LES spokeswoman, said customers will likely see higher bills because of increased usage, as temperatures over the past couple of weeks were about 15 degrees colder than they were at the same time last year.
The utility did see increased costs to generate power, especially in the cost of natural gas to fuel its plants.
LES, which budgeted for an average rate of $2.90 per 1 million BTUs, paid an actual rate of nearly $155 on Feb. 13, 14 and 15, and more than $188 on Feb. 17.
The good news is that despite the rolling blackouts called for by the Southwest Power Pool, LES actually generated more power than it used last week, which it was able to sell on the wholesale market for higher-than-normal rates.
Because of that, "we believe that we will break even on our costs from wholesale purchasing and selling during that event," Porter said.
However, the exact financial effect won't be known for a couple of months.
The Nebraska Public Power District also said its customers should expect to see higher bills because of increased usage this month.
The Columbus-based utility said in a news release that a preliminary review shows customers used about 30% more energy than usual during the extreme cold.
"Bills will be dependent on how much electricity each customer used, but the overall rate for electricity did not change," said NPPD Retail General Manager Pat Hanrahan.
Last week's cold snap was unprecedented not only because of the extremely low temperatures but also for how far south it reached. Though it was unusual, many scientists believe such extreme weather events will continue to happen more frequently because of climate change.
Those events come with a cost.
Hurst, the Wahoo Utilities manager, said he'd like to see more done in terms of regulation to prevent the kind of natural gas price spikes that occurred last week, which he referred to as "price gouging at its worst."
"This is something that needs to be changed," he said. "There should be a cap on how much they can charge utilities in these types of situations."
PHOTOS: RECORD-BREAKING COLD IN NEBRASKA