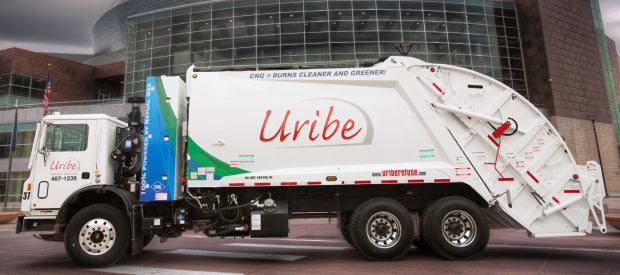 The first refuse truck in Nebraska known to be using a natural gas-dedicated fuel system soon will start running in Lincoln, where a local company hopes to cut fuel costs and reduce tailpipe emissions by converting fleet vehicles to run on natural gas.
Uribe Refuse Services said the natural gas-powered truck will travel the company's heaviest routes for optimal cost savings, and that Uribe plans to convert its 17 other trucks to natural gas over the next few years. The conversions will be diesel-natural gas hybrids. The original uses only natural gas. 
The first truck will be displayed at Lincoln's Earth Day Festival Saturday at Union Plaza, 21st and P streets. 
"We are very excited about this newest addition to our fleet and will closely evaluate the performance and economical attributes associated with natural gas vehicles," said Nick Crow, vice president of Uribe Refuse, in a press release. "Uribe Refuse and our RecycleLink curbside recycling company will maximize our efficiencies and cost savings by upgrading and converting our fleets accordingly."
Diesel fuel is about $3.86 a gallon at the pump in Nebraska, compared to a natural gas price of around $2.04 for a gallon of gasoline equivalent, according to Black Hills Energy, which supplies natural gas as heating and industrial fuel in Lincoln and 105 other Nebraska communities. Converting one refuse truck to natural gas will yield the same environmental benefits as removing 325 cars from Lincoln's streets, according to Black Hills.
There are about 140,000 natural-gas powered vehicles on U.S. roads, more than 100 models available, the largest category being buses for schools and public transportation, Black Hills said.
"Natural gas vehicles have actually been in use for decades, and NGV technology has developed to a point where converting is a practical and cost-effective choice," said Paul Cammack, an NGV expert with Black Hills Energy, in a press release.
The number of natural gas fueling stations recently topped 1,000. There is a fueling station at the Lincoln Airport, and Black Hills Energy has one near 14th Street and Old Cheney Road.
A third station owned and operated by Stirk Compressed Natural Gas just opened at Sapp Brothers, 6001 Cornhusker Hwy., where Uribe Refuse will fuel its refuse trucks.
Chad LeRiger, Stirk CNG's director of operations, SAID fleet operators can save 40 or 50 percent off their fuel costs.
The fuel cylinders for the Uribe Refuse Services truck were built by Hexagon Lincoln, a local subsidiary of a Norwegian company with an international reputation as a developer and manufacturer of composite cylinders for the storage and transportation of liquefied or compressed industrial gases.
Uribe Refuse Services is a third-generation, family-owned and -operated company that provides solid waste management services to the residents of Lincoln and surrounding communities. The family also owns and operates curbside recycling hauler RecycleLink, and Uribe Scrap Tires, LLC.