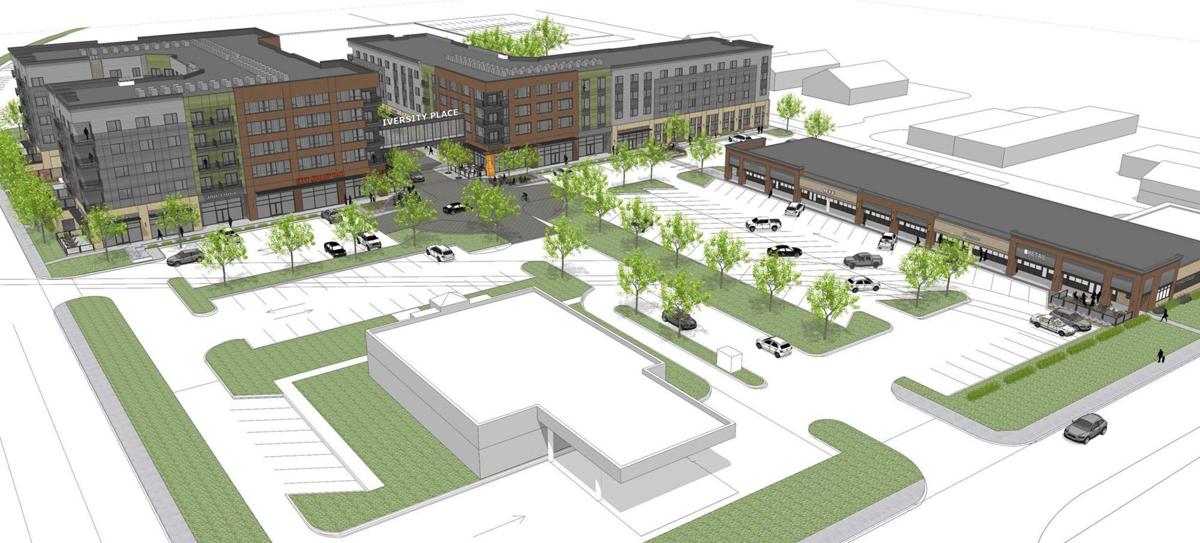 The Lincoln-Lancaster County Planning Commission on Wednesday gave a unanimous thumbs up to a proposed $35 million redevelopment of the shopping center at 48th Street and Leighton Avenue.
The plan calls for tearing down a vacant part of the center that used to house a grocery store and building four- and five-story buildings in its place. The buildings combined would have 28,000 square feet of commercial space on the first floors and a total of 184 market-rate apartments.
City Ventures, the Omaha-based development group that owns the center, is seeking about $4 million in tax-increment financing for the project.
Urban Development Director David Landis said the plan fits well with the goals of the city-county Comprehensive Plan for land use and will replace a "parking lagoon" with a design that is "more neighborly, more walkable and more pedestrian-friendly."
You have free articles remaining.
The project has almost universal support from the surrounding neighbors, although some have expressed disappointment that the development has a provision it cannot house a grocery store for several years. That was a requirement to get Hy-Vee to relinquish its lease on the vacant space.
Mike DeKalb, a former city-county planner and board member of the University Place Community Organization, said the area remains a food desert, and he would like the city to address food deserts as well as no-compete lease agreements in the future.
Members of the Planning Commission had only positive comments about the project, with Commissioner Michael Cornelius singling out the fact that the apartments are not student housing.
"I"m excited to see something that's not student housing," he said.
On Tuesday, the project received unanimous approval from the city's Urban Design Committee.
Several members complimented City Ventures on its decision to include brick in the buildings' designs, although at least one committee member also lamented the lack of a grocery store in the area.
Reach the writer at 402-473-2647 or molberding@journalstar.com.
On Twitter @LincolnBizBuzz.
Journal Star reporter Kevin Abourezk contributed to this story.