A solar power project being proposed east of Lincoln would be more than five times larger than all solar installations operating in the state combined.
Ranger Power wants to build a 230-megawatt solar farm on more than 1,000 acres of land generally east of 134th Street between O Street and Havelock Avenue.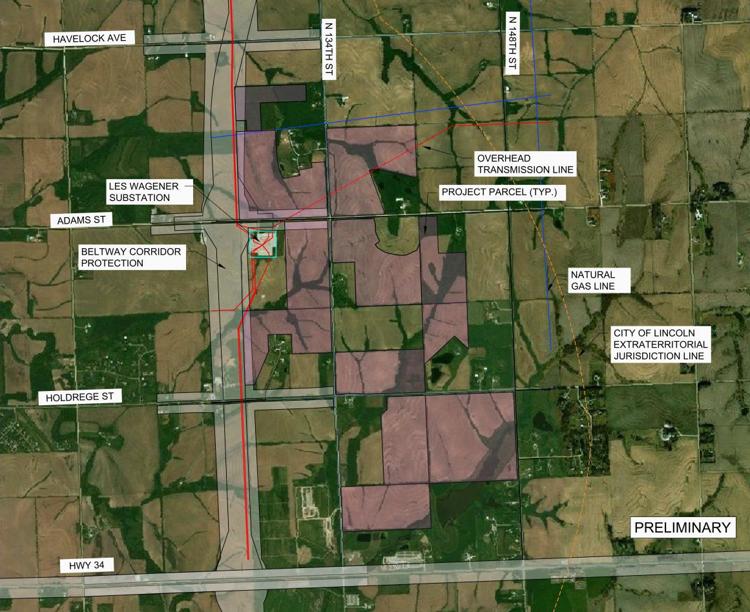 It would be the first project in the state for the New York-based company.
The project would not only be the largest solar installation in Nebraska to date, which had 43 total megawatts of solar power generation to start the year, it would be one of the largest projects in the region.
Ranger Power has done more than 20 solar projects in eight Midwestern states.
Colin Snow, the development manager for the local project, said the company "took an early interest" in the site east of Lincoln largely because of the fact that it is close to a Lincoln Electric System substation and is close to the "major load stations" of Lincoln and Omaha.
Snow said the company started studying the area in 2017.
Ranger spent several months approaching land owners in the area and has worked out leases with the owners of more than 1,000 acres.
It also has done community engagement and outreach with area neighbors and local officials.
Snow said the company also has had discussions with LES, the Omaha Public Power District and Nebraska Public Power District about potentially purchasing power from its solar farm, although it does not have any commitments yet.
CJ Walsh, vice president of development for Ranger, said it's a bit of a "chicken-and-egg" situation, where it's easier to sell the power if you have the infrastructure in place, but companies often need contracts in hand before building to get financing.
He said Ranger wants to sell all the power locally to individual utilities rather than attempt to get an interconnection agreement to sell it regionally through the Southwest Power Pool, a 14-state organization that operates the regional electric grid and wholesale market in which electricity producers buy and sell power.
You have free articles remaining.
Keep reading for FREE!
Enjoy more articles by signing up or logging in. No credit card required.
"We think there's a great opportunity to sell power in Nebraska," Walsh said.
That's because electric companies are always looking to diversify their power sources, and solar provides a stable source of power that can act as a hedge against other power sources that have more volatile prices, he said.
Ranger will need a special permit to build its solar farm, and was planning to submit paperwork to the Lincoln-Lancaster County Planning Department on Wednesday.
Snow and Walsh said they were told their project would likely be scheduled for a public hearing at the Aug. 21 Planning Commission meeting.
Ranger is hoping to build the entire solar project in one phase, although that could be difficult if it does not get enough power purchase commitments, because the estimated cost is $230 million.
The company hopes to start construction within two years, and the work would take six to 12 months.
"We're superexcited about this project," Walsh said. "We're very committed."
Though the solar farm would create only a half-dozen permanent jobs at most, it would create more than 300 temporary construction jobs and result in "millions of construction dollars being spent in Lancaster County," said Pat Haverty, vice president of the Lincoln Partnership for Economic Development.
Haverty also pointed out that the project would create significant property tax revenue for the city, county and school districts.
John Hansen, president of the Nebraska Farmers Union, who has been a proponent of wind farms as an additional revenue source for farmers, said the proposed solar farm would provide landowners with a "new source of value-added income that also provides good construction jobs, uses no water and emits no carbon."
The Ranger project is the second mega-solar project to be proposed in Nebraska this year.
Florida-based NextEra Energy Resources, which is considering constructing a wind farm in southern Lancaster and northern Gage counties, said in February it was in the early stages of researching the viability of a 423-megawatt solar farm in Pierce County in northeast Nebraska.
Though it's a bit more speculative than the Ranger proposal, if built it would be the largest solar project in the entire Midwest.