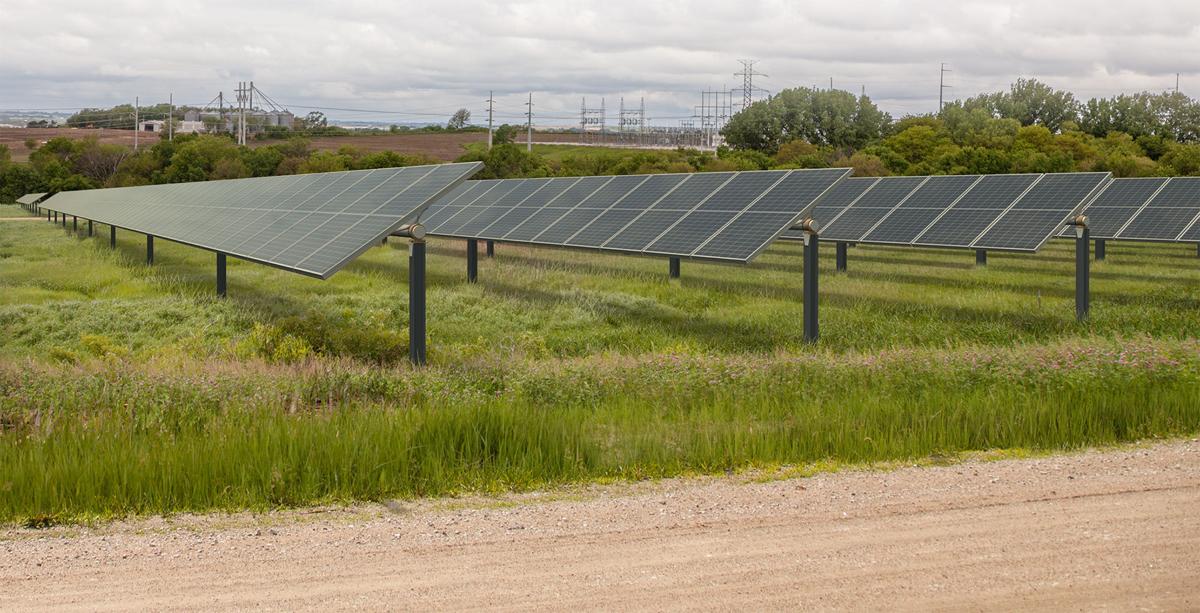 A company hoping to build the state's largest solar farm east of Lincoln wants to expand its physical footprint, and to do so, it's seeking a change in the county's zoning laws.
Ranger Power, which got approval in 2019 to put solar panels on 1,100 acres of land in an area bounded by 128th Street, 148th Street, O Street and Havelock Avenue, is looking to expand that area to the east.
To get the amount of land it needs to play host to solar panels for what would be a 230-megawatt solar farm, Ranger is seeking a text amendment to the county zoning code that would allow solar panels on agriculturally zoned outlots that are part of acreage developments in what are known as community unit plans.
Under the county's zoning code, agriculturally zoned land can have one house per 20 acres, but property owners and developers are allowed to cluster houses together in one area on larger properties. For example, someone with 100 acres might build five houses on 15 acres, providing each house with a 3-acre lot. In that scenario, anywhere from 50%-70% of the remaining 85 acres would have to be platted as an outlot, on which no further development is allowed.
Under the current zoning code, those outlots can be used for agricultural uses such as farming or raising livestock. Ranger Power has proposed an amendment that would add solar farms as an approved use on those outlots.
The Lancaster County Board last year approved rules allowing solar farms in areas of the county outside of the city's zoning jurisdiction zoned either industrial or agricultural. In agricultural-zoned areas, a special permit would be required.
While a hearing Wednesday in front of the Lincoln-Lancaster County Planning Commission was specifically for the zoning change for outlots, which would apply to the whole county if approved, it brought out more than a dozen residents of the area where Ranger Power is looking to expand, all of them opposed to the change.
Mick Von Busch, who lives near 173rd and Holdrege streets, said there are more than 100 homes in the area that could potentially be affected, whose owners collectively have spent tens of millions of dollars on their properties.
None of those people would have built in those areas, he said, "if we knew we were going to be encroached by solar panels."
Many of the residents echoed that sentiment, saying they had bought or built houses relying on zoning laws that required the outlot areas to remain as ag land and not be developed.
John Regan, who lives near 129th and Holdrege, said the current restrictions on outlots protect homeowners, and changing the zoning would allow developers to "move the goalposts and change the rules in the middle of the game."
"That's unfair," he said. "And it's unjust."
David Levy, an attorney representing Ranger Power, called the change a "narrow, technical text amendment" that would not only make county rules match city ones but also would protect the property rights of the outlot owners, many of whom have expressed interest in signing leases with Ranger Power, he said.
Sean Harris, vice president of development for Ranger Power, said it is seeking more land because it ran into some topographical and other issues on the 1,100 acres that made it difficult to locate all the solar panels it needs.
Harris said the company will likely file another application sometime this fall. The overall size of the operation in terms of planned power output is not changing, however, he said.
Members of the Planning Commission recommended changing the language of the amendment as a compromise. Essentially, the zoning code would be amended to allow solar farms on new agricultural CUPs, but not on ones already in existence.
That proposal failed to get enough votes to advance, however, with only four of the five commissioners present voting in favor. Because the commission has nine members, any item it votes on needs five votes in favor or against.
The commission plans to vote again at its Aug. 4 meeting. Assuming it recommends approval of the change, it would go on to the Lancaster County Board for final consideration.