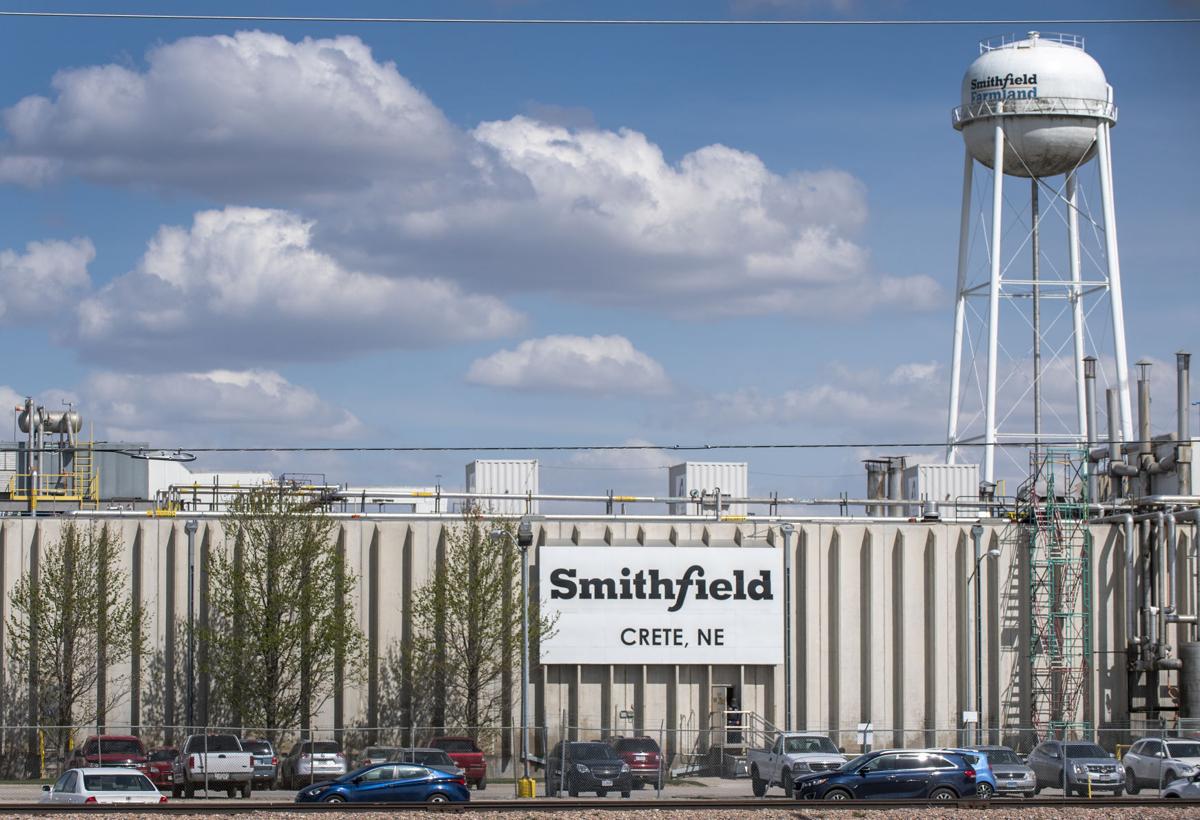 Smithfield Foods has reversed course and will not close down its pork-processing plant in Crete because of an outbreak of COVID-19 there.
According to an employee email sent to the Journal Star on Tuesday morning, instead of closing the plant completely, Smithfield is instituting a reduced schedule, with some departments working half days.
About 50 workers Tuesday staged a brief, impromptu walkout after company officials announced the plant would remain open.
The walkout wasn't union-sanctioned, and the workers eventually went back into the plant to discuss their concerns with managers. But a local union representative said it highlights the stress many workers are feeling as they work "elbow-to-elbow, shoulder-to-shoulder" cutting and packaging meat.
"They're scared," Eric Reeder, president of the United Food & Commercial Workers Local 293, which represents meatpacking throughout the state, told the Associated Press. "They want the company to be more transparent."
Reeder said employees are worried that they'll catch the virus from a co-worker and bring it home to their families, and they were caught off-guard by Smithfield's sudden about-face.
He said company officials have taken steps to address some of their concerns, including reduced work hours while still providing a full day's wages. Company officials have also put up barriers on the processing line and in the plant's cafeteria, he said.
Reeder said he also was concerned about President Donald Trump's expected order to keep the nation's meatpacking plants open, even though the federal coronavirus safety recommendations are voluntary. He said it could create a perverse incentive for plants to skimp on safety if they're under pressure to keep running.
"All you're doing is opening the door for abuse," he said.
On Monday, employees had told the Journal Star that they received an email saying the plant would shut down Wednesday for at least two weeks. Interim Lincoln-Lancaster County Health Director Pat Lopez also said the plant was shutting down.
However, a Smithfield spokeswoman declined Monday to confirm the plant was shutting down. Tuesday morning, a company spokesman said the plant remained operational and declined to comment further, repeating a statement from Monday that Smithfield would "make an announcement if there are material changes to its operations."
It's unclear why plant officials changed course, but the decisions to close and then reopen were apparently both made Monday. Gov. Pete Ricketts said Smithfield executives called him Monday morning to let him know they were planning to close the plant and then called back later in the day to let him know they planned to stay open.
When asked whether he intervened to keep the plant open, Ricketts said: "We didn't tell them to close; we didn't tell them to open."
Ricketts reiterated that he won't tell plants to close and that the plants are vital to the nation's food supply.
It's assumed that Smithfield originally made the decision to close because of a spike in COVID-19 cases associated with the Crete plant.
Public Health Solutions, the health department that includes Saline County, had reported nearly 50 COVID-19 cases in plant employees as of Sunday. According to the Nebraska Department of Health and Human Services, there were 87 cases in Saline County as of Tuesday night.
There also are at least 19 cases in Lancaster County residents that are linked to the plant, according to Lopez.
Ricketts said there are plans for more testing, and Bryan Health was doing a second mobile testing clinic in Crete on Tuesday.
Ricketts said he also encouraged Smithfield officials to contact Shelly Schwedhelm and Dr. James Lawler from the University of Nebraska Medical Center, who have toured several meat plants in Nebraska and offered advice on how to improve worker safety.
Smithfield has shut down at least four other plants, in South Dakota, Illinois, Missouri and Wisconsin, because of coronavirus outbreaks. The plant in Sioux Falls had more than 800 cases, which so far is the biggest single outbreak of the disease in the U.S.