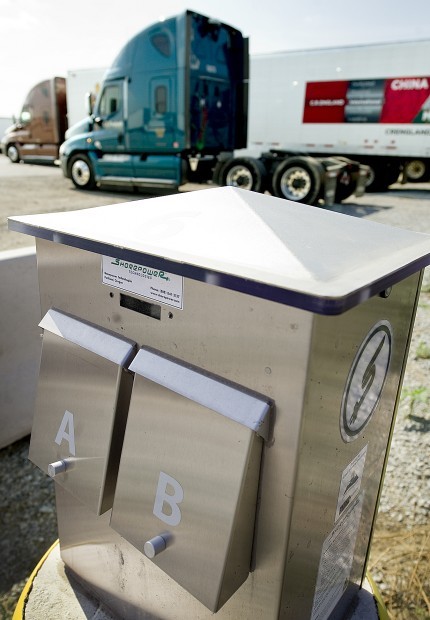 Two Nebraska truck stops have become part of a small but growing network of centers across the country providing plug-in electricity to truckers who stop there.
Shoemaker's Travel Center at Southwest 48th and West O streets in Lincoln and Sapp Bros. Travel Center at Interstate 80 and Nebraska 50 in Omaha recently unveiled Shorepower Technologies' truck stop electrification systems.
Shoemaker's has 36 stalls available and Sapp Bros. has 24, according to Shorepower.
The service allows truckers to plug in to the electrical grid for a small hourly fee and run electronic devices in their cabs without having to idle their engines.
Alan Bates, director of marketing and strategic development for Shorepower, described the service as similar to an "energy vending machine."
Truckers can hook up to the Shorepower machines using a heavy-duty electrial extension cord, then run heating and air conditioning systems and use in-cab appliances such as microwaves and TVs on the 110/208-volt system. Cable TV is included at the Sapp Bros. location and is scheduled to be available soon at Shoemaker's.
The service has a hook-up fee of $1 and costs $1 per hour, and truckers have four ways to pay. They can use credit cards over the phone, online or at a kiosk in the truck stop, or they can use cash to buy prepaid cards from the truck stop cashier.
For a trucker taking a 10-hour rest stop, the cost would be $11, Bates said.
"To idle a main diesel engine for that same period costs about $40, not including maintenance, just for fuel," he said.
In addition to the cost savings, the setup is environmentally friendly, which is one of the big reasons Shoemaker's got involved.
Owner Dave Shoemaker said that when he was building the new truck stop in 2009, he was approached by the Lincoln-Lancaster County Health Department about the possibility of installing a system to cut down on truck idling.
He said he researched the companies offering such systems and settled on Shorepower.
The environmental advantage is one of the main reasons Shorepower is offering the systems. It teamed up with another company, Cascade Sierra Solutions, to take advantage of a $20 million grant from the U.S. Department of Energy to install the plug-in stations.
Fewer than 20 are operating, but Bates said the goal is to have 65 open by the end of the year.
The stations also can be used by RVs and electric cars, although Bates said that is a decision left up to individual truck stop owners.
Shoemaker said he's open to letting anyone use the stations.
Thus far, there hasn't been a whole lot of demand, he said, but he attributed that to the recent nice weather and said the plug-in stations likely will be used more in the winter.
The truck stop gets a small cut of whatever revenue Shorepower brings in at each plug-in station. But Shoemaker said the money is not his main reason for offering the service.
"I don't care if I make any money or not," Shoemaker said. "Here's the way I look at it: It's just an additional draw. The more things we have to offer, the more apt we are to have a driver stop with us."