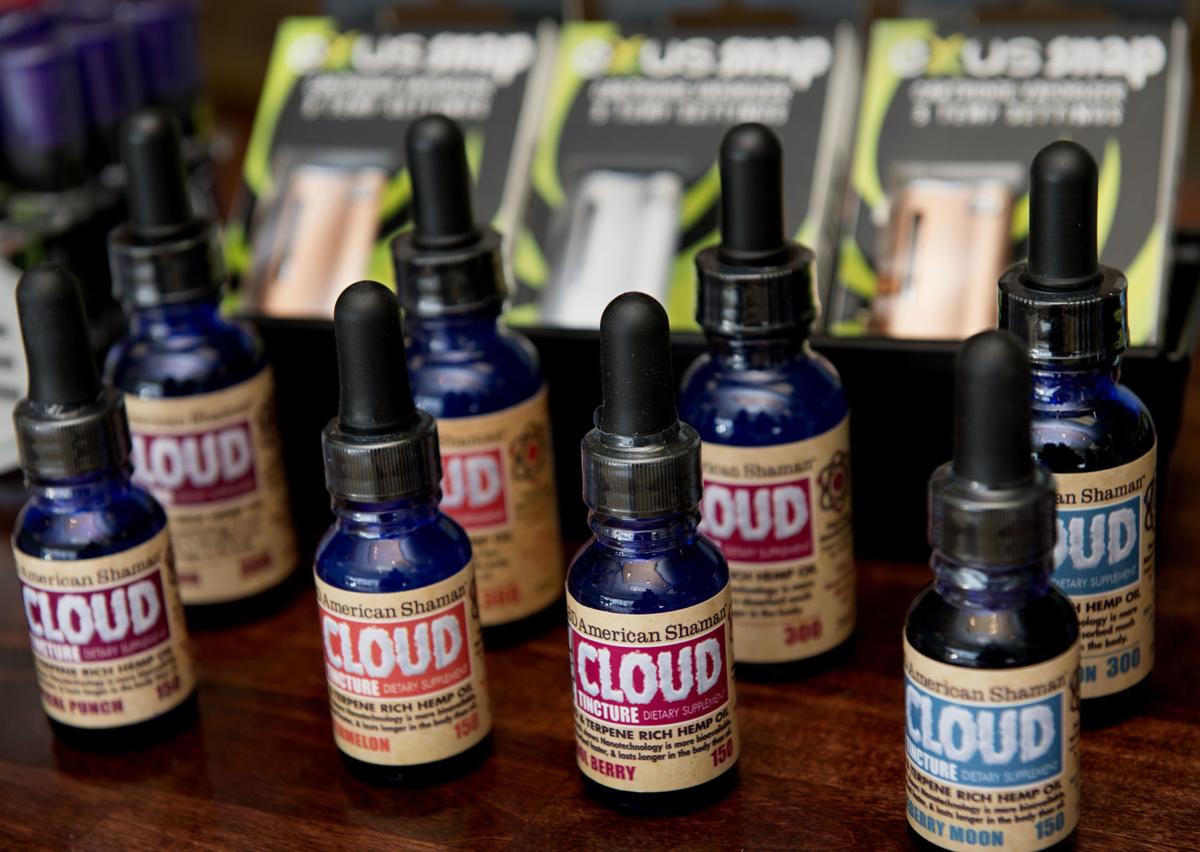 The arrests of a mother and her son and the raid of their Scottsbluff store offering products containing cannabidiol last week marked a rare crackdown in a contentious legal debate ongoing in Nebraska.
Attorney General Doug Peterson believes cannabidiol products marketed as health aids are barred by state and federal law because they're marijuana derivatives.
Sellers maintain the products are legal because the cannabidiol, commonly known as CBD, comes from hemp, a cousin to the marijuana plant but with higher amounts of CBD and much-lower tetrahydrocannabinol, or THC, levels.
And in a new wrinkle, President Donald Trump on Thursday signed the farm bill into law, enacting a provision that legalized hemp. Still, the farm bill's impact on the legality of CBD products in Nebraska wasn't clear.
In Lincoln, Adam Brewer has known about the legal risk involved with these products since he opened the city's first cannabidiol specialty store, CBD Remedies, in University Place 18 months ago. He's consulted extensively with an attorney.
The news of the bust at KB Natural Alternatives in Scottsbluff isn't changing Brewer's business, he said.
"We're definitely continuing as usual," Brewer said.
His oils, creams, capsules, gummies, juices and pet food have legal concentrations of CBD, he said.
But he doesn't believe every one of his peers locally and across the state are selling CBD products compliant with the law, he added.
CBD oils are sold at several other Lincoln locations, including CBD American Shaman at 27th Street and Cornhusker Highway, Red Clover Market at 55th Street and Old Cheney Road, and Fresh Thyme Farmers Market at 52nd and O streets. Fresh Thyme, a corporate retailer, didn't respond to a request for comment Thursday.
Lincoln police have ongoing investigations into CBD oil sales, Chief Jeff Bliemeister confirmed this week.
No arrests have been made nor citations issued, Bliemeister said.
While he wouldn't comment on those investigations specifically, Bliemeister said they're akin to the department's probes into sales of K2 in 2015.
That investigation coincided with a public health crisis in April 2015, when dozens of people were hospitalized due to overdoses. And a previous K2 overdose in 2013 killed an 18-year-old Waverly boy.
"The city of Lincoln is not experiencing the same degree of acute crisis that can be directly correlated with cannabidiol use," the chief said.
In fact, he said, no deaths or "incapacitating overdoses" have been reported to Lincoln police.
But, the chief cautioned, the issue shouldn't be dismissed. "The illegal use of cannabidiol and highly concentrated THC has not been fully studied."
Bliemeister hopes business owners dealing in CBD will comply with state laws to keep their employees from being entangled in police investigations into the distribution of controlled substances, he said.
The lengthy K2 investigation involved undercover purchases of the synthetic cannabinoids and resulted in the indictments, trials and imprisonment of a mother-son duo that operated two local smoke shops.
"That investigation took time," Bliemeister said. "In law enforcement, we often replicate procedures that lead to successful outcomes."
Brewer hasn't swapped out any of his merchandise in light of Peterson's memorandum issued to law enforcement last month saying it remains illegal to possess, manufacture, distribute or dispense cannabidiol.
"It's his opinion," Brewer said.
Customers, however, have been confused by the debate, and he spends much of his days providing information.
Deborah Archer, of DJ's Vapes General Store in Herman, said the situation at the Scottsbluff store sounds similar to the legal fight she's been in.
A year ago, Washington County sheriff's deputies raided the store on Main Street of the town of 270 people and seized cannabidiol.
Felony drug dealing charges were filed in Washington County Court against Archer and three employees, but a judge dismissed them, saying the state failed to show that the substances tested had the structure and pharmacology of THC.
Meanwhile, the store which opened initially focusing its sales on vaping has again adapted its business model.
It's a convenience store, and CBD oil has been off the shelves since it was seized last year.
On Nov. 8, however, Washington County Attorney M. Scott VanderSchaaf refiled the charges, this time in district court.
"We're hoping for another dismissal," Archer said.