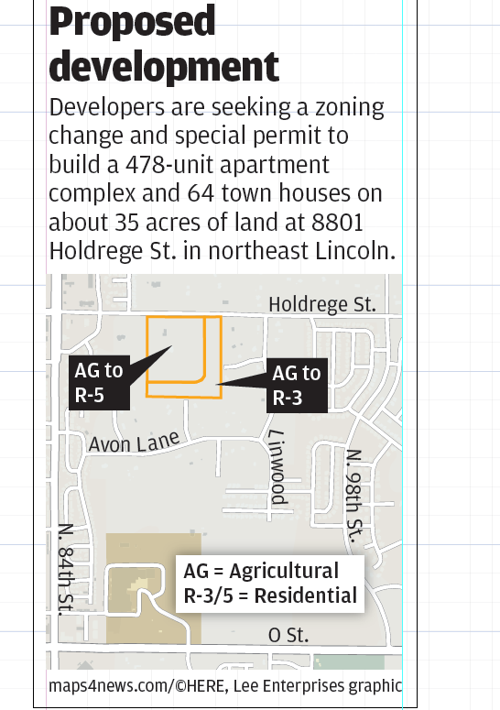 The Lincoln-Lancaster County Planning Commission late Wednesday voted in favor of a scaled-down apartment complex in northeast Lincoln.
The board recommended approval of a zoning change and special permit for 478 apartments and 64 town homes at 8801 Holdrege St.
Developer The 8801 Inc. had originally proposed 661 apartments on 35 acres of land on the site but cut back the number and added the town homes as a buffer after encountering strong opposition from nearby neighbors.
"We've tried to show we can be a little flexible," said Brad Marshall, a civil engineer with Olsson, who represented The 8801 Inc. at Wednesday's hearing
The developer had requested that it be approved for the maximum allowed density at the site of around 720 housing units, in case it wanted to change its plans in the future, but planning commissioners put a cap of 596 units, or 10% over the 542 proposed by the developer in its revised application.
The changes to the plan did not satisfy many of the neighbors, who testified at Wednesday's public hearing that they believe the project is still too big for the area, which mostly contains acreages.
Ted Wolfram, president of the Sunrise Estates Neighborhood Association, said his main issue was increased traffic, but he also cited water runoff, noise and other concerns.
You have free articles remaining.
Wolfram said the development would have a "significant impact" on area residents' quality of life and property values.
Dave Halvorsen, another resident of the area, was more blunt.
"It's going to take our lifestyle away," he said.
Wolfram and Halvorsen were among more than a dozen neighbors who waited through more than eight hours of public hearings on other items Wednesday before the one for 8801 Holdrege began shortly before 9:30 p.m. Wolfram said a number of other area residents had to leave before the hearing began.
Many of those testifying said they understood that development on the land, which is currently farmland, was inevitable. But they said some combination of single-family homes, duplexes and town houses would be more appropriate for the area.
The site is bordered by a church to the west and acreage homes to the south and east. There also are acreages across Holdrege Street to the north.
Commissioners, who voted unanimously for both the zoning change and the special permit, said they appreciated the developer's willingness to scale down the plan.
"I think that's a great compromise and maybe will alleviate some of the concerns of the neighbors," said Chairwoman Tracy Corr.
The zoning change will still need to be approved by the City Council, while the special permit approval is final unless opponents appeal.