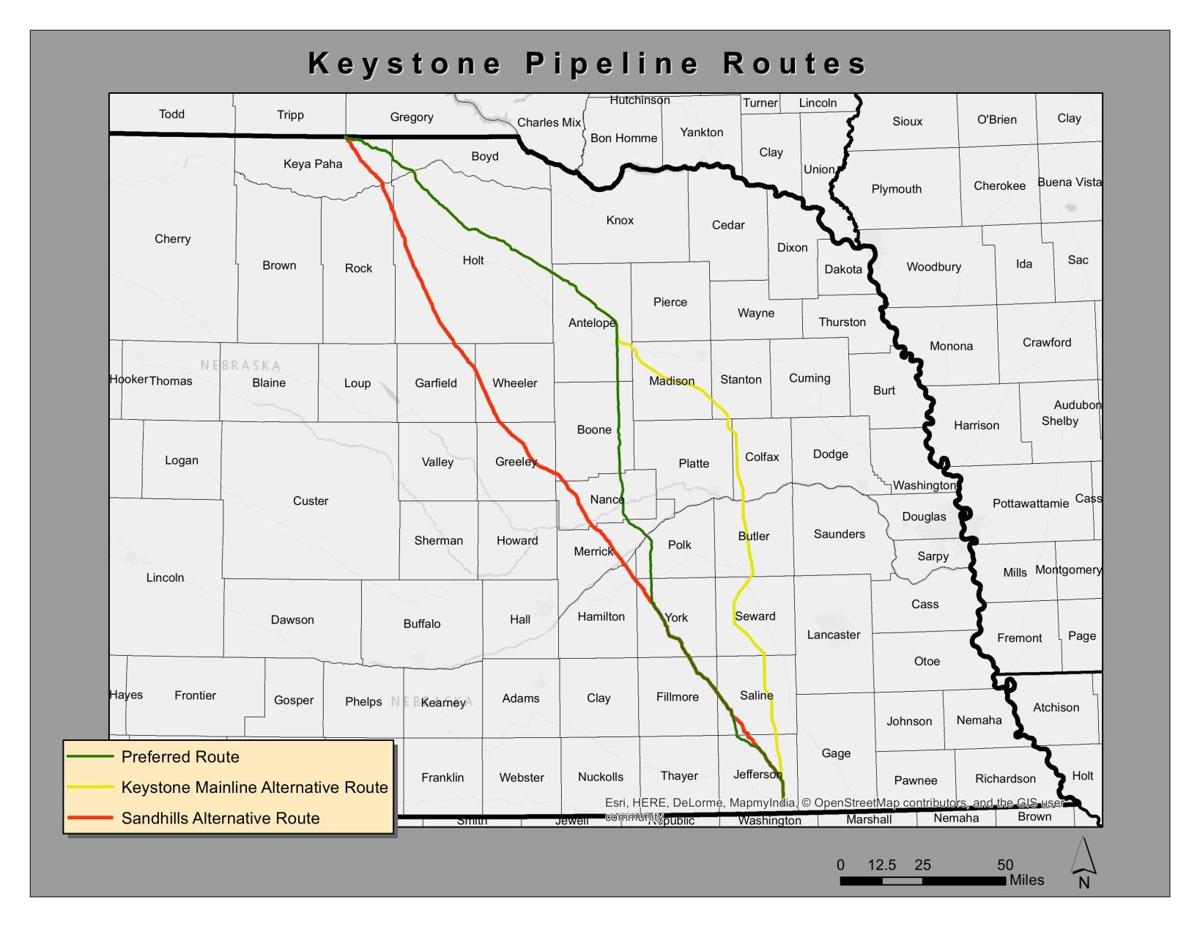 An alternative route approved through Nebraska for the Keystone XL pipeline would have minimal impact on the environment, according to a draft environmental assessment released Monday by the State Department.
The 304-page document looked at eight potential areas the proposed pipeline might affect, ranging from air and water quality to noise to cultural issues, and found only three where it would have more than a minor impact.
According to the review, the pipeline would have "minor-to-moderate" effects in the areas of noise and vibration, water resources and biological resources. It would have minor impacts on soils, air quality and cultural resources, negligible-to-minor impact on socioeconomics and environmental justice, and a negligible impact on land use and recreation.
A spokesman for TransCanada, the company building the pipeline, told Bloomberg that it would review the report and comment to the State Department as necessary.
The slightly longer "mainline alternative" route cuts farther east than what TransCanada proposed. It then runs parallel with the existing Keystone pipeline for about 95 miles, with a 30-mile detour in Seward County. It also would require an additional pumping station in the state.
The "mainline alternative" route was approved by the Nebraska Public Service Commission in November on a 3-2 vote.
Several landowners filed a lawsuit over that decision, and the case is set to go before the Nebraska Supreme Court as early as October.
Environmental groups criticized the report.
Jane Kleeb, founder of Bold Nebraska, said in an email that landowners, Native tribes and others will continue to fight "the Trump administration's illegal rubber-stamp of a permit for Keystone XL, and this illegal review that completely violated due process of affected landowners on the mainline alternative route."
"Once again, the Trump administration is attempting to take a shortcut around the legally required review process on Keystone XL, putting our communities at risk for the sake of propping up the Canadian tar sands industry," Sierra Club Beyond Dirty Fuels Campaign Director Kelly Martin said in a written statement.
Martin said the pipeline was "a bad idea when it was proposed a decade ago, it was a bad idea when former President Obama rejected it, and it's an even worse idea now."
President Trump signed a federal permit for the project in March 2017, reversing Obama's decision to reject the pipeline. But a new federal review was needed because of the new route approved in Nebraska.
The pipeline would carry up to 830,000 barrels of crude oil per day from Canada to Steele City, where it would connect with the original Keystone pipeline that runs down to Texas Gulf Coast refineries.
The draft environmental report is open for public comment until Aug. 29, after which the State Department will release a final report.
Reach the writer at 402-473-2647 or molberding@journalstar.com.
On Twitter @LincolnBizBuzz.
This report contains material from The Associated Press.
The business news you need
With a weekly newsletter looking back at local history.