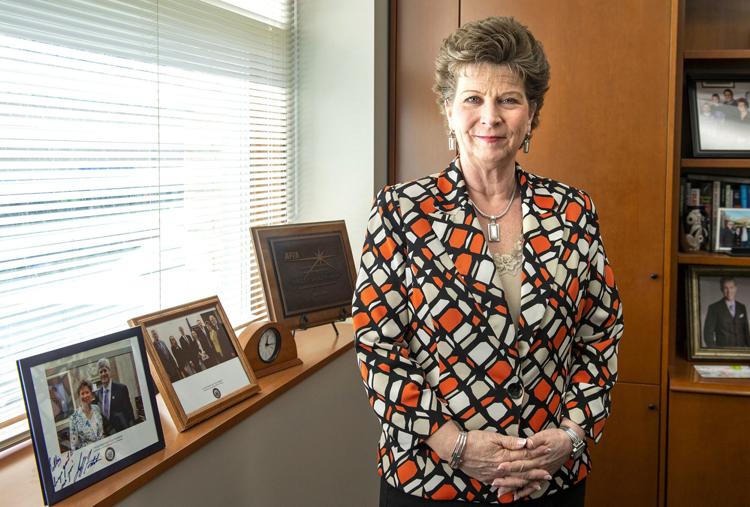 • Vice President and General Counsel, Lincoln Electric System
• Member of both Nebraska Bar Association and American Bar Association
• Lincoln Partnership for Economic Development Steering Committee – current member
• Freight Rail Customer Alliance – member and current president
Previously served on:
• U.S. Surface Transportation Board's Rail-Shipper Transportation Advisory Council – former member and past chair
• American Public Power Association Board of Directors – former board member
• The Bridge at Cornhusker Place Board – former member and past president
• NUCorp Board of Directors – former member and past president
Who has inspired you?
I've been inspired by dozens of people. I clearly know I've been inspired by my late mother, as I hear her words coming out of my mouth on a regular basis. Recently I've been inspired by Nebraskans who have been resilient in the face of incredible flood damage and loss, and those who look past partisan and other differences to come to the aid and assistance of both friends and strangers.
Whom do you hope to inspire?
You have free articles remaining.
I hope I inspire my sons to live their lives with integrity, to believe in themselves and to pursue their dreams. Beyond that, I also hope to inspire our team members to also believe in themselves and to challenge themselves to reach their full potential both at work and in their personal lives.
What does leadership mean to you?
I view leadership as setting the example for others and fostering the growth and development of those around you. It isn't about having all the answers. Rather, it's about being willing to continue learning and utilizing that knowledge and the talent around you to pursue a vision.
What is your favorite quote or motto?
Thomas Edison – "Many of life's failures are people who did not realize how close they were to success when they gave up." Our team members have all heard my Hank Aaron speech. People remember that Hank Aaron hit 755 home runs, but no one remembers that he struck out 1,383 times in 12,364 plate appearances. You'll never hit a home run if you stop swinging the bat, and you won't see success if you're afraid you'll fail. The goal is to learn from the failures and not repeat them.
How would you describe a great day at work?
Twenty or fewer emails and few meetings so I have time to walk around and check in with my team members. A great day at work, or anywhere, also involves a little fun and laughter to balance out the stress of the day.
What's the best advice you've ever received, and who gave it to you?
There are so many bits of advice to choose from. One thing that comes to mind is that I learned from dad to be a straight shooter with people. He would make agreements with people with a handshake, because they would trust his word. I've tried to emulate that throughout my life.
What's the highlight of your career (so far)?
Probably that LES has kept me around for 30 years. But seriously, I've worked with some amazing people and experienced some incredible things over the years. I've been particularly gratified to see the increase in the number of women working in the electric utility industry. One specific highlight and honor is that I served six years on the board of directors for our national trade association.
How have you changed over the course of your career?
Well, I hope I've become more knowledgeable over the years, and I hope that I'm a better listener and more open to other viewpoints than I was 30 years ago.