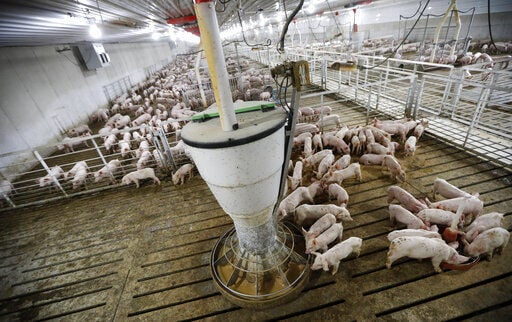 Larry Janssen sees President Donald Trump's Tuesday executive order designating meat plants as critical infrastructure and ordering them to stay open as a potential lifeline.
"I hope it works. We're still in a world of hurt, but that is a good step forward," said Janssen, who raises hogs as well as cattle in northeast Nebraska.
The recent closure of the Smithfield Foods plant in Sioux Falls, South Dakota, because of a large outbreak of COVID-19 put Janssen and many of his fellow northeast Nebraska producers in a precarious situation. The plant processed about 5% of the country's pork, and it takes in hogs from producers in Nebraska and several neighboring states.
Pork, more than other sectors of the meat industry, is dependent on a consistent and efficient supply chain.
Hogs are raised in barns and, unlike cattle, they can't be housed outside in pasture areas. Hogs that are not sent to slaughterhouses once they reach their market weight can grow too big and injure themselves. They also take up space that needs to be turned over to newly born piglets.
With several pork processing plants having closed in the Midwest and elsewhere over the past few weeks, it has greatly reduced the slaughter capacity and gummed up the supply chain. Overall U.S. pork slaughter capacity was down 25% in the past week, which has led to about 200,000 fewer hogs being slaughtered per day compared with a year ago.
Al Juhnke, executive director of the Nebraska Pork Producers Association, said that once pigs reach their market size (usually somewhere between 280 and 310 pounds), they need to be shipped to a processing plant. If not, they continue to gain weight, and if they gain too much, the plants can no longer take them.
"Farmers can change feed rations and take other steps to slow weight gain, but they cannot completely stop it," Juhnke said. "They are able to hold animals for a week or two if needed, but that may be the outer limit."
Producers like Janssen are starting to reach that point, which is leading them to do the unthinkable: euthanize their swine.
In Janssen's case, he's chosen to euthanize piglets, but he knows of plenty of producers who are having to euthanize adult hogs.
"Three million pigs are gonna get killed this week or next," Janssen said. "The barns are filled with fat hogs."
Brian Schantz, a veterinarian from Laurel who works exclusively with independent pork producers, predicts a lot more than 3 million pigs are going to be euthanized over the next couple of months.
By last week, there was already a nearly 2 million cumulative shortfall of pigs that should have been processed but weren't, he said.
The partial reopening of the Smithfield plant in Sioux Falls on Monday, as well as Tyson's plans to partially reopen a pork processing plant in Indiana, will help restore some capacity, but it will take awhile for things to go back to normal.
In his best-case scenario, where all the closed plants reopen by May 18 and slaughter production hits 75% by June 1, Schantz sees the cumulative shortfall growing to about 6 million hogs by June 1. That would mean about 4.3 million hogs could have to be euthanized over the next six weeks or so.
In Schantz's worst-case scenario, with more plants shutting down and slaughter capacity remaining below normal for an extended period of time, he estimates about 9 million pigs not being processed on time and about 7.2 million needing to be euthanized.
"These are animals that will not be harvested and the food protein lost. This is an absolute tragedy and emergency," Schantz said in an email. "We do not have any good ways to euthanize and dispose of these animals at the farm level. We are going to have to do it anyway."
He said he's already heard from five producers that he works with, all of whom were looking for guidance because they are in a position where they will soon have to euthanize hogs that have grown too big — 350 pounds or more — and can no longer go to slaughterhouses.
"This is just a small sample size of the bigger picture," he said. "It feels like there is no central leadership in this emergency. It is chaos with our food supply."
One of those producers is Keith Janata, who raises hogs near Pilger.
When a reporter called him Thursday, Janata was investigating potential burial sites for the hogs he's probably going to have to euthanize in a week.
He said he usually sends about 18 truckloads of hogs to slaughter weekly, mostly to the Tyson plant in Madison. That was reduced to 14 loads and then five.
Now he said he's been told that the plant may be shutting down for at least a week and maybe two. Two other plants he sometimes ships to in Minnesota already are shut down.
People often ask why producers can't offer their hogs to local meat lockers or direct to consumers. Even in the best of times, there's no way small lockers and individuals could take all the excess meat. And in many cases, those options don't even exist right now.
"Our farmers in Nebraska would utilize local meat processors or locker plants if possible, but most are booked up through the fall and some even into next year," Juhnke said.
Janata said the meat lockers in his area are all booked, but he's found people to take about 50-60 hogs off his hands, but it's not nearly enough.
"That's a big difference, from 60 to 3,300," he said.
Janssen gave an estimate of how much potential food is being wasted using the low end of Schantz's estimate — 4.3 million hogs euthanized — noting that one hog can provide a single meal for as many as 600 people.
"That's 2.5 billion meals that will be lost," he said.
It's also a lot of lost income for hog producers.
The National Pork Producers Council last month estimated that producers are facing up to $5 billion in losses this year due to the pandemic. The current average estimated loss per head is $37.
On the flip side, because of the reduction in product, consumer prices are on the rise. Data from Nielsen show that for the week ending April 18, pork prices were up 6.6% compared with a year ago, and they are expected to rise further.
Of course, the question of the packing plants' continued operation is not just about dollars and cents. The plants that have closed in most cases have done so because they have had COVID-19 outbreaks and have been unable to keep workers healthy and safe.
Tyson announced Wednesday night it would close its beef plant in Dakota City for four days to do a deep cleaning. It's the only plant so far in Nebraska to shut down, although the Smithfield pork plant in Crete told employees it was going to cut back and have them work only half days.
Some plants that are still open are reportedly having to run at reduced capacity because so many workers are out sick.
The United Food and Commercial Workers union, which represents thousands of employees at meatpacking and food processing plants across the country, last week estimated that 6,500 workers in the industry had either been diagnosed with the disease or missed work because they were having to self-quarantine because of symptoms. It also said at least 20 workers had died from the disease.
"This is not just about whether we will have enough beef, chicken, and pork to feed our families. It is — for these workers — a matter of life and death," UFCW International President Marc Perrone said in a news release.
Local advocates for workers said they need more protections, such as mandating 6 feet of distance between workers and providing more personal protective equipment.
"We do not have to choose between food production and safety protection," Becky Gould, executive director of Nebraska Appleseed, said during a virtual news conference Wednesday.
Janssen said he feels for the workers and wishes meatpackers had done a better job of protecting their workers from the virus.
"It really bothers me that the packers didn't see this coming," he said. "I really wish they would have stepped up and taken precautions six weeks ago."
Janata has done everything he can to try to avoid euthanizing his hogs, including putting them on what's called a "holding" diet. But with things as they are now, he knows he'll likely be euthanizing his adult pigs in a week and baby pigs in another 2-3 weeks.
He's already losing about half his cash flow every week with no cut in expenses. He said 20 years of equity he's put into the business has vanished in about four weeks, and he figures many other producers are in the same boat.
"It's going to be hard for any of us to make it through this."