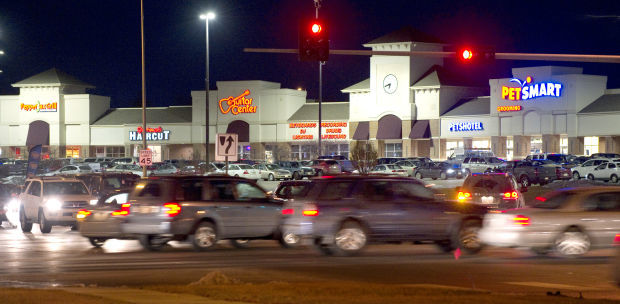 Neighbors have convinced members of the Lincoln-Lancaster County Planning Commission that a pair of proposed apartment buildings are too tall for a site near 27th Street and Pine Lake Road.
The commission voted 6-1 Wednesday to recommend denial of a use permit amendment to allow two mixed-use apartment buildings on the land.
The site sits just south of the South Ridge Village shopping center on the southeast corner of the intersection, and has been approved for years for three office or medical office buildings.
Rick Krueger, owner of Krueger Development, submitted a proposal to the city Planning Department to build two buildings, one with one floor of office space and three floors of apartments, and the other with one floor of office space and four floors of apartments. As proposed, they would have a total of 135 apartments and nearly 24,000 square feet of office space.
The office zoning on the land would allow Krueger to build apartment buildings without any additional city permission, as long as the buildings are no taller than 35 feet. Krueger's plan, however, calls for one building to be 50 feet tall and the other to be up to 65 feet tall.
The Planning Department had recommended conditional approval of the plan, saying it was generally consistent with surrounding land uses as well as the city-county comprehensive plan for land use.
More than two-dozen neighbors sent emails to the Planning Department opposing the plan, and several of them testified against it at a public hearing Wednesday.
You have free articles remaining.
Though they have concerns about increased traffic and parking, their main sticking point was the building heights.
Fred Hoppe, an attorney representing a group of town-home owners across the street from the proposed development, said it was "completely disproportional" to both the commercial area to the north and the residential area to the south.
He said neighbors generally accept that building will occur on the site, but are opposed to the exception to grant the building height.
Ron Olds, one of the nearby town-home owners, called the proposed apartments, "a size-12 foot trying to slip into a size-6 shoe."
Planning commissioners said they generally liked the plan, except for the height of the buildings.
"I think jumping from 35 feet to 65 feet is too much," said Commissioner Tracy Edgerton. "I cannot support that much of a height extension."
Maja Harris was the only commissioner to vote in favor of the plan, saying it fulfilled a lot of the goals of the comprehensive plan and that the potential benefits would probably outweigh the drawbacks.
The plan will now go to the City Council, which will have the final say.