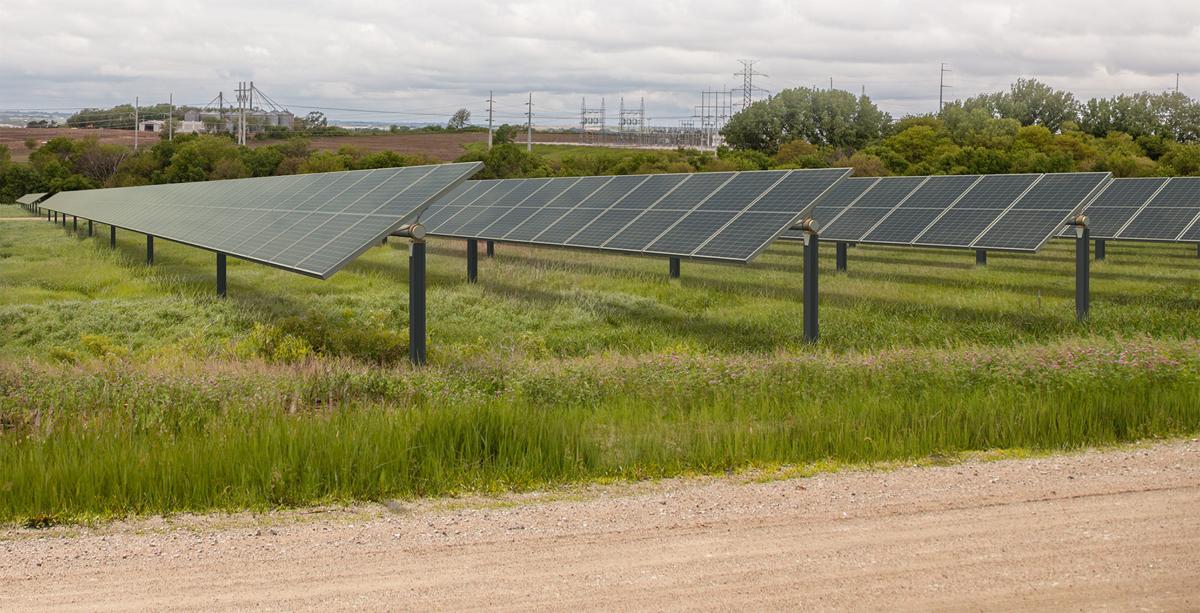 A massive solar energy project proposed east of Lincoln cleared its first hurdle Wednesday.
After more than two hours of testimony, the Lincoln-Lancaster County Planning Commission voted unanimously to grant a special permit for a 230-megawatt solar farm on roughly 1,100 acres in an area bounded by 128th Street, 148th Street and O Street and Havelock Avenue.
New York-based Ranger Power has proposed the project, which would be the largest solar farm to date in Nebraska by a wide margin, more than five times the size of all installed solar energy projects in the state.
Colin Snow, the development manager for the project, said the company chose the area because it is close to both Lincoln and Omaha and also because it has existing infrastructure — in the form of a nearby transformer owned by Lincoln Electric System — "that is robust enough for us to plug into it."
Supporters of the project pointed out its many positive attributes, including generating clean energy and also generating tax dollars for the county, estimated at about $800,000 a year.
Lancaster County Commissioner Sean Flowerday, noting that extreme weather in the spring had put 22 bridges in the county out of commission, said the county could use that money.
"Eight-hundred thousand dollars can be a lot," he said, noting that it could be used to pay for more sheriff's deputies, additional roads employees or a number of other needs in the county.
Other supporters said the project could provide an additional source of income for landowners who might be struggling with the downturn in the agricultural sector.
"One of the great things about this project is the people are signing on for a stable income for the duration of this project," said Gerald Carson, one of the area landowners who plans to sign a lease with Ranger Power.
But not everyone is a fan of the project.
Most of the people who spoke Wednesday in opposition live in one of two acreage developments that would largely be surrounded by solar panels.
That's because their developments have large outlots owned by the developer, who in each case has signed a lease with Ranger Power.
You have free articles remaining.
"I'm for solar power," said Shana Gerdes, who lives on an acreage near 134th and Adams streets. "I'm not for the encapsulation of a solar farm in my neighborhood."
John Regan, who owns an acreage near 130th and Holdrege streets, noted the irony that covenants prevent him and his neighbors from putting solar panels on their property but allow the owner of the outlot surrounding them to fill it with solar panels.
Those panels will "put a whole different feel on your property," he said.
Ranger Power agreed to a 100-foot setback from properties not involved with the project, double what the county requires, and the company also said it would continue to work with acreage owners to site solar arrays to give them the best buffer possible.
Opponents also raised other concerns, including the risk of fire, risk to wildlife and the potential erosion of property values.
Ranger Power commissioned a study to look at property values of properties next to similar-sized solar farms in several other states, which found that "no measurable and consistent difference in property values for properties adjacent to solar farms when compared to similar properties locationally removed from their influence."
As for the fire risk, David Levy, an Omaha attorney representing Ranger Power, said that solar panels are not "inherently more risky" than other uses.
In the end, commissioners said the plan as proposed met all the conditions to receive a special permit, and they had no justification to deny the permit.
Commissioner Dick Campbell said he sympathized with acreage owners who could be surrounded by solar panels, but that is an issue they need to take up with the developer who owns the outlot in their development.
"There's nothing we can do about it," he said.
The Planning Commission's approval can be appealed and likely will be. If so, it would go before the City Council because, even though the project is outside the city limits, it is within the 3-mile radius over which Lincoln has zoning jurisdiction.
Even if the solar farm ultimately is approved by the City Council, it could be some time before residents in the area see any construction.
Ranger Power has yet to find a buyer for any power the project would generate. Snow said the company hopes to begin construction within the next three years.