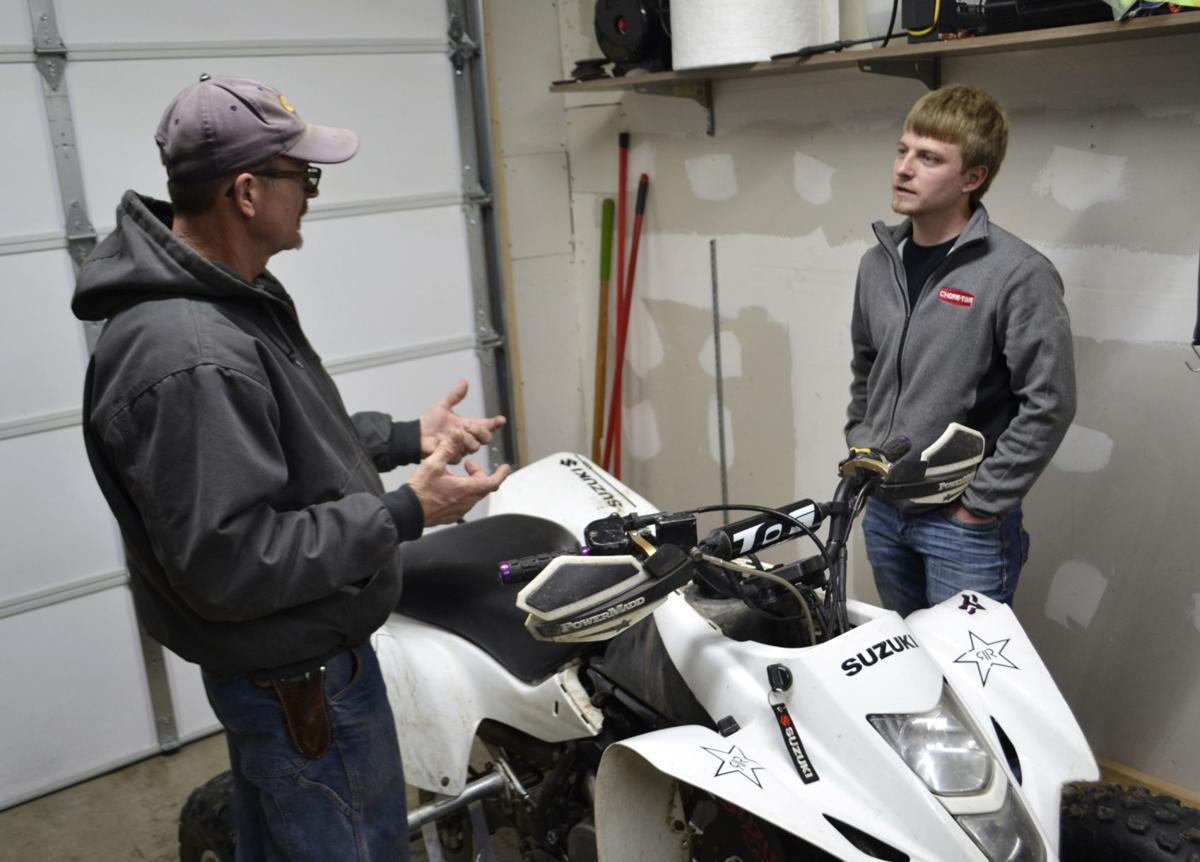 Noah Nelson has always been interested in taking machines apart, putting them back together and having them operate more smoothly than when he first put his hands on them.
The Octavia native started rebuilding transmissions when he was just 14 and learned the ropes of repairing ATVs and other machinery from nearby neighbor Paul Draper. After a little more than five years of working on ATVs, side-by-sides and motorcycles in shops in Lincoln, North Bend and Columbus, the 2013 David High School graduate in early September opened Nelson Motor Sports in David City, 315 S. Fourth St.
Nelson said he is certified to handle all sorts of repairs relating to Honda and Polaris lines, and also is willing to handle some small engine repair -- this winter he has fixed numerous snow blower engines. His specialty, though, is completing repairs on four-wheelers and side-by-sides, which are small, two- to six-person, four-wheel drive, off-road vehicles.
For Nelson, the timing was really everything. After graduating from high school, he planned to attend Southeast Community College in Lincoln to learn more about various repairs relating to quads, motorcycles and watercraft. But, a job offer from Rod's Power Sports put that idea on hold as he started learning more about the field while making some money in the process.
On-site learning, Nelson said, proved more valuable than attending Southeast Community College.
"I was there (Rod's) for a couple of months, and then I was kind of thinking about whether I should go to to the SCC program, or whether I shouldn't since I got the job I wanted anyway," Nelson said. "And then I actually ended up working with a kid who graduated (from that program) and he didn't even come close to knowing what I knew."
After working for P & R Sales in North Bend and in another mechanic capacity in Columbus, Nelson pulled the trigger on leasing his new space when it became available sometime this fall.
Once he signed the lease, a fast turnaround was needed to get his business up and running. He built a main counter and set out a few for-sale bike items on the store's showroom floor, something he noted will likely expand come springtime. He works on various pieces of equipment in a workspace positioned toward the back of the refurbished building.
Nelson noted that his girlfriend, Tasha Whitmore, is helping him with some of the tasks he is getting up to speed on regarding running his own business.
"She normally comes in around noon and makes sure that I'm putting all the papers in the right place -- I like things organized but I'm not one to know everything about sales taxes and all that," he said. "Tasha worked up at P & R Sales with me, and she was more on the finance side of things, so she's helped out with that kind of stuff."
Nelson Motorsports is open 8 a.m. to 5 p.m. Monday through Friday and 9 a.m. to 1 p.m. Saturday. The store is closed on Sunday.
As with any new business owner, Nelson said there was a concern about whether he would be able to establish himself. But, he said that business has been pretty steady since he officially opened his doors on Sept. 10.
Earlier this week, brothers Darryl and Dwaine Potter made the trip to Nelson Motorsports from the Valparaiso area so that Darryl could pick up his son's Suzuki quad that needed its motor rebuilt. Dwaine has also benefited from Nelson's expertise, as the proprietor was able to pinpoint the cause of some abnormal sounds coming from his Polaris side-by-side.
"He's been good to work with," Darryl said.
Nelson said he takes his work seriously, does his best to provide optimal customer service and treat people right. He said he knows the importance of his work locally because four-wheelers and side-by-sides aren't just used recreationally, they are an integral part of people's livelihood.
So, he noted how he prides himself on generally being able to rebuild engines in a timely manner so that people's lives can return to normal.
"I knew that this would be a good fit for us because this is a big farm community and the need is there," Nelson said. "I mean, I don't know how many farming machines I've worked on just since I've been here... Some people use these on a daily basis and they have to have them going."
The business news you need
With a weekly newsletter looking back at local history.