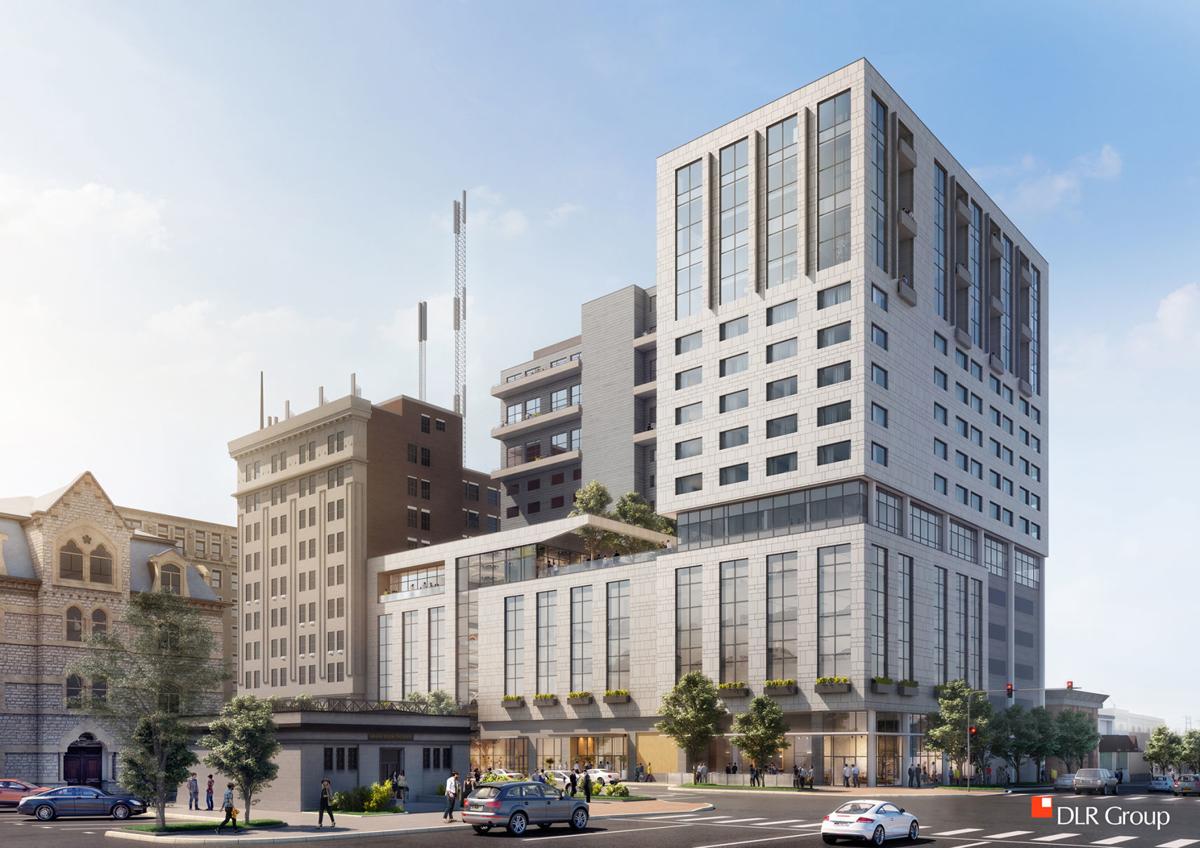 The proposed high-rise hotel project at Ninth and O streets has run into "unforeseen developments" and developers say they don't know when construction will start.
The 15- to 17-story building, which would be the tallest built in Lincoln since the 1970s, is slated to have a full-service Holiday Inn, as well as a smaller Indigo boutique hotel. It also will have a ballroom, 263-stall parking garage, restaurants on the ground level and high-end condos on the upper floors.
The developers bought several old buildings on the southeast corner of Ninth and O streets and had originally planned to start demolition of those structures before the end of 2016.
However, in December, city officials said demolition likely wouldn't start until March.
No work has been done at the site since then, and the Journal Star recently asked both city officials and representatives of the developer for an update.
On Friday, John Klimpel, director of operations for Lincoln Hotel Group, one of the entities developing the project, emailed a statement to the Journal Star.
You have free articles remaining.
"Partners involved in the Block 54 project are working to address unforeseen developments which must be resolved prior to demolition of the existing structures on the property," Klimpel said. "This is not uncommon when planning major construction projects. We are confident Block 54 will proceed, but as of now we do not have an updated timetable for demolition and construction."
Klimpel did not provide additional details.
To help finance the project, the developers are planning to use $11.66 million in tax-increment financing, which allows the additional property taxes generated by the development to pay off bonds used to pay for improvements that have a public benefit.
Earlier this year, the Lincoln City Council also approved a special taxing district for the hotel that would levy extra sales taxes on hotel rooms and banquet hall food and service. That was expected to provide an additional $2.35 million in financing.
In a statement, Mayor Chris Beutler said the developers have not asked the city to change any of the requirements of a redevelopment agreement, including the provision that requires that building to be substantially completed by the end of 2019.
He also did not express any worry over the project being delayed.
"The developers hoped to begin in spring, but it's a very large project and they continue working out financing, design and construction details," Beutler said.