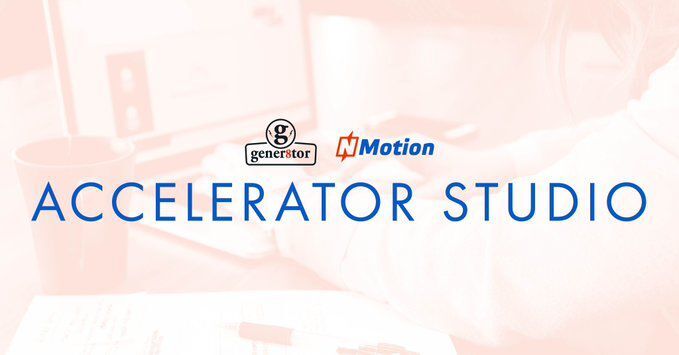 Five lucky startup founders are going to get the chance to develop a product and/or build a company from scratch and do so with $100,000 from local investors.
Startup accelerators gener8tor and NMotion have announced an expanded partnership that includes the launch of the NMotion Accelerator Studio in Fall 2020 and the continuation of the gBETA Lincoln pre-accelerator program.
The NMotion Accelerator Studio is currently seeking applications from individuals and teams and ultimately will select five of them to each build a startup from scratch. Selected participants each will receive $100,000 in investment capital and will work closely with NMotion and gener8tor staff to build, design and launch new products or services over the course of 16 weeks.
"We are seeking to find and invest in the best entrepreneurs and 'would-be' entrepreneurs interested in building a venture-backed startup from scratch in Lincoln," said Troy Vosseller, co-founder of gener8tor. "These include serial entrepreneurs looking for a new start, recent college graduates, career transitioners, technologists and graduate students with deep domain expertise."
Christina Oldfather, director of innovation and development for the Lincoln Partnership for Economic Development, said gener8tor and NMotion will focus on "picking talent" — meaning entrepreneurs with the right potential rather than those with established companies or products.
She said the first four weeks of the program will be spent formulating ideas for products and services.
Among the options for those chosen are to develop a product or service concept that's internally incubated by gener8tor; conceive of and execute their own new product or service concepts; collaborating with gener8tor's corporate partners on devising a new startup from scratch; or partnering with one of NMotion's investors to create a product or service that's relevant to their businesses.
"We don't want (the founders) to come in with an idea under this model," Oldfather said.
Local investors in this new venture capital model are Ameritas, Assurity, Invest Nebraska, the Lincoln Chamber Foundation, Lincoln Partnership for Economic Development, Nebraska Angels, Nelnet, Union Bank & Trust, and the University of Nebraska-Lincoln.
This partnership builds on the success of gBETA NMotion, a free, seven-week pre-accelerator for startups with local roots that requires no fees and no equity. Fifteen Nebraska-based startups participated in gBETA NMotion in 2019 — five focused on AgTech and 10 working in cohorts without any industry focus. This program will be rebranded as gBETA Lincoln, and will continue to run once per year as part of the expanded partnership.
Before it partnered with Wisconsin-based gener8tor a couple of years ago, NMotion ran its own equity-based accelerator program for several years in which it mentored and invested in the companies that participated.
Gener8tor last year announced plans to do the Accelerator Studio programs in several of the cities where it has a presence. It's already done one in Wisconsin that created four new startup companies, and has plans for others this year.
Vosseller said the one in Wisconsin last year, which was in Milwaukee, was a success, with four companies coming out of it. All four are still operating and are in the process of working to generate revenue and raise outside capital.
He said he's excited about the prospects in Lincoln because the Accelerator Studio model "really works well in college towns."