Marc Randolph told a virtual Chamber of Commerce audience about his favorite place Thursday.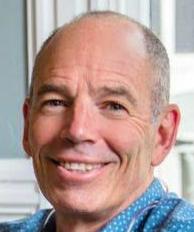 It's not a vacation spot or an exotic locale. Rather, it's the Renaissance Tower in downtown Dallas.
That's where he and his partner, Reed Hastings, desperately tried to sell the company they had founded to the behemoth of its industry.
It was 2000, and Netflix was hemorrhaging money, bringing in about $5 million in annual revenue but projected to 10 times that.
Blockbuster Video, on the other hand, was huge, with 9,000 stores and $6 billion in sales.
So Randolph and Hastings were there to try to sell their company to Blockbuster. Their pitch was that they would stay on and run the company's e-commerce operations while current management would focus on running the existing business. They proposed a sale price of $50 million.
"They laughed at us," said Randolph, who was the keynote speaker for the Lincoln Chamber's annual meeting, held virtually this year because of the coronavirus pandemic.
Fast forward two decades and Netflix is the behemoth, with 200 million subscribers and a market valuation of about $240 billion.
That wasn't the only time Netflix almost got sold in its early days.
Randolph said that just months after it had been founded, in the summer of 1998, he and Hastings went to Seattle to meet with Jeff Bezos, founder of Amazon, which at the time was focused totally on selling books online.
Though no formal offer was made, Randolph said it was suggested during the meeting that Amazon might be willing to pay somewhere around $10 million-$15 million for the fledgling business.
Randolph said those two situations show the things it takes to be a successful entrepreneur, including a tolerance for risk, confidence and having an idea, even if it's not a good one.
He said Netflix went through several iterations as ideas about how it should work didn't quite work out.
The business really started to flourish when it moved to a subscription-based program and dropped late fees and time limits for rentals.
And, of course, it really took off when technology advanced enough to allow the average person to start streaming content.
"It is not about having good ideas," he said. "It's about creating a system and a process and a culture to try bad ones."
Randolph, who left Netflix in 2003 and since has helped found half-dozen other companies and also has become an investor, adviser, author and environmental activist, said he believes one pandemic-induced trend is here to stay.
With movie theaters shuttered by the coronavirus, some studios have moved to releasing movies on streaming services at the same time they are released in theaters, something he believes will continue even after the virus is under control.
"This was going to happen, it was going to happen inevitably," Randolph said. "COVID just accelerated it."