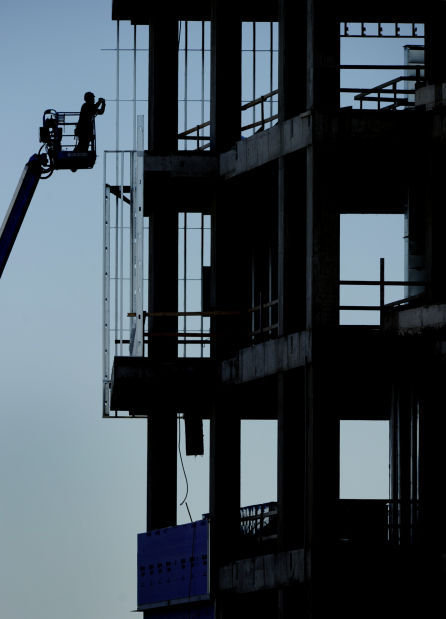 Nebraska's unemployment rate dropped to 2.7 percent in February, making it the lowest rate in the country for the first time since 1998.
North Dakota, thanks to its economic boom from shale oil exploration, has had the nation's lowest unemployment rate every month for more than six years.
But as oil prices have dropped, jobs have disappeared in oil-producing states. North Dakota's rate rose to 2.9 percent in February.
Nebraska, despite a weakening of the farm economy that has led to layoffs by farm equipment makers and sellers, has created thousands of jobs in other sectors.
The state Department of Labor said Friday in a news release that year over year, jobs in education and health services increased by 3,430, leisure and hospitality jobs were up 2,080, and jobs in other services grew by 1,920. Overall, there were 11,000 more jobs in Nebraska in February than there were a year ago.
There also were nearly 7,500 fewer people unemployed than a year earlier, when the unemployment rate was 3.4 percent.
In a speech in Lincoln Thursday night, Nathan Kauffman, assistant vice president and Omaha Branch executive with the Federal Reserve Bank of Kansas City, said Nebraska is experiencing a shift in the types of jobs that are being created. Most new jobs are in education, health care and leisure and hospitality, he said, while few jobs are being created in agriculture and manufacturing.
That has led to metro areas doing better than rural areas, Kauffman said.
According to the Labor Department, all three of Nebraska's designated metro areas -- Omaha, Lincoln and Grand Island -- had more jobs than a year ago.
The unemployment rate in the Lincoln Metropolitan statistical area, which includes Lancaster and Seward counties, dropped to 2.4 percent, down from 2.8 percent in January. The Labor Department did not give year-ago unemployment rates for the state's metro areas, saying revised February 2014 rates will be available when the annual benchmarked employment data is released.
The Lincoln area had nearly 185,000 jobs in February, which was up more than 2,400 from January and nearly 3,200 more than in February 2014.