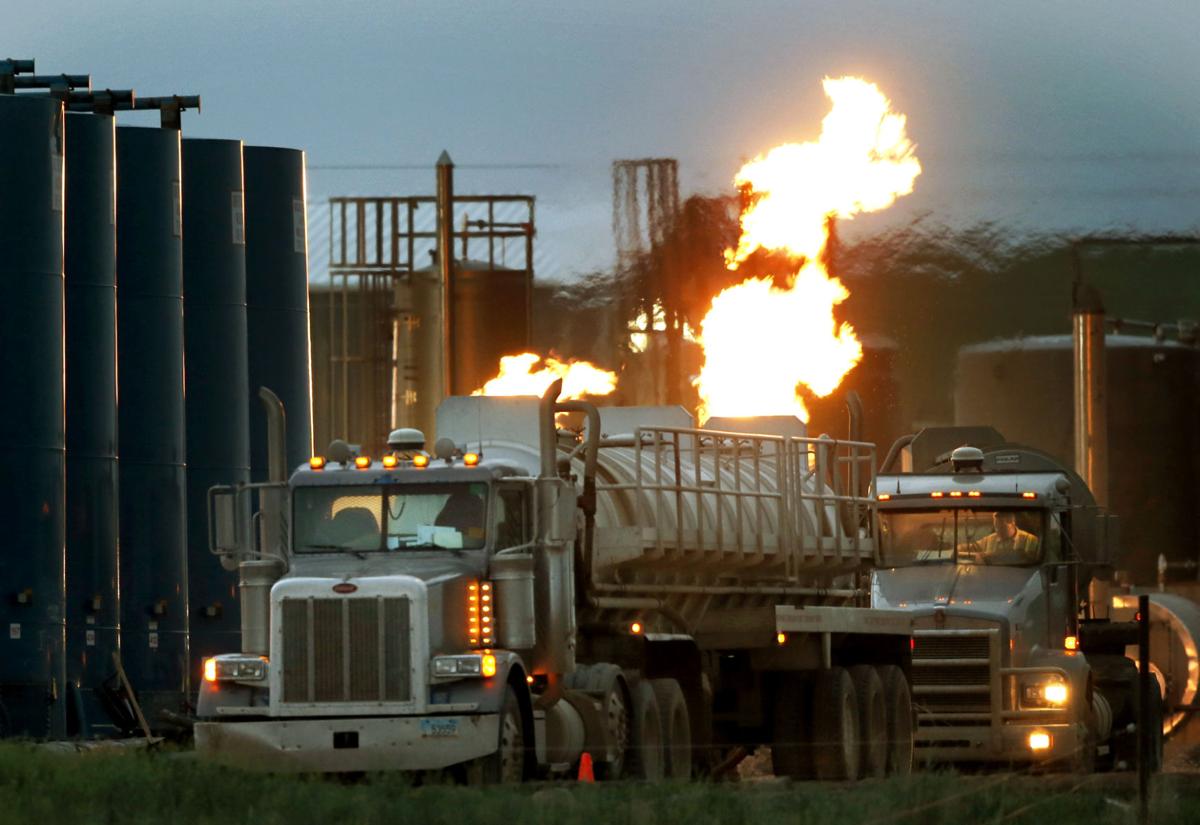 Opponents of a plan to inject salty groundwater and chemical-laden fracking wastewater deep beneath Sioux County won a decisive battle this week.
A judge ruled Wednesday that the Sidney-based Nebraska Oil and Gas Conservation Commission overstepped its authority when it approved turning an old oil well north of Mitchell into a disposal well.
But the war is not over. The other side has 30 days to appeal Cheyenne County District Judge Derek Weimer's order.
"It is a celebration, but a cautious one. It is not over yet," said Jane Grove, who along with neighboring land owner Hughson Flying A Ranch asked the judge to review the commission's decision.
They argued the Oil and Gas Commission exceeded its authority in April 2015 when it approved the project request from Broomfield, Colorado-based T-Rex Oil, formerly known as Terex Energy Corp.
Weimer agreed. The state Legislature authorized the commission to regulate disposal of oil waste including saltwater produced in Nebraska, but not wastewater from outside the state.
"The Commission's authority is expressly limited by the statutes which create and empower it," Weimer said in his court order. "The Court finds that in this instance, the Commission overreached."
Sidney attorney Tom Sonntag, who served about a decade on the commission, represented Grove and the Hughson ranch and said theirs is the type of case the Nebraska Supreme Court might be interested in hearing.
"I'm pretty sure the Supreme Court would hear it because it involves interpretation of a (state) statute," he said Thursday.
Commission Director Bill Sydow said the judge's decision failed to take into account the commerce clause of the U.S. Constitution and authority delegated to the Oil and Gas Commission by the U.S. Environmental Protection Agency to regulate wells.
"I think if the judge would have considered our federal authority in this, which he did not, I don't think, it might be different because that federal law is going to supersede our state law," Sydow said.
The commission has overseen injection wells under the Safe Water Drinking Act since the 1980s and is required to have regulations at least as strict as federal rules and file regular updates of its injection well monitoring program with the EPA.
Sydow said a decision on whether to appeal will be made after consultation with the EPA and the Nebraska Attorney General's Office, which represents the commission and is reviewing the decision, said spokeswoman Suzanne Gage.
T-Rex's application said the well would have the potential to process 80 trucks, or about 10,000 barrels of water, a day, much of it from Colorado and Wyoming. That would have made it the largest disposal well in the state.
Company officials later backed away from the figures, saying the actual amount processed could be much less.
The Oil and Gas Commission argued that opening a disposal well in Sioux County could encourage oil production in the northern panhandle by making it cheaper for companies to get rid of wastewater. 
Weimer listed three problems with the justification.
* There already are disposal wells in the panhandle.
* Historically, there has been little oil production in the area where the disposal well would be.
* Evidence suggests most of the wastewater would come from out of state.
Last year, 965 barrels of oil were produced in Sioux County compared to 840,365 in Hitchcock County
Often called produced water (industry insiders try to avoid the term wastewater because of negative connotations), it generally comes from two sources. Some is salty water that was trapped underground naturally and brought to the surface with oil. The other is liquid pumped underground to create pressure to free up oil and gas and then comes back to the surface with it.
Nebraska produced 2.7 million barrels of oil and 54.2 million barrels of wastewater in 2015 and already has about 120 disposal wells.
Grove, a fourth-generation rancher who has an oil well on her property, said she isn't opposed to oil production or disposing wastewater from Nebraska wells. Her problem is with accepting large quantities of liquid from other states.
Jane Kleeb, founder of the advocacy group Bold Alliance, hailed the ruling that disposing of out-of-state wastewater should be banned. She said it's time to stand up to oil and gas companies who have bullied landowners and elected officials for years.
"We are in a new era where landowners are standing up to protect property rights and our water from fracking and tar sands pollution," Kleeb said. "It is now time for our government to put in place comprehensive laws that end eminent domain for private gain, protects our water supplies and pushes our state forward on the clean energy transition."
Dave Haack, who owns a commercial disposal well near Kimball, said produced water has moved back and forth across state lines for decades. He worries bad publicity and misinformation could hurt the state's fossil fuel industry, which contributes to the economy.
"The water from Colorado or Wyoming, it's the same as water here," Haack said.
Oil and gas companies dispose of their water at the closest facility, he said.
But the T-Rex project proved highly unpopular, with neighbors testifying against it for hours at a hearing at the commission's office in Sidney in March 2015.
They worried about damage to local roads, the danger of an increased number of trucks driving past local schools, the possibility of spills.
Numerous local governments wrote letters opposing the project, including Scotts Bluff County commissioners, Sioux County commissioners, the village of Harrison, city of Mitchell, Mitchell Public Schools, North Platte Natural Resources District, Panhandle Public Health District and the Rosebud Sioux and Oglala Sioux tribes.
"The (Nebraska Oil and Gas Conservation) Commission's authority is expressly limited by the statutes which create and empower it. The Court finds that in this instance, the Commission overreached."

-- Judge Derek Weimer