JP Richardson discovered Bitcoin in 2011 and quickly became a devotee, even though he admitted the digital currency at the time was "really difficult to use."
A few years later, in 2014, he decided to quit his job at LI-COR Biosciences in Lincoln and work full time on a software platform that would make Bitcoin easier to use.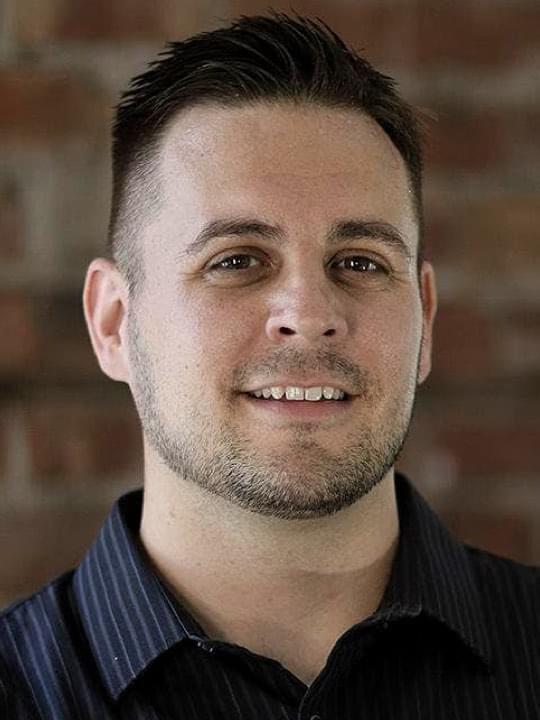 But Richardson, whose background is in engineering, realized he didn't have the design expertise needed.
A chance meeting with Daniel Castagnoli would change that, however.
Castagnoli, who helped found Lincoln-based digital sign company Nanonation, also had a background in design at major companies such as Apple, BMW, Disney and Nike.
It just so happened that Castagnoli was a Bitcoin devotee as well, and the two started working together on the project in the spring of 2015.
By that fall, however, they were running out of money.
Richardson said all he had to his name was a few thousand dollars and an old gold Toyota Camry that he had had for years.
The day after Thanksgiving that year there was some winter weather that left the streets very icy, and his car was hit on the street.
What seemed like a calamity at the time turned out to be a stroke of luck.
Richardson said his insurance company totaled his car, and the check he got "gave me enough money to survive" until the two were able to launch their digital wallet in December of that year.
That "wallet" — essentially a piece of software that allows users to store digital currencies — is different than many other similar products, Richardson said, in that users have full control over the private key needed to access their currency, which makes it harder for hackers to steal their digital assets.
It was another year until their company, Exodus Movement, took off, however.
In February 2017, Richardson said the company did $3,000 in revenue, "And I thought we might have a business."
The next month revenue jumped to $70,000, and he said he was sure they had a business.
He was right, and the company passed $1 million in total revenue by the end of 2017, taking advantage of a Bitcoin boom that saw the price rise from less than $1,000 to nearly $20,000 by the middle of December.
However, as all highly speculative investments are prone to do, Bitcoin saw its value crater the following year. By the end of December 2018, the value of Bitcoin was around $4,000. In 2019, it rebounded some, but was still hovering around $7,000 by the end of the year.
"Twenty Eighteen and 2019 were dark years because the interest (in digital currency) declined," Richardson said.
But the company still grew slowly, reaching 40 employees by the end of 2019.
The Bitcoin malaise continued into 2020, with the price dropping below $6,000 last March, right after the pandemic began, before it started a slow and steady increase, hitting $15,000 in early November.
But then something incredible happened.
Whether it was new demand for digital currencies, more institutional interest in them or overall scarcity, the price started to shoot up.
By the end of November, it had reached $19,000. By the end of December, the price was around $30,000. By February, the price had soared above $50,000.
That has led to a boom in business for Exodus. Its digital wallet had 140,000 monthly users in January 2020, a number that more than quadrupled to 600,000 a year later. It also saw its revenue grow from less than $8 million in 2019 to more than $21 million in 2020, a year in which it had net income of nearly $8.2 million, after a small loss in 2019.
Richardson said the company is on track to hit $100 million in revenue this year and now has 116 employees, all of whom work remotely and are paid in cryptocurrencies.
Though Exodus' digital wallet is free to download and use, there are services on the platform that charge fees. One of those is exchanging one digital currency for another or for cash. In those transactions, Exodus gets a 2% fee, which is the main way the company makes money.
Riding a wave of digital currency momentum, Exodus Movement is now looking to "cash in," so to speak, by doing a unique public offering of stock.
Earlier this month, the company filed what's called a Regulation A Tier 2 offering, often called a Regulation A-plus, offering up to $75 million in stock in the company at a price of $27.42 a share.
Companies looking to raise money through a public stock offering is nothing new, but the way Exodus Movement wants to do it is something that's rarely been done.
First off, the only way to buy the shares would be through a digital currency, such as Bitcoin or Ethereum. Secondly, the shares would be purchased within the Exodus Wallet app and would be available to anybody, not just to wealthy investors or private equity firms, which are the types of investors who usually get early access to an initial public offering of stock.
"This offering rewards customers of Exodus rather than Wall Street fat cats," Richardson said.
The Exodus shares also would not trade on a traditional stock market. Richardson said that once the stock offering closes, owners will be able to trade their shares on tZero, which is a marketplace for trading digital securities that's owned by Overstock.com.
The method that Exodus is using is called an "initial coin offering," or ICO. It has been done a few times in the past by other cryptocurrency businesses, but none of those ICOs gave buyers actual equity in the company.
Richardson called the company's offering "revolutionary" and said he hopes it kicks off an entirely new stock exchange on the blockchain.
"Once we show the world that this is possible, to raise $75 million with Exodus customers, we feel that other companies are going to want to come in and offer their stock through Exodus," he said.