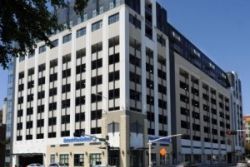 Mutual Of Omaha said Tuesday that it is selling its bank to CIT Group Inc. for $1 billion.
CIT Group, which is one of the 50 largest banking companies in the country, will absorb $6.8 billion in deposits and $8.3 billion in assets as part of the transaction, which is expected to close in the first quarter of next year.
Mutual of Omaha, one of the largest insurance companies in the country, started the bank in 2007 by buying Lincoln-based Security Federal. It grew it over time to become the second-largest Nebraska-based bank.
Mutual of Omaha Chairman and CEO James Blackledge said in a news release that selling the bank will allow the company to "focus on, and invest in, growth in its core insurance businesses."
You have free articles remaining.
Mutual of Omaha said the transaction does not include its mortgage lending subsidiary, Synergy One Lending.
CIT is mostly an online bank with a subsidiary called OneWest Bank. It's unclear if it plans to keep all of Mutual of Omaha's 26 branch locations, including one in Lincoln at 1317 Q St., open.
However, the company said there is little overlap, as Mutual of Omaha's branches are mostly across Western and Plains states. Those locations complement CIT's existing network, with the only overlap coming in Houston, Dallas and Los Angeles.
In the news release, CIT Chairwoman and Chief Executive Officer Ellen R. Alemany said the Mutual of Omaha purchase will offer an "expanded business footprint that complements CIT's existing franchise."
CIT said it expects to cut about $54 million in expenses after it acquires the bank early next year. Those cuts will be made over the first three years after the deal. It did not specify where the cuts will come from.
The Associated Press contributed to this story.