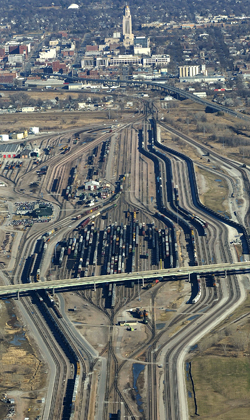 A Houston attorney is representing three more former employees of BNSF Railway and the widow of a fourth in lawsuits alleging they suffered damages -- and in one case, death -- from exposure to asbestos because of the railroad's negligence in and around its Lincoln operations. 
Bernard Richter of Lincoln died in November 2010 of colon cancer caused by exposure to asbestos on the job as a carman, according to a Lancaster County District Court lawsuit filed on behalf of his widow, Virginia.
Three other former BNSF carmen represented in a separate suit are Philip Custard of Omaha, who started working for the railroad in 1950, Donal Hansen of Lincoln, who started in 1952, and Steve Hegener, also of Lincoln, who started in 1969.  
Also filed in Lancaster County District Court, that suit says the plaintiffs suffered from lung disease caused by exposure to asbestos, "which cannot be effectively cured by conservative medical procedures or medications."
John D. Roven, the Houston attorney, also represents two other former BNSF employees, William Schleicher of Lincoln and Frank Cox of Eagle Lake, who filed suit in May accusing the railroad of negligence and failing to provide them a safe place to work, as required by federal law. 
There will be more asbestos lawsuits to come, according to Roven, who said his firm has litigated asbestos cases for retirees on both sides of the Santa Fe/Burlington Northern merger for 20 years.
"Obviously, the sad legacy of asbestos is not over," Roven said. "We still get many cases of retirees who unfortunately have been impacted. Because of the latency of asbestos, lung disease often doesn't strike until 30 or 35 years after exposure. "It's not unusual people in their 70s are manifesting this, it is the nature of these disease. The pattern is very typical. ... It's nothing that's unique to Lincoln."
All of the retirees were carmen. They worked on passenger and freight cars in the Lincoln shops and in Omaha, Roven said. 
BNSF spokeswoman Suann Lundsberg, responding to the latest filings, said in an email: "The claims filed are from former employees, most of who have not been employed by BNSF in many years. BNSF is currently reviewing the case and will respond through the legal process."
In a court response filed last month to the Schleicher and Cox suit, BNSF denied responsibility, said the state of science was such that it could not have known about the dangers of asbestos at the time the negligence allegedly occurred and also said: "alleged injuries or damages, if any, were proximately caused, in whole or in part, by the carelessness, recklessness or negligence of plaintiffs who failed to exercise reasonable care for their own health and safety." 
The railroad also referred responsibility for the employees' welfare to the federal Railroad Retirement Board and said any benefits the employees received from the board should offset any judgment against the railroad. BNSF also suggested the damages, if any, "were caused or contributed to by other factors, including but not limited to tobacco smoking." 
BNSF has about 4,500 employees in Nebraska, more than 1,700 in the Lincoln area, more than 1,400 in Alliance, and about 100 in Omaha.