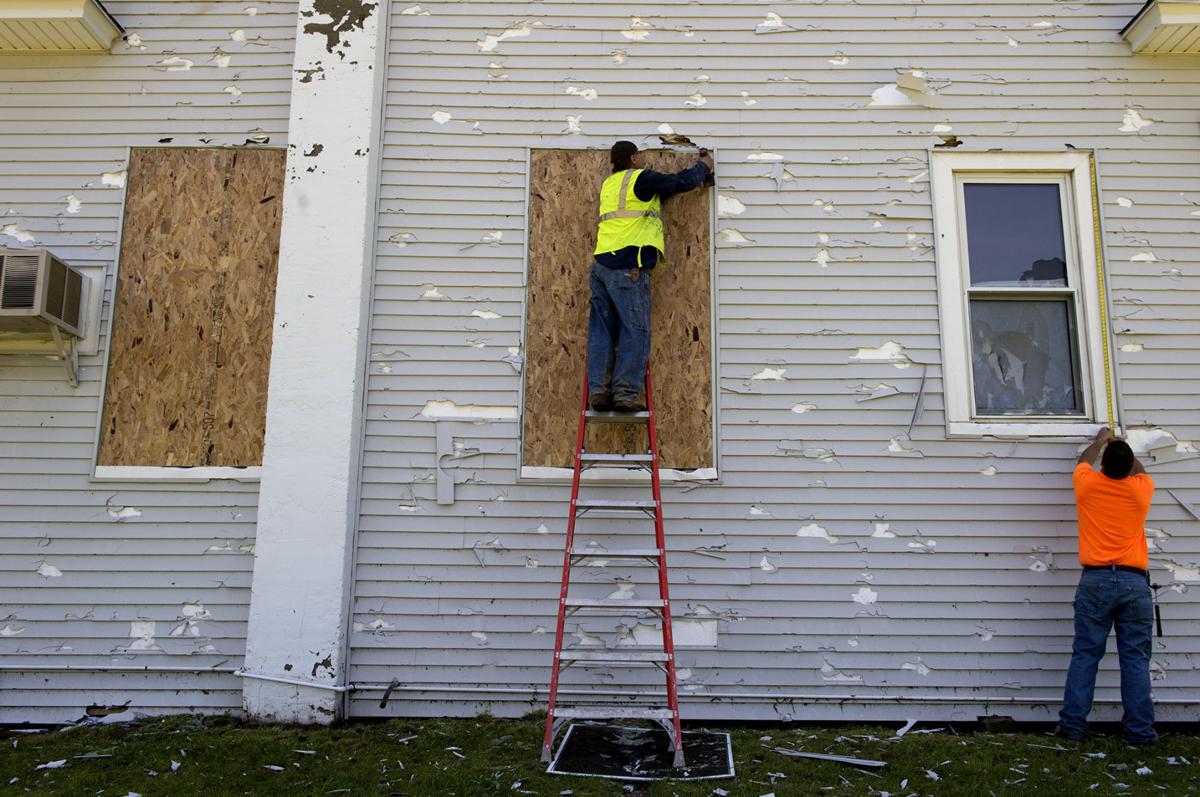 The hailstorm that hit the Lincoln area on May 9 was likely one of the costliest storms in terms of insurance claims in the city's history.
Neither the state Department of Insurance nor insurance industry groups compiled claims data on the storm, but anecdotal evidence from some of the state's largest property insurers suggests it would rank among the city's costliest weather events.
State Farm, the largest insurer of homes and automobiles in Nebraska, has paid out nearly $100 million to date on more than 9,900 claims from the Lincoln storm and $63.5 million on 6,350 claims from the hailstorm that hit Omaha a couple days later.
Farmers Mutual of Nebraska, based in Lincoln with more than 80 percent of its policies in Nebraska, has paid out $48 million on about 6,600 claims so far, a majority of which are in the Lincoln area.
"It was the third-largest storm event we've ever had in the history of our company," said Mark Walz, president and CEO of Farmers Mutual, which has been in business for 125 years.
Another one of the state's major property insurers, American Family Insurance, reported 1,600 claims and a payout of about $10 million for the Lincoln storm.
Of the three other largest property insurers in the state, Farm Bureau Financial Services had nearly 6,200 claims and Farmers Insurance reported 3,450 claims. Both of those included both the Lincoln and Omaha storms and both companies declined to give claims payout amounts. Nationwide Insurance said it does not make claims information public.
To put the scope of the storm in context, the five insurers that provided claims figures had a little more than 32,000 total claims. That's about 50 percent higher than all hail claims in the entire state in 2015.
A large chunk of the claims were for roofs that were damaged by the storms. That included homes that had holes punched in them by softball-sized hailstones. In many cases, those homes also had other major damage, such as shattered windows, destroyed gutters and damaged air-conditioning units.
Kiley Eaton, director of advertising for White Castle Roofing, one of the largest roofing companies in Lincoln, said it was the most storm damage anyone at the company could remember in at least 30 years.
"This was a whopper for sure," she said.
Eaton said the company received about 8,000 phone calls from home and business owners in the weeks and months after the storms.
She said that in a normal year the company would do about 1,500 roofing jobs, but that number was closer to 2,000 in 2016, including jobs that were scheduled but still haven't been completed.
And White Castle could have done a lot more jobs, Eaton said, if the company had more employees.
Even though the hailstorm was unusual for the Lincoln area, hailstorms causing property damage are quite common in Nebraska.
From 2000-2013, there was an average of $135 million a year in insured damage in Nebraska from hailstorms, according to a report from Verisk Insurance Solutions. From 2010-2013, the annual average was $252 million.
And the state ranked either first or second in number of hail claims paid out in nine of the 14 years included in the report.
From 2013-2015, Nebraska had more than 148,000 hail loss claims, according to the National Insurance Crime Bureau. That put the state at third nationally for number of claims, behind only Texas and Colorado. On a per-capita basis, however, Nebraska was a close second to South Dakota.