Schmick's Market is the definition of a family business. That's just how Cody Schmick wants it.
The owner of the grocery store near 11th Street and Cornhusker Highway puts an emphasis on care and community because that's what comes naturally and is the difference when you're "a small family business in a world of giants."
The market is the anchor tenant to a retail area that is dominated by several fast-food dining options. Schmick's serves an integral role in helping to stock north Lincoln's pantries.
It's a task that is not new to Cody Schmick — even if he's still getting used to life in the state capital.
About a month ago, Schmick and his family moved from Broken Bow, where he was managing the Schmick's store. The first Schmick's Market opened in McCook in 2005. In 2010, a Broken Bow location was opened. Then in 2014, Schmick's Market made its way to Lincoln with stores opening at 11th and Cornhusker and another on West O Street near Capitol Beach.
The grocery business in Lincoln is more competitive, Schmick said. Thriving here requires going beyond the treatment of customers, extending to employees as well.
"It's not just about trading a service for a paycheck anymore. You have to care about people," Schmick said. "And I like that because I think that's something I can naturally do, but if people work for you and they don't think you care about them then they're probably always going to be looking for something else. I want to make sure the people that work with me, around me and for me are taken care of."
From a purely business standpoint, the approach is almost as straightforward — find what you're good at and double down on it.
The Schmick family's background led him to the market's premier product.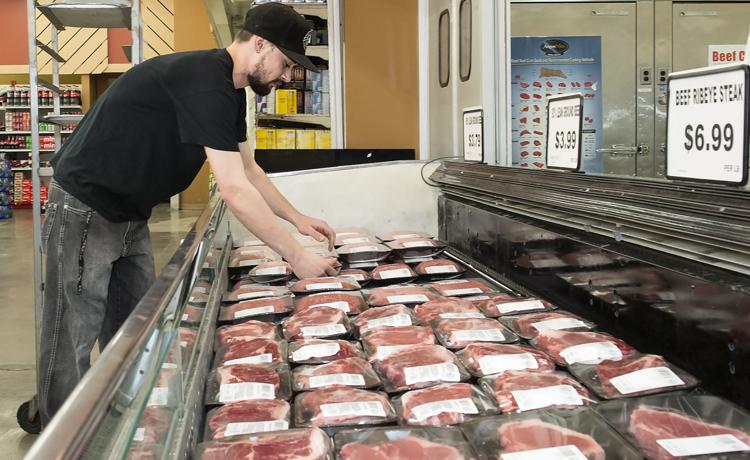 "My dad's been a butcher for 40-plus years, so we're good at meat," he said. "And this last year we just got named Best of Lincoln in butcher shop and meat department. Everybody has Cheerios. Cheerios are Cheerios. Meat is kind of that point of difference we can have," he said.
With rising costs across the board, Schmick notes the importance of "putting a piece of meat on the table that doesn't break the bank."
To do that, Schmick has to constantly work to ensure he is buying from the right vendors and creating the best scenarios for customers, but there are times when he has to force himself to shut "work Cody" off and live in the moment with his family.
"When you work for someone else, you work 40 or 50 hours a week and you shut it off," he said. "Where when I head home I'm still kind of reeling in for the day and trying to figure out what's going to happen tomorrow and I never stop thinking about it. So just making sure that I shut that off when I go home. I've got babies, a 4-year-old and an 8-year-old. I want to make sure I can put the 'work Cody' away and bring out 'dad Cody' and 'husband Cody.'"
The crossover between work and family has its benefits at times, as Schmick says he sees moments when he feels better equipped to treat customers and employees like family due to his own experiences as a son, father and husband.
The store is open seven days a week from 7 a.m. to 10 p.m.
Schmick's Market isn't the only store in the area with a meat focus.
Mulberry BBQ, an offshoot of downtown Lincoln's steakhouse The Single Barrel, opened July 24. The restaurant's space was designed with barbecue in mind. It previously housed Phat Jack's and has been the smoking site for meat used by the Haymarket's Oklahoma Joe's before it closed earlier this year.
Mulberry offers a variety of family recipe barbecue options in a fast-casual setting. The restaurant is open 11 a.m. to 8 p.m. Monday-Saturday and 11 a.m. to 3 p.m. on Sundays.
On the other side of Cornhusker Highway, Boss' Pizza and Chicken functions as a nighttime stop for families, college kids and bar customers alike.
Owner Jeremy Seefeldt says the 3 p.m. to 3 a.m. weekday hours are "exactly when customers expect us to be open," saying college students typically take advantage of the store's proximity to the University of Nebraska-Lincoln. On Fridays and Saturdays, Boss' is open 11 a.m. to 4 a.m., and on Sunday, it's open 11 a.m. to 3 a.m.
The restaurant also delivers, servicing the entirety of Lincoln. Seefeldt says the "goal and hope" is that they will ultimately be doing enough business that they can add a second location in south Lincoln, but as of now being at 11th and Cornhusker is working just fine.