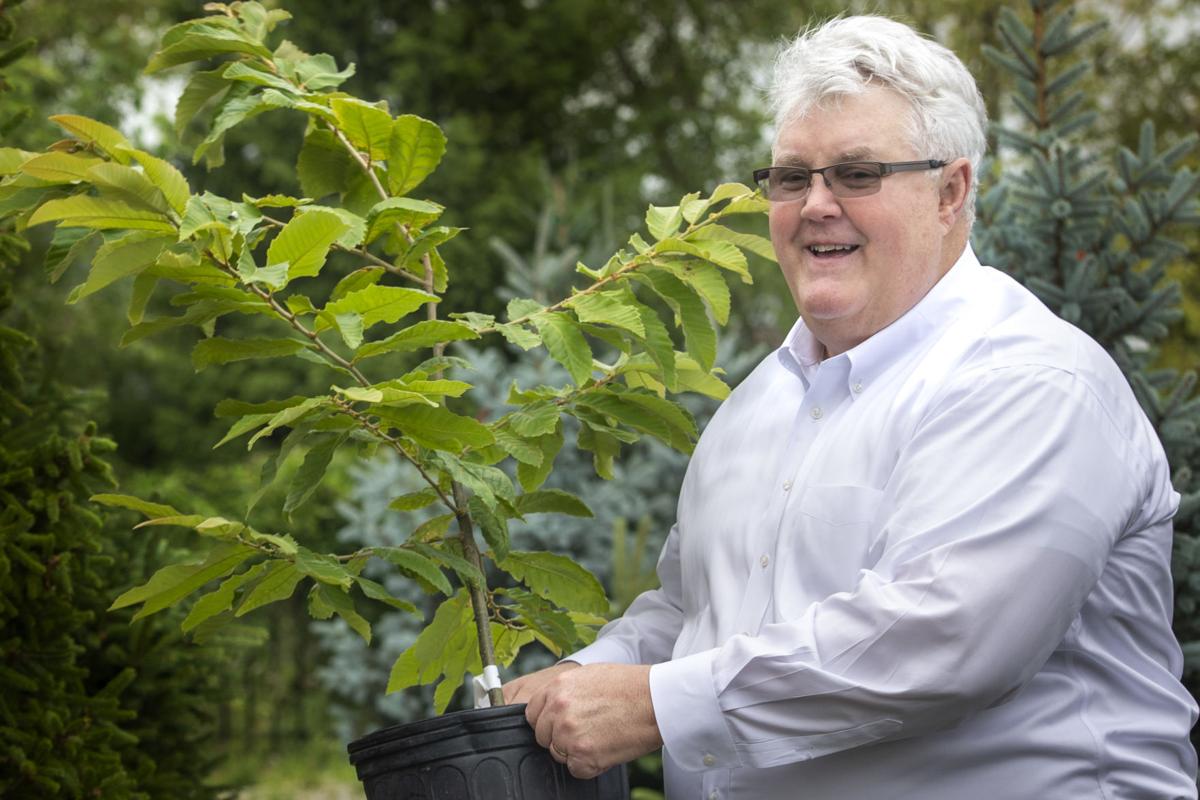 Airline travel was responsible for more than 900 million metric tons of greenhouse gas emissions in 2019, a number that's expected to triple by 2050, according to the United Nations.
Lincoln's Executive Travel believes it has a plan to help reduce the industry's impact on the planet.
The travel management company on Wednesday announced its new ETGreen initiative, which has a goal of planting 1 million trees.
The initiative, which Executive Travel plans to start in September, will plant a tree for every airline ticket bought through the company.
Steve Glenn, who founded the company and is now its chairman, said the plan is to purchase seedlings and either give them to customers to plant or plant them for them if they don't have anywhere to put them.
Glenn said he hopes to partner with local businesses, nonprofits and other organizations to plant trees in areas where they are needed. He also has plans to plant trees on land he owns around Lincoln for what will be called the Glenn Family Forest.
"Planting trees not only helps our environment, but it also helps to beautify the communities in which we live," Glenn said.
Research has shown a mature tree can absorb up to 48 pounds of carbon dioxide annually, so planting 1 million trees would mean taking an additional 48 million pounds of carbon dioxide out of the atmosphere every year.
Planting a tree for each ticket sold, "turns something that's a negative on the environment and turns it into something that's a positive," said Paul Glenn, Executive Travel's CEO and Steve Glenn's son.
He said the initiative is a "great way to have people positively engaged" as travel starts to come back after the coronavirus pandemic.
Steve Glenn said he believes Executive Travel is the first company, at least in the travel industry, to offer such a program. He said it is designed in a way that it can be copied by other organizations, and he is already working on agreements with some local companies.
"We hope to be the catalyst for our community," he said.
What is Arbor Day? Here's the meaning behind day for trees
It literally means tree day
The Latin word for tree is arbor. True to its name, Arbor Day celebrates the preservation and planting of trees.
Arbor Day started in Nebraska
Nebraska was the first U.S. state in the US to observe it as a formal holiday in 1872. However, the Arbor Day Foundation, based in Nebraska, says "tree planting festivals are as old as civilization."
In 1872, Julius Sterling Morton, a newspaper editor and former U.S. secretary of agriculture, submitted a resolution to Nebraska's State Board of Agriculture to set aside one day dedicated to planting trees. After the board passed the resolution, more than one million trees were planted on the first official celebration of the day on April 10, 1872.
In 1885, Nebraska moved the holiday to April 22 in honor of Morton's birthday. The event eventually spread to all 50 states and other countries, including Australia, Brazil and Canada.
Nixon recognized it as a holiday
In 1972, former President Richard Nixon declared National Arbor Day to be celebrated on the last Friday in April. However, some states have designated different dates to ensure the trees are planted at the best time for growth.
"The planting of trees is an action that yields a long-range benefit on generations to come," Nixon, who created the Environmental Protection Agency, wrote in his proclamation. "Arbor Day uniquely symbolizes the truth that the earth belongs to every generation, not just ours."
Trees offer tons of benefits
Morton and his wife sought to plant trees in Nebraska to increase the amount of shade from the hot prairie sun. Trees also served as windbreaks, fuel and building materials.
Today, trees provide wildlife habitat, erosion control and natural beauty, the Arbor Day Foundation says.
In addition, they offer huge benefits when it comes to absorbing atmospheric carbon dioxide, which is the main driver of climate change.