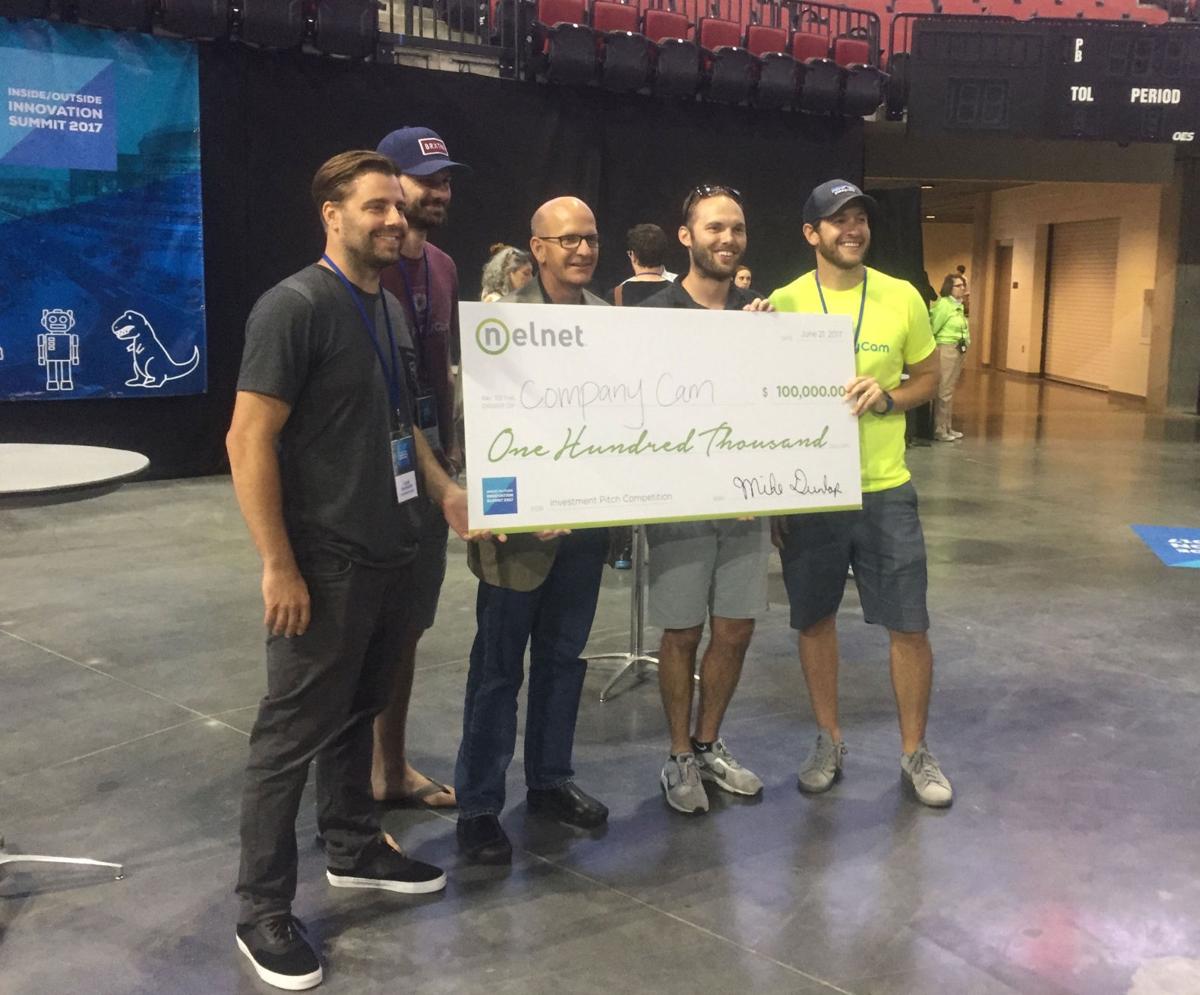 Luke Hansen didn't even have a full 24 hours to prepare the pitch for his startup, CompanyCam, to investors Wednesday.
Despite the lack of prep time, the Lincoln entrepreneur walked away with $100,000 from the Inside/Outside Innovation Summit pitch competition.
While working for his dad's company, White Castle Roofing, Hansen discovered the need for better communication between contractors and employees. He created the CompanyCam app two years ago to solve that problem. It allows contractors to access and save photos through geolocation tools and communicate via notes and chats attached to the photos.
His family was the company's first customer — and the most loyal.
"A lot of what I know about business and doing business is from my dad and the way that he treats people and his employees," Hansen said. "I've seen what it takes to build a sustainable business, and that's all from my dad."
Hansen was chosen as one of four wild cards for the pitch competition, finding out at 8:30 p.m Tuesday that he'd be competing against nine other startups the following afternoon.
He and his team went to work right away, talking over their plan Tuesday night and spending Wednesday morning assembling slides and getting the final presentation ready. 
When the competition began at 4 p.m. Wednesday, Hansen felt nervous, but was confident that he knew what he was talking about because he knows his company — and the industry — inside and out.
The idea behind this week's summit is to bring together high-growth startup companies with corporations looking to innovate, with the goal of creating new technologies and products.
CompanyCam went up against startups from Omaha, California, Iowa and Missouri. Each entrepreneur gave a five-minute pitch about their startup, then answered questions from a panel of judges from Nelnet and Allo Communications. 
Hansen felt his presentation went well, but he never expected to win.
"I was proud of what we did," he said. "Regardless of whether we won or not, we put it together well."
When his name was called to the stage and he saw the giant check made out to CompanyCam, he "was super-pumped."
The money, he said, will help create more jobs. The company currently has 14 employees and three interns. 
"A company is just people," he said. "You get good people and then you can really do something. I don't know how to write code, I'm not that good at marketing, I'm crappy at following up with people, but there's a person on our team that's better at each of those than I am."