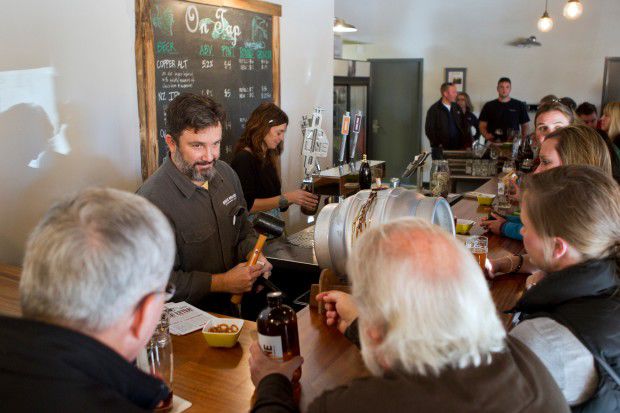 Just weeks after the grand opening of Zipline's beer hall in a South Lincoln neighborhood, the brewery announced Thursday it will expand next year into Omaha.
Falling so close upon the October opening of its second location, this latest news also came as a bit of a surprise to the owners, said co-founder Marcus Powers of Zipline Brewing Co. The warehouse in Omaha's North Downtown District that Zipline will convert into a taproom was never on the market. It previously housed Saddle Creek Record's.
"Through relationships we developed with the Nebraska music scene, (we found out) that Saddle Creek was amenable to us coming into that space," Powers said.
Zipline plans to open its Omaha taproom next spring, just blocks from TD Ameritrade Park at 721 N. 14th St.
It will fill a warehouse alongside two longtime Omaha businesses -- the Slowdown, a music venue, and the independent movie theater Film Streams.
You have free articles remaining.
"We're pretty selective about our neighbors," Saddle Creek's Jason Kulbel said in a news release. "We wouldn't have relocated Saddle Creek's warehouse unless we believed in Zipline's vision for its space. They are going to be a great asset to the development and the entire neighborhood."
Zipline's ties to the Nebraska music scene include hosting this past summer's Beer Nebraska, a concert to benefit a nonprofit music journalism site Hear Nebraska. The event at 2100 Magnum Circle, Suite 1, paired one-off brews with Nebraska bands. As plans for that event developed, Powers said, the Zipline crew learned about the warehouse.
Along with the flagship at 2100 Magnum Circle, which houses the brewery, the Zipline Beer Hall opened recently at 5740 Hidcote Dr., Suite B, next to Art and Soul.
Powers said that even though the latest opportunity was sudden, the record label allowed brewery owners to focus on prepping the South Lincoln location, designed in the style of a German beer hall. He said the Omaha location will have its own feel, one that is still being tailored.
What it won't have, at least initially, is a brewery, he said.
"Our plan for this space will succeed as just a taproom," Powers said. And if they get approval down the road to include a pilot brewing program in the space, he said, "that would just be gravy on top."