City officials have selected a proposal from an Omaha developer to redevelop the block including the vacant Pershing Center.
Mayor Leirion Gaylor Baird announced the selection at a news conference Tuesday morning. The $54 million proposal from White Lotus Development would bring 100 affordable housing units to the site along with a new library, wellness center, child care center, retail and a community green space with public art to the block bounded by Centennial Mall South and 16th, M and N streets.
"I think what they're proposing is very appropriate for downtown," said Dallas McGee with the city's Urban Development Department.
McGee noted that while White Lotus has done several projects in Omaha and around the Midwest, it has yet to do any work in Lincoln.
White Lotus, which is partnering with Omaha engineering firm HDR, beat out four other redevelopment proposals from both local and national firms.
Urban Development Director Dan Marvin said its proposal was the unanimous choice of a selection committee, and one of the reasons was the company's experience building affordable housing projects.
"White Lotus has a track record of being able to build not only in Omaha but around the country," Marvin said.
Officials from White Lotus could not be reached for comment, but the company's website shows a number of both completed and under-development housing projects in Omaha, as well as one in Chicago. The firm also has developed hotels, restaurants and industrial space.
Pershing has sat empty since 2014, and previous proposals to redevelop it were rejected because then-Mayor Chris Beutler decided they required too much public money.
Urban Development Department officials launched an open invitation for the block's redevelopment in 2018, and Gaylor Baird has made finding a future for the old auditorium a priority.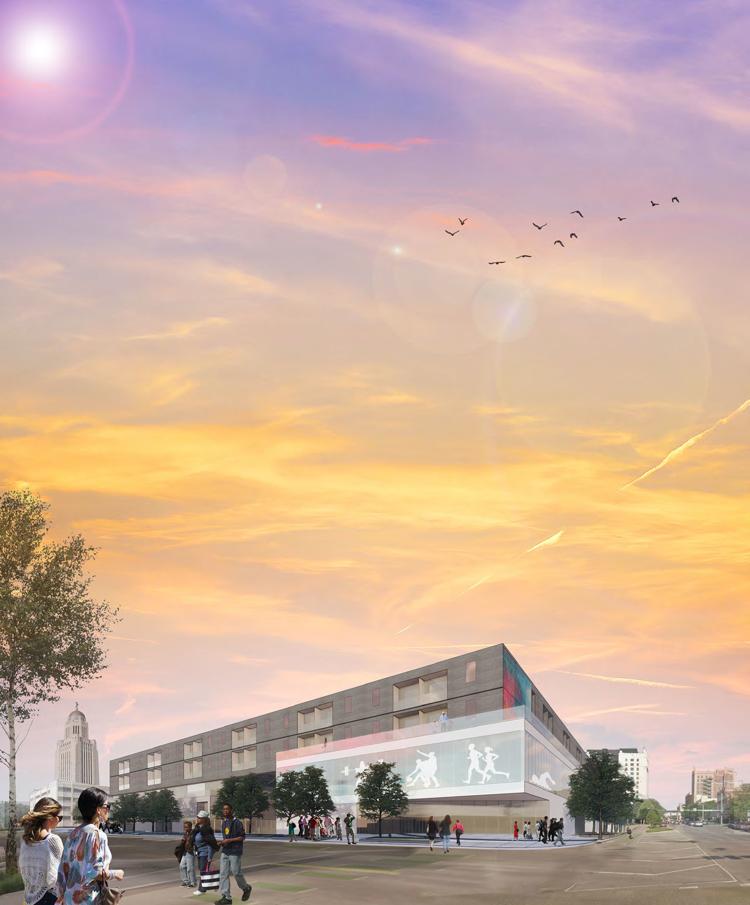 Her administration fielded one proposal in March it deemed acceptable enough for the city to proceed, and it invited other developers to turn in blind proposals.
"Although a great deal of work remains to be done, this is exciting news for our community, and it takes us one step closer to a new chapter for this historic block," Gaylor Baird said.
The White Lotus proposal will likely use tax-increment funding as well as other public funding such as affordable housing tax credits.
Marvin said the amount of potential TIF money has not been calculated.
The $54 million price tag does not include the potential city library, which Library Director Pat Leach said could cost as much as $45 million to $50 million.
The Lincoln Library Board of Trustees has previously estimated that about $10 million in private donations would help fund the library, with the rest of the money expected to come from a bond issue.
Leach said the library system will need to coordinate details with White Lotus before moving forward with any plans for a bond issue.
She said she is "very excited" at the prospect of working with both White Lotus and Urban Development on the design and execution of what should be a "really effective project."
Marvin said that as part of its development plans, White Lotus estimated it would start construction sometime in 2022 and complete the project sometime in 2024.
He said he expects the company will submit a redevelopment plan application by the end of the year and then would use much of next year to secure tenants and firm up its financing plans.
Marvin said that if the library plans were to fall through — because a bond issue fails, for example — White Lotus has assured city officials that it would still be interested in redeveloping the site and believes it would still have a viable project.
Photos: The Pershing Center mural