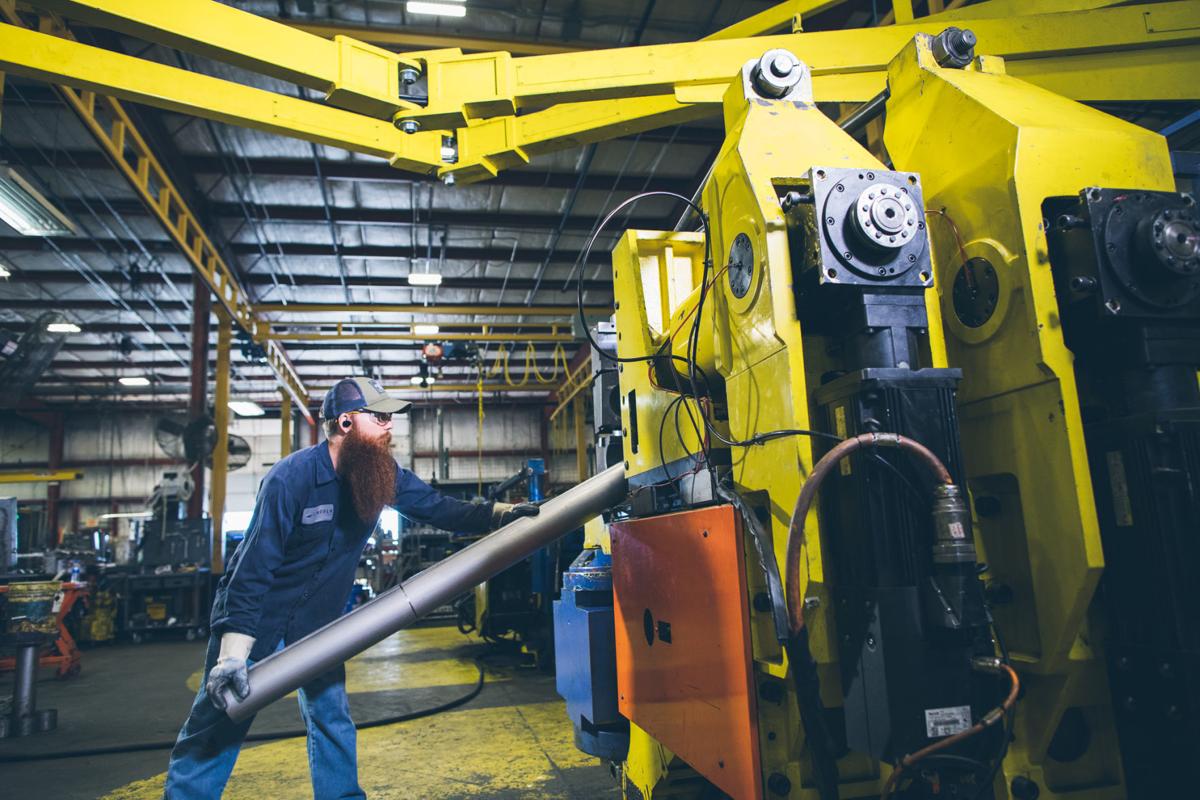 The Lincoln Airport finally has a tenant for its largest vacant building.
Lincoln Industries this week said it has opened a new tube fabrication facility in the former IAC Acoustics building in the LNK Enterprise Park.
The company had been leasing other space in the Enterprise Park for tube fabrication, and the move allows it to consolidate all the space into one facility.
The 170,000-square-foot building gives it enough space to accommodate all of its tube fabrication and bending activities, as well as allow room for future growth.
It also makes it the biggest physical expansion in the company's history.
Lincoln Industries CEO Marc LeBaron said the expansion is due to the company's growing truck business.
"We currently serve 100 percent of the over-the-road heavy-duty truck manufacturers in North America," LeBaron said in a news release. "Ten years ago, when we first entered the tube fabrication business, we were producing 1,000 tubes a week. Our current volume is 10,000 per week and will continue to grow with the increased nationwide demand for our products."
Lincoln Industries' tube fabrication capabilities are extensive. The process takes 20-foot-long steel or stainless steel tubes in diameters of four- to eight-inches and puts them through a number of operations, including cutting, bending, swedging, with a large percentage of them being nickel chrome plated.
The company, which now has 1,400 employees at locations in three states and Mexico, said approximately one-third of its 600 local employees are involved in tube fabrication in some way.
As part of the expansion, Lincoln Industries added a new tube bending machine, the largest of its kind in North America, and it plans to install another fully automated tube fabrication machine in June.
The lease officially begins April 1. It has an initial term of five years and also includes three additional five-year options, meaning the full potential duration of the lease is 20 years.
The expansion also will boost employment, with Lincoln Industries planning to add at least 50 new jobs in Lincoln.
While the move is good for Lincoln Industries, it's also good for the airport.
The building at 3901 W. Kearney St. had been mostly empty for the past three years, after IAC, which made industrial soundproofing products, collapsed less than two years after moving into the building.
The Airport Authority had to write off nearly $10 million of the $16 million it spent to build the state-of-the-art manufacturing facility.
"Lincoln Industries has been a tenant at the airport for more than the last decade," said Lincoln Airport Executive Director David Haring. "While we are obviously excited to see the largest of the airport's industrial facilities occupied after several years of vacancy, we are even more excited that such a respected and deep-rooted local company has elected to grow their operation in the LNK Enterprise Park."