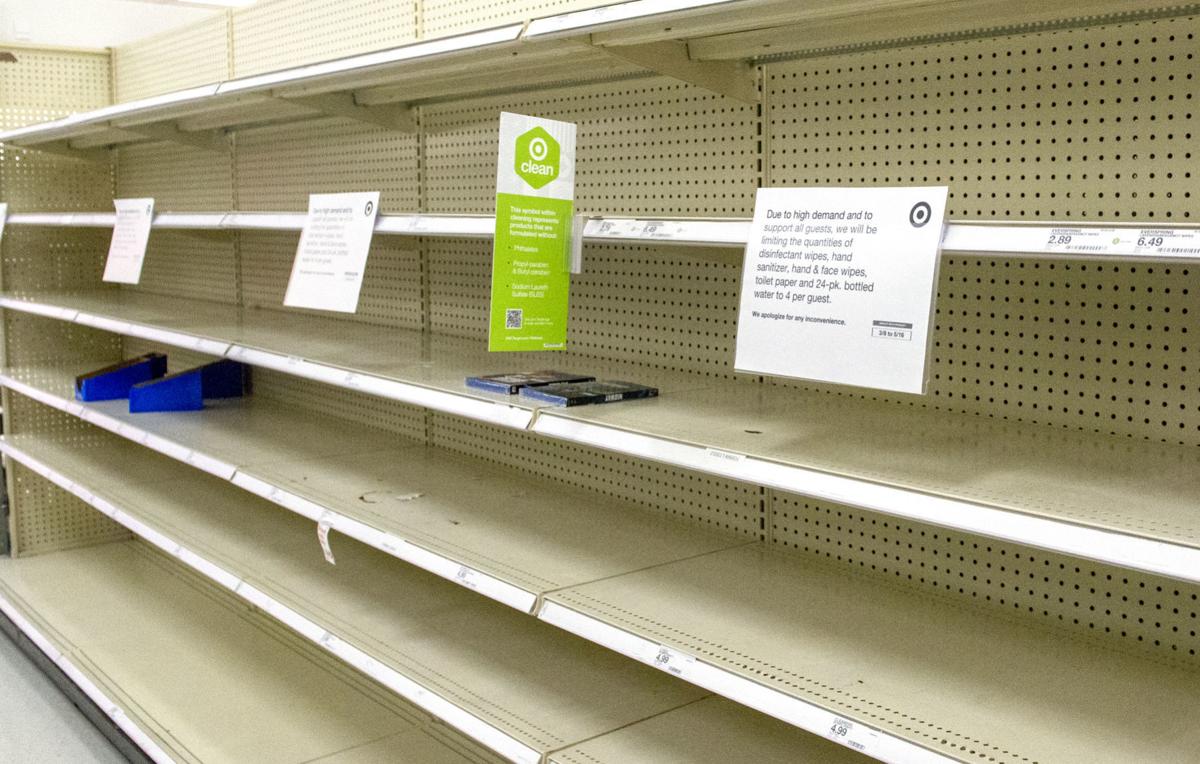 As COVID-19 makes its march across the country, it's also kicking up dust in the economy. 
As one Nebraska school superintendent put it: The state doesn't have a health crisis right now, but it has health panic. 
"I was at the grocery store, it was 45 minutes to get through the grocery line at Hy-Vee," said Millard Public Schools Superintendent Jim Sutfin. "People are going out there and buying and stocking up. There is fear that is being spread." 
There needs to be education to slow down that fear, Sutfin said. 
Former Journal Star reporter Kevin Abourezk posted a video Friday on Facebook showing wiped-out meat counters at Sam's Club in Lincoln. 
"I've never seen it like this," he said. 
Gov. Pete Ricketts, along with officials from the education and business communities, held a news conference Friday to discuss responses to the virus, and offer some education. 
Businesses need to be an important partner in the COVID-19 response, said Nebraska Chamber of Commerce President Bryan Slone. What's happening will have an impact on the business community and the workforce, at least in the short term.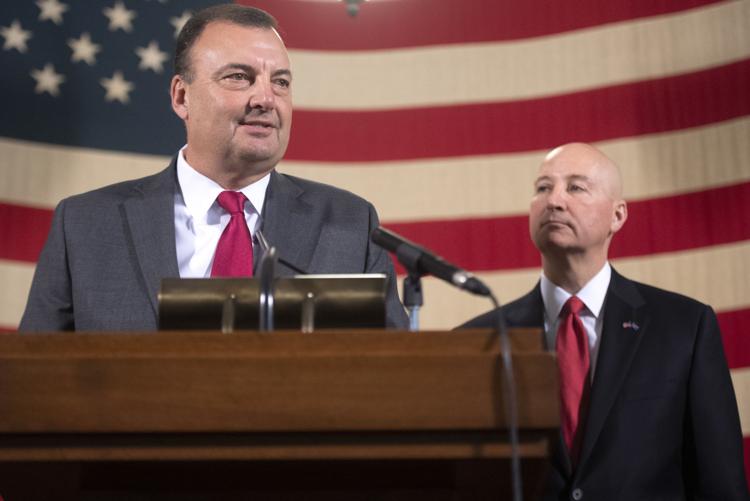 Above all, employers need to think about how they are taking care of their workers and how to be flexible in the case of heightened absent workers, he said. Employees might have school-age children at home they need to take care of. In addition, sick employees need to stay home, and work-at-home options also need to be considered.
Workforces will change as events occur, Slone said, and he urged businesses to have clear plans and policies in the event they have employees who get the virus or are exposed. A handful of Omaha businesses have already been sites of exposures. 
They should know the Centers for Disease Control and Prevention guidelines for businesses in this time of pandemic and to be in communication with their local health department, he said. 
"It's going to vary by type of business. It's going to vary by industry," Slone said.  
And businesses are going to have to be diligent on this, he said. 
Restaurants 
Zoe Olson, executive director of the Nebraska Restaurant Association, said restaurants are one of the safest places to go. The coronavirus is not a foodborne illness, she said. 
Lincoln and Lancaster County have the strictest health codes in the state and the country, including glove use for any food contact and separate hand-washing sinks, Olson said. And that should be comforting to a lot of people. 
"Restaurants practice safe hygiene constantly," she said. "This is something we know how to do, and we're good at it." 
Some restaurants, including Granite City, have issued news releases on the safety and disinfecting procedures they take. They have removed table-top items and are disinfecting menus and shakers and using single-serve packets for ketchup and mustard. 
Grocery stores 
A number of grocery stores have experienced long lines and a rush on a number of products, but Kathy Siefken, executive director of the Nebraska Grocery Industry Association, said that, while some food products are being purchased faster than they can be restocked, there is no food shortage.
Grocery stores receive multiple deliveries every day to restock the food items that have been sold. Warehouses are full of food, she said. But a lag time may occur in restocking the shelves.
While there is a shortage of paper products and household chemicals, the supply chain continues to work on these issues, she said. Manufacturers are attempting to increase production of these goods, but they need the raw materials on hand.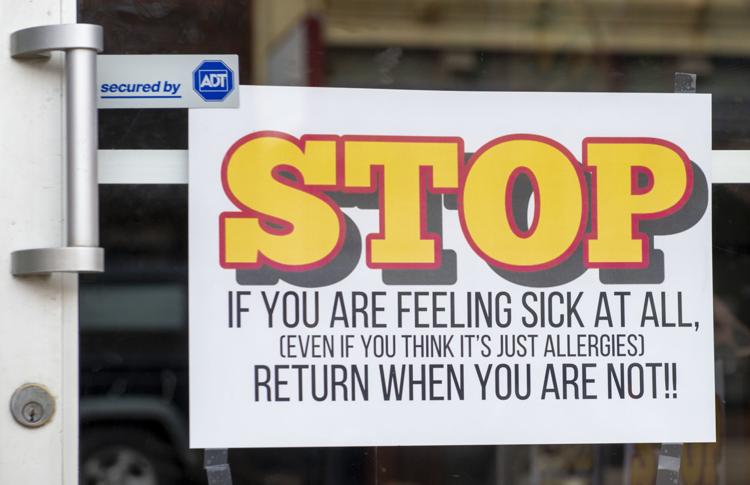 "We don't know when that will happen, but all parties are focused on working through the process and speeding things up," she said. "It takes a team to make this happen and the team has been assembled and is working together."
The governor issued an executive order Friday to suspend state and federal length and weight hauling and hours of service requirements to assist motor carriers transporting food, supplies and equipment. 
Hy-Vee stores report they may have limited quantities available on certain items because of increased demand. But they are reaching out beyond their traditional supply channels to make sure they have needed items, said spokeswoman Christina Gayman. Employees also are increasing their stocking efforts to keep up with customer demand.
Banks 
Most bank lobbies remain open, but banks are reminding people about using online banking and drive-thru services, and to be aware of potential scams. They say they will never ask for your online banking password or personal identification number.
In a news release Saturday, the Nebraska Bankers Association encouraged customers who want to meet with a banker to set up an office appointment in advance.
Movie theaters 
Marcus Theatres plans to remain open and says it will cooperate with decisions and direction provided by local health agencies. Theaters are cleaned daily and auditoriums are cleaned between shows. Over the past few weeks, they have increased cleanings and added hand sanitizers for guests and associates.
Delivery services 
* Be prepared for slower delivery from some larger services such as amazon.com and Walmart because of short supply and increased demand.
* David Welch, owner of Metro Dining Delivery in Lincoln, said there has been a marked increase in demand for restaurant food delivery within the past week. All of his drivers have food-handler permits, he said, even though they are not required. And he has a policy that no one works when they are sick. 
Hand sanitizer is furnished and used before and after every pickup and transaction, Welch said. He is also prepared to bring a few more people on board when needed.
* Grubhub announced Friday it is temporarily suspending collection of up to $100 million in commission payments from impacted independent restaurants nationwide, including some in Nebraska, to help with the restaurants' cash flow. 
Grubhub has also created a fund that will enable proceeds from its Donate the Change program to go to charitable organizations that support restaurants and drivers impacted by the COVID-19 health crisis. The program will allow diners to round up the change from every order and donate it to the Grubhub Community Relief Fund — with donations from Grubhub+ (and Seamless+) members matched by the company.
Kids' play areas 
* Many play areas, such as Lost In Fun, remain open. Lost in Fun manager Shyanne Phiathep said they have a company, Enviromaster, coming in daily to steam-clean and disinfect areas, including bathrooms, the foam pit, ball pit and all equipment. And staff sanitize every area and equipment every 30 minutes to an hour.