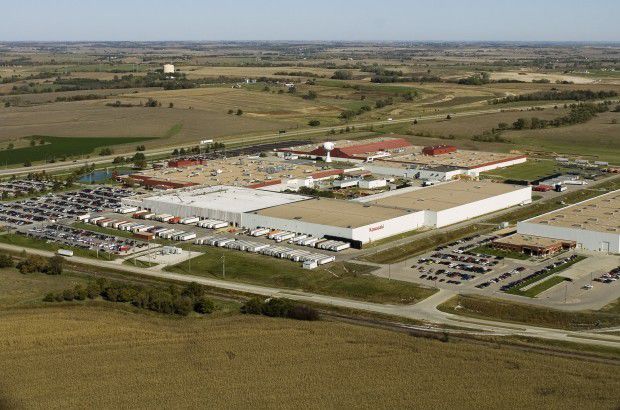 The Kawasaki Motors Manufacturing plant in Lincoln will temporarily shut down production starting Monday.
"In a continuous effort to monitor the spread of COVID-19 and in concern for the safety of our employees during this unprecedented pandemic, we are temporarily ceasing work," the company said in a bulletin to employees posted on its website.
Kawasaki said it anticipates a two-week shutdown, but that it could be extended "dependent upon changes in the local COVID-19 situation and direction from the local, state or federal government."
Kawasaki is one of Lincoln's largest private employers, with approximately 2,000 employees at last count producing both consumer products such as Jet Skis and ATVs, as well as rail cars for U.S. public-transit systems.
Kawasaki said in the bulletin that it will provide supplemental pay during the shutdown, which, when combined with unemployment benefits, will ensure workers receive 60% of their normal pay. The company said it will cover all health insurance premiums during the shutdown and workers also will continue to accrue paid time off.
Kawasaki officials did not respond to an email Friday morning.
Another local manufacturer plans to continue to operate in a reduced capacity.
Lincoln Industries, which does metal finishing for the automotive and other industries, has some essential customers, said spokeswoman Kassy Knudson.
"As a result, we have areas that will continue to work through this downturn," she said.
However, she said that much of the plant is shut down because of many of its core customers being located in states that have mandatory shelter-in-place orders.
"This has dramatically impacted our demand and production," Knudson said.
She said that at least for the next week, the company has guaranteed all production workers at least 30 hours paid compensation. Administrative team members also will work with reduced pay, she said.
"There is considerable uncertainty when our volumes will return to normal, so we will be reviewing these initiatives on a weekly basis," Knudson said.
Concerned about COVID-19?
Sign up now to get the most recent coronavirus headlines and other important local and national news sent to your email inbox daily.