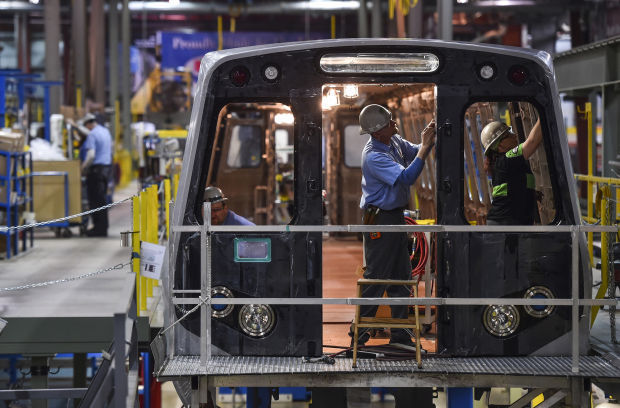 The parent company of Kawasaki Motors Manufacturing reported huge losses in its rail car division — largely because of issues at its U.S. operations based in Lincoln — and the head of the company suggested it could exit the business altogether.
Kawasaki Heavy Industries on Tuesday reported an overall loss of 3.5 billion yen, or about $31.6 million, for the first two quarters of its fiscal year that ended Sept. 30.
However, its rolling stock division, which is the one that makes train cars, lost more than $78 million during the six-month period, much of it because of cost overruns and other problems at its U.S. operations, which are based in Lincoln and employ several hundred people.
And Kawasaki Heavy gave a very dire forecast for the rolling stock division going forward. 
According to a presentation it gave Tuesday, it has seen increased material and production costs on its U.S. projects, as well as added costs to repair defects on cars sent to the Washington Metropolitan Area Transit Authority.
All that adds up to a forecast loss for the year for the division of more than $128 million.
In addition to the added costs, Kawasaki Heavy Industries President Yoshinori Kanehana said during a news conference in Japan that U.S. operations are facing additional challenges, including difficulty finding enough workers and requirements to use U.S. suppliers, even if they don't provide the best products.
You have free articles remaining.
Kanehana, who was in Lincoln in September to tour the local plant, said he will lead a committee that will come up with a restructuring plan by March. Options could include partnering with another company or exiting the business completely, although he said the "primary goal is to reconstruct the business with self-help efforts," The Japan News reported.
Those efforts are likely to focus on "streamlining our operation to improve operating efficiencies, including supply chain operations," Jason Hellbusch, director of administration at Kawasaki's Lincoln operations, said in an email.
Despite Kanehana's comments, Hellbusch said restructuring efforts would not affect current employees or current customer contracts.
"Instead, changes will focus on streamlining our operation to improve operating efficiencies, including supply chain operations," he said.
Hellbusch said that while some of the factors that have contributed to the division's poor performance are out of Kawasaki's control, "we are disappointed performance hasn't been better."
Kawasaki opened its Lincoln rail car plant in 2001, and it now has about 600 people working there out of a total local workforce of about 2,000.
There also is a Kawasaki Rail Car operation in Yonkers, New York, that mostly does testing of cars manufactured in Lincoln. It has about 500 employees
The only other Kawasaki Heavy division to lose money during the first six months of the company's fiscal year was the motorcycle & engine division, which also has its U.S. operations based in Lincoln and makes all-terrain and utility vehicles, as well as Jet Skis.
Kawasaki Heavy said losses were largely because of increases in prices for steel and other materials. However, the forecast for the rest of the fiscal year for the division was much brighter and actually was revised upward slightly.