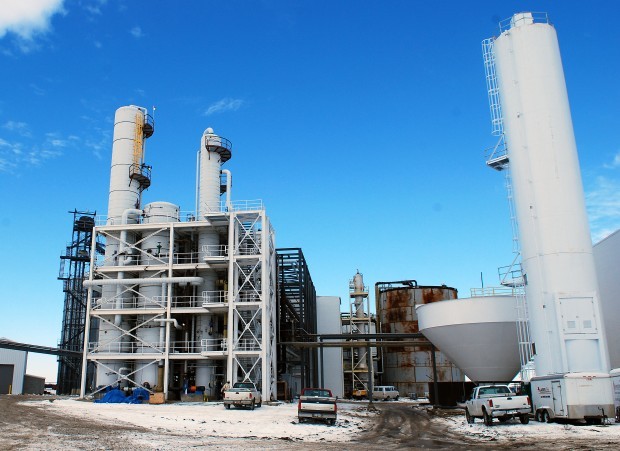 Spectrum Business Ventures Inc. of Kansas City, Mo., and affiliates said they have closed on the purchase of assets from the Chapter 11 bankruptcy of E3 BioFuels -- Mead and intend to reopen the innovative but star-crossed ethanol plant next year.
The plant was the first to use cow manure from a nearby feedlot, processed by anaerobic digesters to produce methane to power the distilling of corn into ethanol. Built four years ago, the plant's full-scale commercial operation was delayed by a boiler explosion in 2007 and failed repairs that led to a bankruptcy complicated by the volatility of the ethanol and grain markets over the past few years.
The plant is designed to eliminate the use of fossil fuels in the production of ethanol. At its ceremonial opening in 2007, it drew a lot of national media attention and praise, even from those who doubt the wisdom of using subsidies to encourage the production of ethanol from grain.
The new owners say the system eliminates the potential for manure to pollute watersheds, and it enables the wet distillers' grain from ethanol production to be fed on-site to cattle without energy-intensive drying and transportation costs.
You have free articles remaining.
Amit Raizada, CEO of Spectrum Business Ventures, said in a news release, "This deal is unique in that we were able to secure a super senior investment and make the company healthy again. We solved an extremely complicated problem and still positioned our capital on top of the stack. Although these deals are difficult to accomplish, they are our trademark."
Spectrum would not comment beyond its news release. It's not clear from bankruptcy records how much Spectrum paid to take over the plant, now owned by a company called AltEn.
Among the losers in the bankruptcy were bondholders who financed the plant and Dennis Langley, a Kansas businessman who was majority owner of the bankrupt company that owned and built the plant. He also owns the company that owns the feed lot, Mead Cattle Co.
"Without SBV's expertise in deal structuring and negotiations, this deal would not have gotten done," said Langley, former chairman and CEO of E3 Biofuels, in Spectrum's news release. "This is a win for the plant, a win for SBV and a win for the industry."
AltEn is pursuing the necessary permits to begin ramping the facility up for production, which is anticipated in 2011, Spectrum said.
Spectrum Business Ventures is a private investment firm that says it specializes in the execution of complex business opportunities.
The business news you need
With a weekly newsletter looking back at local history.