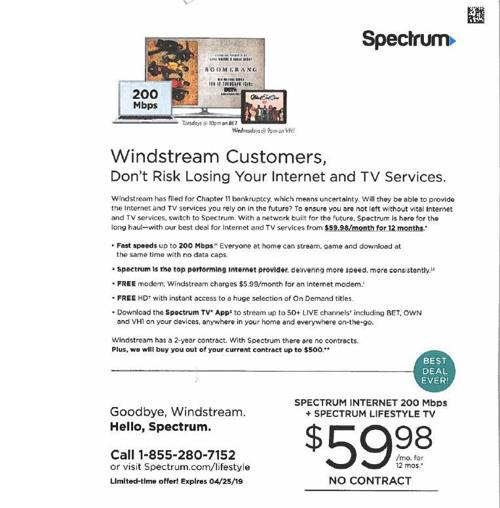 A New York judge on Monday ordered Charter Communications to cease distributing an advertisement that implies Windstream customers could lose service due to the company's bankruptcy filing.
Charter has been sending mailed advertisements to Windstream customers in several markets, including Lincoln, highlighting Windstream's February Chapter 11 filing and warning, "Don't risk losing your TV and internet services."
Windstream filed for bankruptcy protection after losing a court battle with a hedge fund over bonds issued as part of the 2015 spinoff of its fiber-optic cable network into a separate company.
Not only was the company hit with a $310 million judgment, but the court ruling also put it into technical default on its other debt, necessitating the bankruptcy filing.
Windstream has repeatedly said that it plans to continue operating and that customers will not be affected by the bankruptcy filing.
The Charter ad, which said the bankruptcy created "uncertainty" for Windstream customers, came in an envelope with similar colors to what Windstream uses and caused confusion among its customers, Windstream said in court documents. The company said it received at least 160 calls from customers within the first 10 days after the Charter advertisements were sent.
Windstream also alleged that about 350 of its customers switched service to Charter because of the letters. When some of those customers asked to switch back, Windstream said Charter refused and claimed Windstream owed it money.
Monday's ruling also ordered Charter to restore service to any Windstream customers who switched to Charter as a result of the letter.
A Charter spokesman declined comment about the ruling.