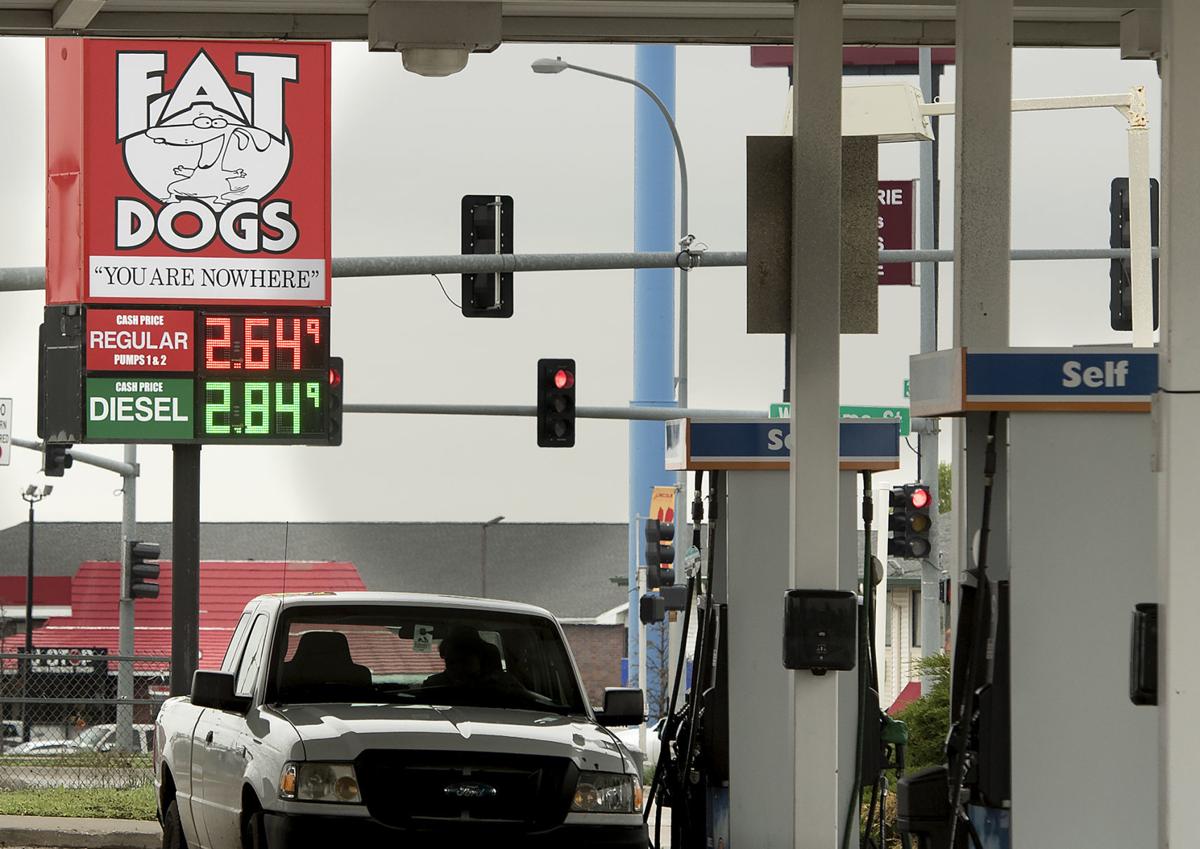 When John McCollister pulled off Interstate 80 and up to a pump at the Fat Dogs gas station near North Platte he ended up driving away without filling his tank.
The Omaha state senator said he was a little irritated and felt misled after noticing the price at the pump he'd driven up to was higher than the big sign that drew him there.
It was priced lower at other pumps, but those pumps already had cars at them.
"It's typical bait-and-switch," McCollister said.
At the trial last week in "Coalition for Ethical Petroleum Marketing v. Mark Wilkinson," a Lincoln judge heard from him and others who sued asking the court to intervene against the practice.
And the judge heard from Wilkinson, who defended the practice he uses at his six convenience stores along the interstate near Lincoln, Grand Island, Lexington, Sidney, Ogallala and North Platte, saying he was just trying to offer his customers several products.
Dan O'Neill doesn't buy it.
O'Neill, who owns 24 Kwik Stop stores in North Platte and elsewhere in Nebraska and Colorado and is part of the coalition that sued, said in his opinion Fat Dogs stations advertise a low price to attract travelers to their I-80 stations, then offer the fuel at a limited number of pumps, intentionally hoping travelers accidentally fill up with more expensive fuel.
Last week, it could've meant the difference between $2.64 and $2.89 per gallon, he said.
O'Neill said he thinks it gives North Platte -- and the industry -- a black eye and could keep tourists from stopping in the city and specifically I-80 Exit 177.
"I have a huge investment in that intersection, and in the community," he said.
But Wilkinson's attorneys pointed out that while the cheap fuel isn't at every pump, signs direct customers to the pumps where they can get the fuel at the advertised price.
"There is nothing to suggest Wilkinson advertises a product that isn't available," attorney Daniel Klaus pointed out.
O'Neill agreed, but said it was his contention the deception already has occurred once the consumer pulled into the lot, assuming the price was available at all the pumps.
But, Klaus said, any customer capable of reading words and numbers would be able to find the fuel.
If they're paying attention, O'Neill said.
You have free articles remaining.
He also conceded he had no evidence to support his claim that Wilkinson was purposely misleading customers through the marketing practices.
Cindy Halligan of Mentzer Oil, who owns the North Platte station next to Fat Dogs, said she's had to use the practice, too, just to be able to pay the bills. But she doesn't like it.
"I don't believe it's right. You're telling them one thing and when they get in there it's another," she said.
Halligan says she would quit doing it if Fat Dogs did but has to for now to survive.
Another of Wilkinson's attorneys, Sheila Bentzen, asked if, because of stations matching Fat Dogs' lower prices, consumers ultimately were getting a lower price for gasoline.
Halligan agreed. But they've also gotten a lot of complaints from people who didn't notice they had accidentally bought more expensive fuel until after filling up, she said.
People don't read signs very well, she said.
Wilkinson testified, too, saying customers have to physically push the price to make the pump work, plus they've added signs and the number of pumps with the lowest priced fuel.
Despite acknowledging he had gotten 48 complaints forwarded to him from the Nebraska Attorney General's office, he seemed to brush them off.
"I get way more thank-you's than complaints," he said.
Wilkinson said he just tries to offer a lot of different products and let the consumer decide what they want.
At the end of the daylong hearing, Lancaster County District Judge Robert Otte, who will decide the matter, asked if he simply would be perpetuating litigation by reaching a narrowly defined legal decision in one case rather than waiting for state lawmakers to reach a legislative solution.
"What is it really you want? What are you asking me for?" Otte asked attorney Blake Johnson.
Johnson said if Wilkinson is going to advertise a low price on a large overhead sign, the product at that price should be available at every pump, which is what other businesses do.
But Otte asked what about small gas stations that have a pump with fuel just for lawn mowers, or hotel rooms that advertise their least expensive room on a sign along I-80.
"If the Legislature can't figure it out, I'm not sure an injunction ... can figure it out," the judge said.
Both sides were to submit closing arguments in writing to Otte before he rules on the case.