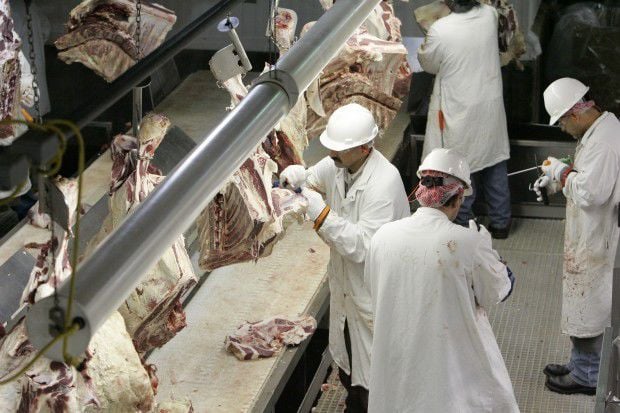 Workers in meat-processing plants in Nebraska and across the country continue to suffer high rates of occupational injury and illness at a time when the Trump administration is authorizing higher production line speeds and reducing government oversight, according to a study released Wednesday. 
The study by Human Rights Watch, which updated its original meatpacking survey conducted nearly 15 years ago, was based on nearly 50 interviews with workers who primarily live in Nebraska, Alabama and North Carolina and work in 15 different plants owned by 12 different companies.
Workers in five communities in Nebraska were interviewed. 
"The cumulative trauma of repeating the same forceful motions tens of thousands of times each day can cause severe and disabling injuries," the report stated.
Meat and poultry workers make between 20,000 and 100,000 forceful motions per shift, it is estimated. 
And now the push for higher line speeds will compound the impact of "the highly repetitive, forceful movements required by meat and poultry slaughtering and processing work," the report stated.
Meanwhile, the Trump administration has reduced the number of Occupational Health and Safety Administration inspectors and is "pursuing policies that are and will provide greater autonomy to meat and poultry slaughtering and processing companies," the report said.
But line speed is at the crux of new concerns.
"The Trump administration is granting poultry companies waivers to exceed limits on maximum slaughter line speeds established by an Obama-era rule and accelerating efforts to deregulate slaughter-inspection systems and line speeds in hog and possibly cattle plants," the report stated.
Increased line speed is the largest new threat to worker safety and stress, a worker at a pork-processing plant in Nebraska told the Journal Star in a telephone interview. He agreed to talk about working conditions where he works in exchange for an assurance of anonymity.
The production line speed at his job site has steadily increased, he said, and now stands at 10,700 pigs in a workday of 8 1/2 hours. While the "kill" number has been increasing over time, the number of hours to reach that number has been decreasing, he said.
"More pigs, less hours, more injuries," he said. "A lot of people get cut.
"People come and go," he said. The workforce is largely Latino, including workers from Central America, Cuba, Mexico and Puerto Rico, he said.
In some cases, their immigration status is used to their disadvantage, he said, and people sometimes leave — or are fired — with untreated injuries.
The Human Rights Watch study, compiled with assistance from Nebraska Appleseed and the Heartland Workers Center, pointed to Ignacio Davalos, a worker at a hog plant in Crete, for its featured summary quote.
"We've already gone from the line of exhaustion to the line of pain," he said. "When we're dead and buried, our bones will keep hurting."
Darcy Tromanhauser, director of Nebraska Appleseed's immigrants and communities program, said "permanently crippling pain and alarming injury rates continue to be the norm" resulting from "inhumane work speeds and production pressures."
Sergio Sosa, executive director of the Heartland Workers Center, said "it should not be too much for workers to expect to go home safe after a day of hard work."
Sosa asked "how many more Nebraskans have to have their lives irreparably changed because of unsafe conditions in industries of utmost importance in our state."
In summarizing its interviews with workers, the Human Rights Watch report stated: "Almost all explained that their lives both in the plant and at home had grown to revolve around managing chronic pain or sickness."
Most of the workers are "people of color, many are women and nearly one-third are immigrants," according to the report.
Workers earn an average of less than $15 an hour, the report stated.
Some of those interviewed said some supervisors refuse to allow workers to use the restroom while working on the production line and that some of their colleagues wear diapers at work.
The report calls for a reduction in line speed and urges Congress to provide adequate funding for OSHA and to enact legislation "that would help prevent retaliation (against workers) based on immigration status."
Workers interviewed for the report were 33 Latinos, 10 African Americans, five whites and two Asians.