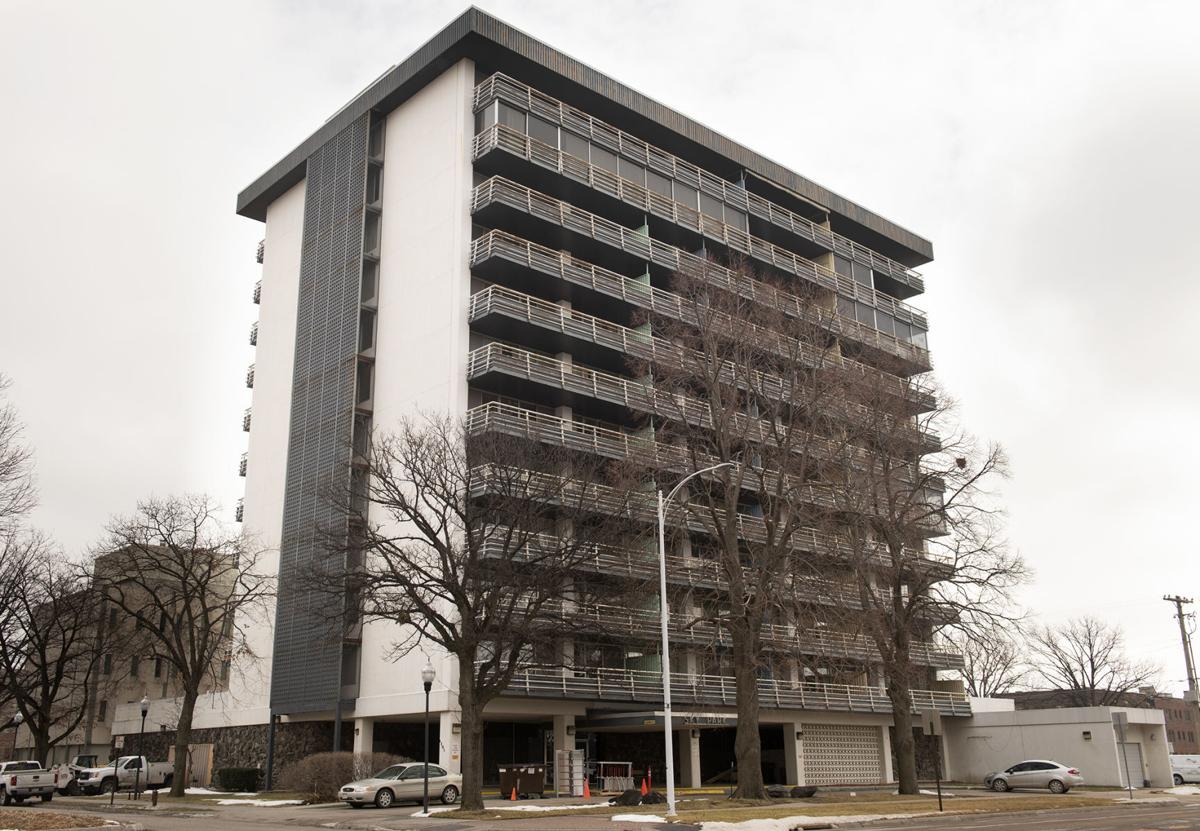 "Sky Park Manor was the first luxury, high-rise apartment building constructed in Lincoln."
That's a description included in a 2016 application seeking to have the 12-story building placed on the National Register of Historic Places.
Designed by noted Lincoln architect Selmer Solheim, who lived in one of the building's five penthouse apartments, it was like nothing that had ever been built before in the city.
Advertisements that ran in the Lincoln Journal Star when the building first opened in 1963 described it as "the prestige address in downtown Lincoln" and a "tower of gracious living."
The application five decades later also noted why the building was worthy of inclusion as historic: "The original 1962 design of the building is essentially unchanged."
While noting that the building in 2016 was still "in good condition," the application also pointed out that it was "in need of mechanical system upgrades, and also is due for general repairs and cosmetic refurbishing."
Those upgrades and repairs are finally going forward.
Now called Sky Park Apartments, the building located at 1301 Lincoln Mall is undergoing extensive renovations. Sampson Construction, which bought the building in 2019, is planning remodels of all the apartments as well as a number of other upgrades.
Some of that work has been taking place over the past few months as residents went about their business, but the project has come to a point where it's no longer safe to do work while people live in the building.
So this past week, the people living in the 33 occupied units received a notice that they will have to vacate by Feb. 14.
Cori Sampson Vokoun, vice president of strategic operations at the family-owned construction company, said there are just too many issues — including the fact that the building doesn't currently have fire sprinklers — that make it too risky to do renovation work while people are still living there.
"It's really a safety factor," she said.
Sampson Vokoun said the company is trying to do everything it can to lessen the burden of asking people to leave, including offering them spots at vacant units in other apartment communities it owns and giving them the right to move back in when work is done.
In addition, Sampson Vokoun said her dad, Sampson Construction President John Sampson, personally called the 14 tenants who have lived in the building for at least five years.
"We've tried to be as generous as we can," she said, noting that she understands it's an inconvenience and not something residents have any control over.
For those who do choose to come back, they will find a building that still has its mid-20th century modern charm but is chock full of 21st century amenities.
Allison Alber, the project manager on the Sky Park renovation, said the units have had some upgrades over the years, but they still have original floor plans. One of the big goals in the individual unit renovations is to create more modern floor plans, she said.
Those modifications will put emphasis on the floor-to-ceiling windows in each unit that provide "spectacular views" of downtown Lincoln.
In addition, Sampson is splitting six units to increase the number of apartments in the building to 81.
Other upgrades include a new heating and cooling system, elevator improvements, interior and exterior painting, and new kitchens and bathrooms in individual apartments. Sampson also is planning to add a fitness center and to restore the building's second floor "Sun and Fun" deck, which has a pool and green space. And it is restoring the building's dry sauna, which was imported from Finland and believed at the time to be the first such sauna in the city.
"This is one of my most exciting projects I've been on," Alber said.
Part of what makes it exciting is the uniqueness of the building.
"It's fun because it's not a typical historic preservation project," said Melissa Dirr-Gengler, president of Historic Resources Group.
Dirr-Gengler, who helped Sampson secure historic tax credits for the multimillion-dollar project, said the building has a "Mad Men vibe," referring to the AMC TV series about the advertising industry in the 1960s.
And she said Sampson is taking great care to ensure much of that vibe remains.
"They're going above and beyond in preserving the characteristics that make this building unique," Dirr-Gengler said.
Alber said the project is expected to take about seven to nine months to complete, once all the residents are out, meaning people should be able to move back in by December.
Sampson Vokoun said her dad took a personal interest in the building because when he was growing up in Lincoln, it was an iconic spot where many of the "who's who" in the city chose to live.
She said he had his eyes on the building for many years and jumped at the chance to buy it when it became available.
"I think it's a personal thing for him, that we're doing (the renovation), and we're doing it right."
TALLEST BUILDINGS IN LINCOLN