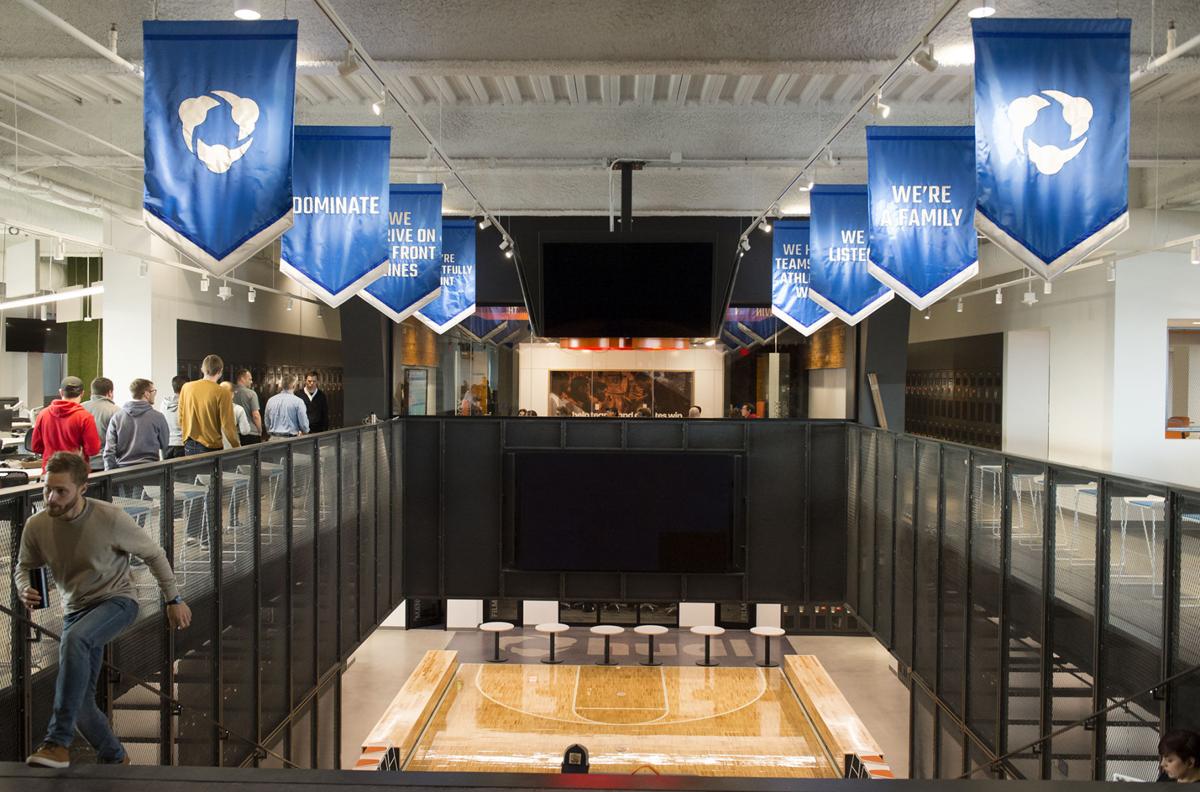 Wendy Birdsall couldn't help herself.
The Lincoln Chamber of Commerce president, speaking at the ribbon-cutting for Hudl's new headquarters, used a sports reference when talking about the growth of the West Haymarket, where the building is located.
Birdsall said she felt like the city had "hit a home run" when voters approved the building of Pinnacle Bank Arena.
Now with all the development that has sprung up in the four-plus years since the arena opened, including restaurants, bars, hotels, shops and, of course, corporate headquarters, Birdsall said she now feels like, "we have hit a grand slam."
A sports reference seemed appropriate when talking about one of the hottest sports technology companies worldwide.
The public and private officials who spoke at Tuesday's event played off that theme: That Hudl's new headquarters, and all the company's successes, are a win not just for the company and its investors, but also for the city and the state.
Even though Hudl was born in Lincoln and founded by University of Nebraska-Lincoln students, it now has offices worldwide and could have chosen to build its new headquarters anywhere, said Gov. Pete Ricketts.
The fact that the company chose to stay in Lincoln is a testament to the business environment and quality of the workforce, he said.
You have free articles remaining.
Ricketts also touted the fact that Hudl's success is good for the state as a whole.
"Not only is this a great success story for the team here, but also the city of Lincoln and the state of Nebraska, Ricketts said. "We're very proud of you."
Hudl CEO David Graff, who co-founded the sports video-editing software firm with fellow UNL graduates Brian Kaiser and John Wirtz, said that it was always the company's goal to stay in Lincoln.
"When we say we always want to call Lincoln home, we mean it," he said.
Graff thanked the partners who came together to make the building a reality: Nelnet, Speedway Properties, WRK LLC and Chief Industries.
"We literally would not be here without you," he said.
Hudl moved its more than 350 local employees into the building earlier this fall. It occupies floors four through seven of the seven-story building, with the sixth floor only partly finished to allow for future expansion.
The first floor is set to be retail space and the third floor is vacant, available either for a new tenant or as expansion space for Hudl or Nelnet, which is occupying the second floor.
Nelnet CEO Jeff Noordhoek thanked Graff for "creating the coolest atmosphere in Lincoln, Nebraska."
"I can't imagine a work environment more awesome than this building," he said.