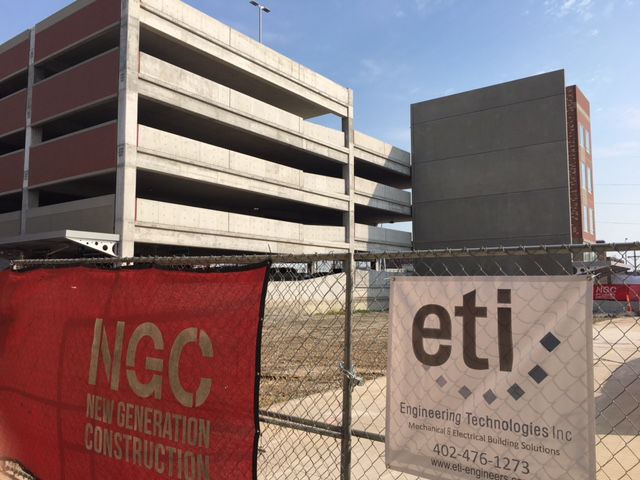 The longtime dream of a downtown grocery store is set to become reality next spring.
Speedway Properties and Nelnet held an official groundbreaking ceremony Wednesday for their $11 million redevelopment project at the Lumberworks parking garage along Canopy Street between N and O streets.
The project, now called Canopy Row, will involve three mixed-use buildings: two four-story buildings with first-floor retail and three floors of apartments, and one five-story building with first-floor retail and four floors of office space.
Clay Smith, general partner with Speedway Properties, said construction will start first on the four-story building on the south side of the garage, facing N Street, which will have the Canopy Street Market on the first floor.
Smith said the goal is to have the grocery store open by May or June, with apartment units ready shortly after that.
The Canopy Street Market is a collaboration between Mark Whitehead of Whitehead Oil, who owns the U-Stop convenience stores, and Jill Moline, who runs three grocery stores in western Nebraska and eastern Colorado.
Moline, whose husband is Allo Communications President Brad Moline, said the 10,000-square-foot grocery store will be a full-service market, with a meat counter, deli and fresh produce. It also will offer online ordering and delivery, she said.
You have free articles remaining.
Smith said the project fulfills the dreams of many people, especially the grocery store, which has been a goal of city officials for decades.
"It's always been viewed as the holy grail of downtown development," he said.
Smith said construction on the other residential building and the office building are expected to be completed by next fall.
The two residential buildings will have a total of 53 one- and two-bedroom apartments. They will be targeted at young professionals and will have high-end amenities, such as granite counter tops, stainless steel appliances and balconies.
Smith said the office building will have about 12,000 feet of space, which he hopes will attract startup companies.
He said Fuse Coworking at Eighth and P streets, which Speedway and Nelnet jointly own, is at capacity, and companies that graduate from there to their own office space often can't find any in the Haymarket.
The Canopy Row project, which originally was called Lumberworks Lofts, was supposed to start construction early this year, but site issues, including contamination and the need to move electrical transformers, set it back.
"We're excited to get started," Smith said.