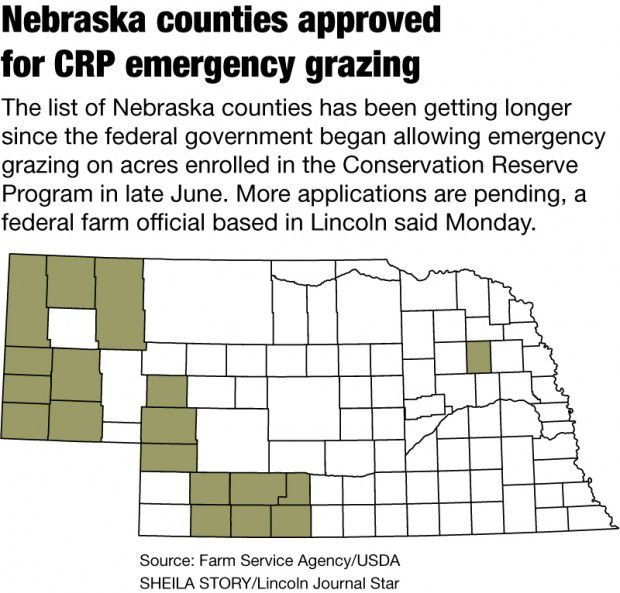 Farmers planted the largest corn crop since 1937 this spring. All of a sudden, it doesn't seem to be enough.
The rain that finally fell in the McCook area over the weekend came too late for Randy Peters' mostly unirrigated fields. And even his irrigated acres are struggling.
"The dryland corn is almost gone," Peters said Monday. "It's too late for it to rain now."
"A guy just can't keep up," even where irrigation water is available, he added. "It's burning up right behind putting water on."
The McCook area has become drought central in Nebraska as 100-degree heat and cloudless skies take their toll. But areas much closer to Lincoln also were slipping into critical status at the beginning of a week that seemed to hold little promise of rain.
"We're struggling now," said Randy Robeson, general manager of the Frontier Cooperative in Brainard, 50 miles northwest of Lincoln. "If we don't see something in a week or so, we'll be in a lot more trouble."
The implications for both corn producers and corn users are huge, not just in the state, but also nationally and internationally.
Rising demand for corn for livestock feed, ethanol and export doesn't leave much room for less than bin-busting results.
Kelly Brunkhorst, director of research for the Nebraska Corn Board, tried to ease worries as corn moves through its crucial pollination phase.
"One thing I want to stress is let's not give up on this crop. Especially in the eastern part of Nebraska, I think it's going through the stress pretty well."
Not until corn farmers can peel back the shucks on newly formed ears a few weeks from now can they assess the results of pollen falling from tassels onto the silk farther down on the stalk.
Not until then will they see whether cobs have bare spots and poor kernel formation close to their tips.
Nonetheless, this is the most troubling harvest outlook nationally and this late in the season since Congress mandated ethanol use in highway fuel in 2005.
Rising corn prices, including a gain of almost 40 cents per bushel in futures trading Monday, might seem like good news.
Robeson thinks otherwise.
"A dairy guy in California is going to have trouble paying $8 (a bushel) for corn," he said. "They get pretty much all of that out of the Midwest."
To the extent that ethanol plants hit the pause button and dairies unload cows that owners can't afford to feed, the agricultural prosperity that helped insulate Nebraska from a national recession diminishes for everybody.
"Seven-dollar to $8 corn is not good for our economy," Robeson said.
Trouble in a state that regularly trails only Iowa and Illinois in corn production shows up in the numbers updated weekly at the Lincoln office of the National Agricultural Statistics Service.
As of Monday, 47 percent of corn acres earned a good or excellent rating.
In a sign of how quickly field conditions can change, a similar report based on conditions through June 24 rated 60 percent of corn good or excellent.
Soybeans, the other fixture in Nebraska's row-crop picture, also are suffering.
An estimated 59 percent rated no better than fair Monday, even as the per-bushel price hit $15.44.
Corn soared past $7.30 in cash offers from Lincoln areas elevators.
"It's like a rocket ship," said Doug Simon, a commodities broker at Ag Risk Consulting in Lincoln.
In three weeks, Simon said, the value of corn has jumped more than $2 per bushel.
"It's one of the biggest moves I've ever seen," he said, citing his 25 years in the grain sector.
In national perspective, southern Indiana and southern Illinois appear to be suffering the most weather damage, Simon said.
Nebraska is the most heavily irrigated state in the nation, and almost 58 percent of its corn acres is grown under irrigation. Last year, Brunkhorst said, about 65 percent of total bushels came from irrigated fields.
But irrigation can't compensate completely for heat stress during pollination, and unirrigated acres account for a much bigger swath of geography.
One indication of the state's drought vulnerability is the growing list of counties in which the federal government is allowing emergency grazing on land enrolled in its Conservation Reserve Program.
Eighteen of 93 counties were in that category at the start of the work week, said Greg Reisdorff of state Farm Service Agency headquarters in Lincoln.
"To qualify for emergency grazing right now," he said, "a county has to have suffered 40 percent loss in moisture since March 1. And also, they have to have a loss in feed and pasture of 40 percent for that period of time."
The list likely is to get longer, and emergency haying likely is to be added in many counties as nesting season for pheasants and other game birds ends July 15.
"It will be adjusted," Reisdorff said. "There are a lot more applications that we're working through."
McCook farmer Peters finds some consolation in his recently completed wheat harvest.
"Wheat is a crop that can take a lot of dry weather," he said, "and it's a big plus this year."