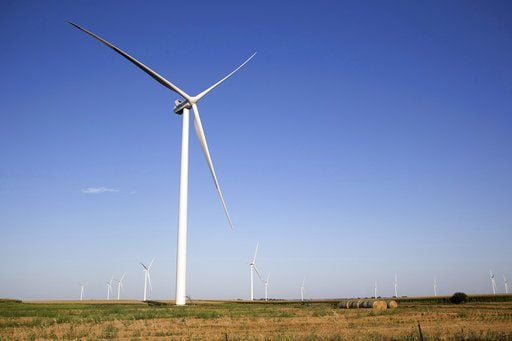 A group of Saline County residents has filed a lawsuit seeking to stop construction of a wind farm near Milligan.
The lawsuit, filed last month in Saline County District Court, not only names the companies involved with building the proposed wind farm, but also the county itself.
The gist of the complaint is that ownership of the wind farm project has changed hands and that a conditional use permit issued to the original owner expired and should not have been transferred to the new owner.
According to the lawsuit, Saline County zoning regulations state that an applicant that receives a conditional use permit must commence development within one year of the permit's issuance and complete development within two years.
Neither of those things happened. The permit was first issued in 2016, then extended last year, the lawsuit says.
The 99-turbine, 300-megawatt wind farm was originally proposed by Aksamit Resources Management. A company called EDF Renewables North America purchased the project earlier this year.
Both companies, along with several subsidiaries, are named in the lawsuit, which seeks a declaration that the conditional use permit in place is invalid and the issuance of a temporary and/or permanent injunction to prevent construction of the wind farm unless a new conditional use permit can be obtained.
The lawsuit is the second one filed over the project. In July, a Massachusetts woman who owns property near the proposed wind farm filed suit against the county and EDF Renewables over the granting of right of way for the company to run underground electrical cables on her land.
Saline County residents also have alleged a number of improprieties in the extension of the conditional use permit, including open-meetings violations and conflicts of interest.
Charles McKay, one of the plaintiffs in the wind farm lawsuit, filed a complaint with the Nebraska Accountability and Disclosure Commission earlier this year alleging several members of the Saline County Board of Commissioners voted to extend the conditional use permit even though they or close family members stand to benefit financially from the project.
Saline County District Court Judge Vicky Johnson had to recuse herself from both lawsuits because she has a conflict of interest.
EDF Renewables says on its website that it is investing $350 million in the wind farm and hopes to have it operating by the end of next year.
In a  statement, the company said it was aware of the lawsuit.
"Milligan 1 Wind believes that it and Saline County have complied with all applicable laws and the lawsuit is thus without merit," the statement said. "Accordingly, Milligan 1 Wind will continue with construction of the project on the current schedule."
The business news you need
With a weekly newsletter looking back at local history.