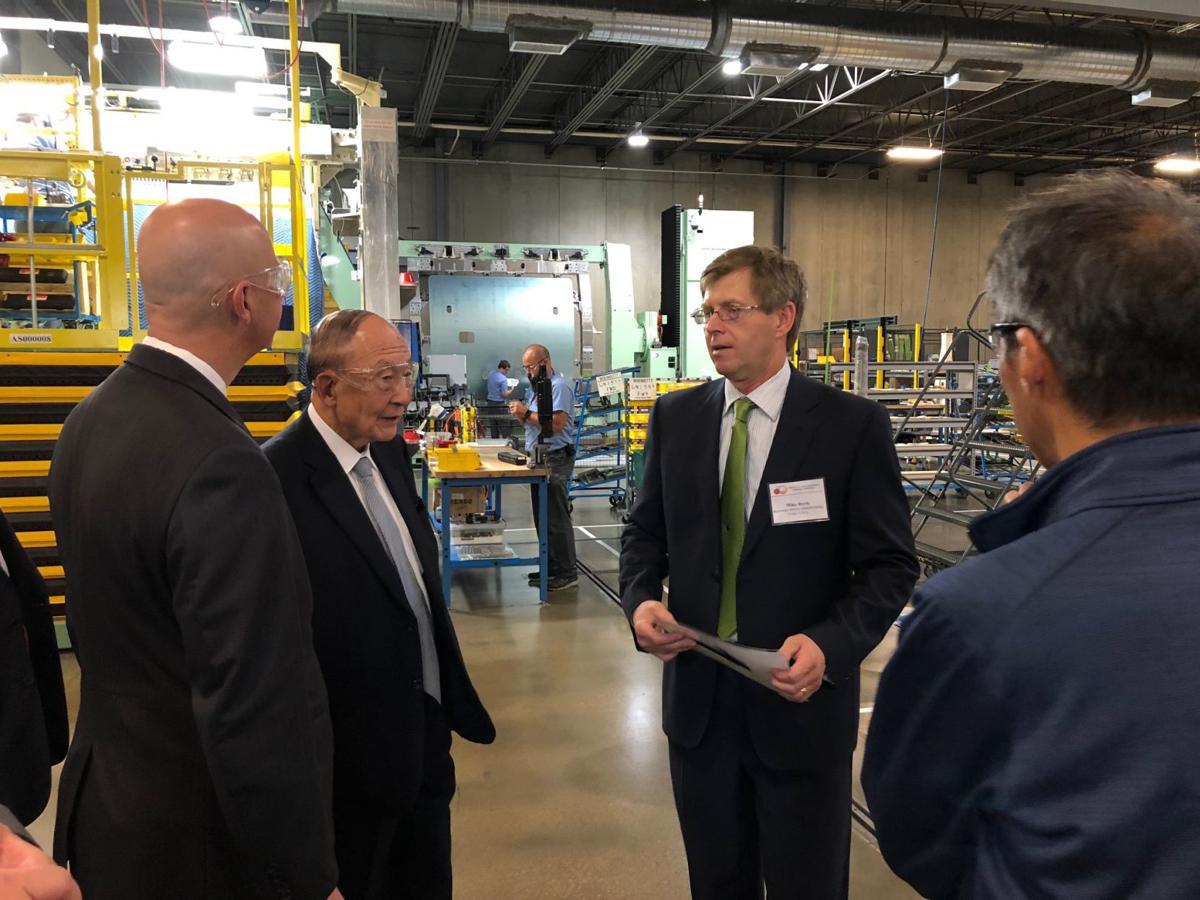 When dozens of Japanese dignitaries are in town for a trade conference, it only makes sense to take them to see the largest piece of Japanese investment in the state.
Gov. Pete Ricketts and more than 100 state, local and Japanese officials toured the massive Kawasaki Motors Manufacturing plant in northwest Lincoln on Tuesday as part of the three-day conference of the Midwest U.S.-Japan Association, which was held in Omaha.
Accompanying Ricketts to the plant were Naoki Ito, Consul General of Japan based out of Chicago; Yuzaburo Mogi, chairman of the board of the Kikkoman Corp.; Yoshinori Kanehana, president of Kawasaki Heavy Industries, the parent company of Kawasaki Motors Manufacturing; and a number of other officials and dignitaries.
The Kawasaki plant, which covers more than 2 million square feet, manufactures Jet Skis, all-terrain vehicles, utility vehicles, rail cars and airplane parts, and employs about 2,000 people with "good-paying jobs," Ricketts said.
The Japanese company opened the plant in 1974 and has expanded it several times, adding rail car manufacturing in 2001 and aerospace manufacturing last year.
The presence of Kawasaki in Lincoln also has led several other Japanese manufacturers to set up shop here.
Ricketts noted that Japanese companies have invested $4.4 billion in Nebraska since 2010, much of that in Lincoln, and employ about 9,400 people in the state.
"We want to see more types of those investments," he said.
Japan is the largest foreign investor in Nebraska, the state's second-largest trading partner outside of North America and its third-largest market for agricultural exports.
"It's a very important relationship," Ricketts said.
The three-day Midwest U.S.-Japan Association conference brought more than 400 officials from Japan and the U.S. to Omaha to talk about trade. Among those in attendance in Omaha were both the U.S. and Japanese ambassadors; the governors of Illinois, Indiana, Iowa, Kansas, Michigan, North Dakota and Wisconsin; and representatives from the Trump administration.
Japan is reported to be the next likely target for tariffs, as it has the third-highest trade imbalance with the U.S., after China and Mexico, with the auto industry being the most likely target.
Hiroshige Seko, Japan's minister of economy, trade and industry, said last month that tariffs on the country's automakers could lead to less Japanese investment in the U.S.