Lincoln is home to dozens of growing startups all aiming to follow the success of stars like Hudl and Bulu Box. Here are four to keep an eye on:
Quantified Ag
Quantified Ag offers technology that monitors the health of livestock in real time, allowing for quicker identification of illnesses.
According to one of Quantified Ag's co-founders, Vishal Singh, the technology works through a custom ear tag that monitors the animal, collecting information such as its temperature and its movements. It wirelessly transmits a variety of data points to a station, which sends the data to Quantified Ag's cloud servers. From there, the company processes the data, which is displayed on a web-based dashboard that's accessible on any device. The technology allows customers to accurately identify sick cattle earlier than through traditional methods.
While working at the Institute of Agriculture and Natural Resources at UNL, Singh became aware of a persistent problem in the agriculture industry — detecting sick cattle early enough to stop the spread of illness through a herd. Singh started the company and began exploring solutions. In 2014, Singh got a boost by joining Lincoln's NMotion accelerator, which helps get startup businesses off the ground. Singh ultimately brought Brian Schupbach and Andrew Uden on board as co-founders.
The company has eight full-time employees and four part-time employees. It also contracts with engineers.
Most of the company's resources in recent years have gone toward developing the technology and the infrastructure to support it.
"We're, little by little, getting more and more beta customers within our system," Singh said.
The company has users in the U.S. and Australia.
Singh says that the company plans to announce a big partnership with a "pretty major industry player" within the next month, though Singh declined to offer specifics. And while the app is still technically in beta use, Singh expects a full-market release sometime this year. He also believes that ag technology has a lot of room for growth.
"It feels like we're at the tip of the iceberg of new discoveries," he said.
ScoutSheet
ScoutSheet is producing a web-based app that "helps other startup and technology companies connect with new customers," according to co-founder Devon Seacrest.
Users could enter information about what kind of connections they're looking for — maybe the industries that they are looking to sell their product to. The program then scours the internet and locates all relevant companies and people within that industry and tries to find the best way to connect them. Specifics on the program's user interface are still being finalized as the technology is tested, Seacrest said.
The team behind ScoutSheet has been working on this project since 2014.
"We were all kind of in the sales and technology world," Seacrest said. "We'd done startups before — some have been successful, some failed. And there was all that common frustration around selling your product, and everything out there was so antiquated."
Seacrest says that ScoutSheet's tools were born out of a desire to utilize the endless supply of information on the internet to better map out how companies could forge productive business relationships.
ScoutSheet is still a small company, with five full-time employees and other outsourced workers.
The team has landed funding from angel investors, state programs like Invest Nebraska and the Nebraska Innovation Fund's Prototype Grant.
ScoutSheet's product is about three months away from launching, though there's no set release date.
"We'd like to really see this thing take off and then either continue to run this or eventually partner up with another company," Seacrest said.
LawnHiro
LawnHiro allows users in need of lawn-care services to connect with qualified individuals ready to do the job.
In the most simple terms, LawnHiro is like Uber for mowing lawns. Users go to the LawnHiro site and delegate lawn-mowing services to someone for the week, the month, or even the same day. The website allows users to enter their address and get an upfront, "market-competitive" price based on the size and location of their property, according to LawnHiro founder Jake Christensen.
LawnHiro, like many other startups, "started with a need," Christensen said. As a dad coming home after work to a family with three boys, Christensen found that it was getting harder to find time for day-to-day maintenance projects — especially when his top priority was spending time with his kids.
"There I was, after running out of hours in the day, trying to figure out how I was going to mow the lawn, how I was going to take care of the house and do everything all at the same time," he said.
After not finding any other solutions, Christensen, who doesn't have a tech background but says he's "entrepreneurial minded," decided to come up with his own.
LawnHiro has been in beta testing for two years, putting most of its resources toward research and development. The small team of employees is, in Christensen's words, "lean and mean," though he declined to give an exact number. They also subcontract lawn mowers — people who have mowing businesses but also individuals who have mowing experience but who are just seeking a side gig.
"Really it's just neighbors helping neighbors," Christensen said.
Christensen said he envisions the app adding tracking data about lawns. That could allow LawnHiro to predict growth rates, see trends and help residents understand the health of their lawns.
Christensen said he expects 2018 to be a "substantial growth year" and that the company will be "in the hiring mode."
CompanyCam
CompanyCam is an app that allows contractors to store and organize photos tracking progress at various worksites into a central database.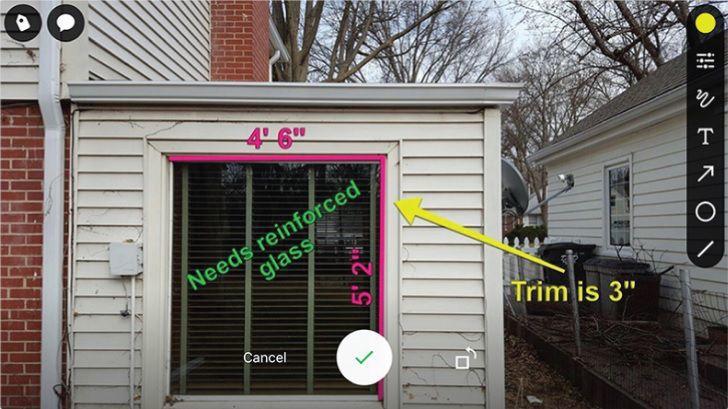 Founder and CEO Luke Hansen describes the app as "Snapchat plus Dropbox" for contractors, such as roofers or deck builders, whose workers often take photos of work sites to keep track of progress. When an employee takes photos through CompanyCam, they can draw or comment on the picture. Then, the app automatically organizes those photos according to the location of the job and when it was taken. It instantly syncs back to the company's main office so that managers can follow progress at multiple work sites in real time in a Facebook-like feed.
In 2014, Hansen was managing workers for his dad's contracting company, White Castle Roofing. He grew increasingly frustrated trying to organize all of the job-site photos submitted by employees. Programs like Dropbox required workers to manually upload and organize photos at the end of each day, which led to complications.
"I just couldn't find anything out there that was built for contractors to solve this problem," he said.
Hansen, who had never made an app before, brought his idea to a local development shop, which created a prototype for the program. That prompted Hansen to launch a company around the idea, bringing on Chad Wilken as CTO.
Over the last year and a half, Hansen says, CompanyCam has hit its stride. About 1,400 companies are using the app, and the company has grown to employ 28 people.
CompanyCam is working to find a way for its customers to upload photos of completed projects directly from the app to their websites. Contractors would be able to build web pages directly from the app showcasing their projects.
Hansen envisions becoming "the absolute standard in our industry."
"I really want to employ people, I want to be something in this community that matters," Hansen said.